Donald Trump to Be Met with Mass Drag Queen Protest When He Visits Britain
Drag queens in the U.K. plan to hold a mass protest to coincide with President Donald Trump's state visit to Britain in July, to rally against the administration's record on LGBT rights.
London-based drag queen Cheddar Gorgeous is among activists organizing the event in the British capital, which will be attended by those opposed to policies including the ban on transgender personnel serving in the military.
Over 1,000 users have clicked "going" on the protest's Facebook event, and almost 7,000 others have said they are interested in attending the rally on July 13. A location has not yet been set.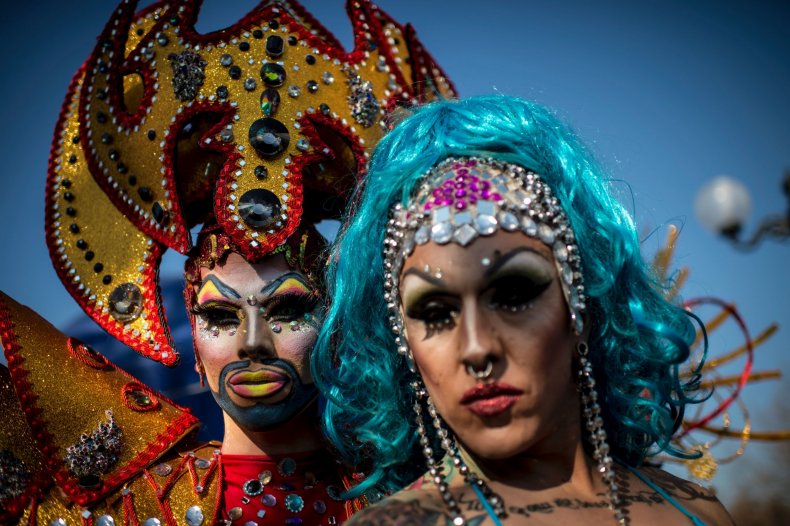 "Calling all drag kings, queens, queers and our allies to march against President Donald Trump's UK visit," organizers wrote on the Facebook page.
"Due to the appalling way the Trump administration has regarded the rights and welfare of LGBTQI communities of the US, the idea of a Trump visit to the UK is unacceptable.
"Let's get visible, stand with our sisters, brothers and others in America, and show that we are a country that celebrates diversity."
The organizers said "all ages, races, genders and orientations welcome" and invited groups from other cities to join them in marching.
In an article for The Guardian, Cheddar Gorgeous cited the ban on transgender military personnel, the rollback of legal protections for trans workers and students, and support for businesses who refuse to serve gay customers on the grounds of religious beliefs as among the reasons for the protest.
"Despite claiming on the campaign trail to be 'gay friendly,' the Trump administration has unleashed a barrage of policies and amendments that demonstrate the contrary," argued the drag entertainer.
The performer said the protest is intended to "increase awareness of the way Trump's administration has systematically attacked the LGBT community and to stand in solidarity with the many other groups who feel marginalized along lines of race, class and gender. To not object to the visit would seem like a betrayal of the tolerant society that the UK as a whole strives to be."
Cheddar Gorgeous went on to highlight that drag queens and kings have long been associated with progressive social values and political protest, including the Stonewall riots in 1969 which are widely understood to have which kicked off the LGBT rights movement. Among prominent rights activists at Stonewall was Marsha P. Johnson, a self-identified drag queen and trans woman.
"One of the things that makes drag so powerful is the way we make ourselves visible in a particularly spectacular way," Cheddar Gorgeous wrote.
The White House did not respond to a request for comment.