Donald Trump Grabs More Free Airtime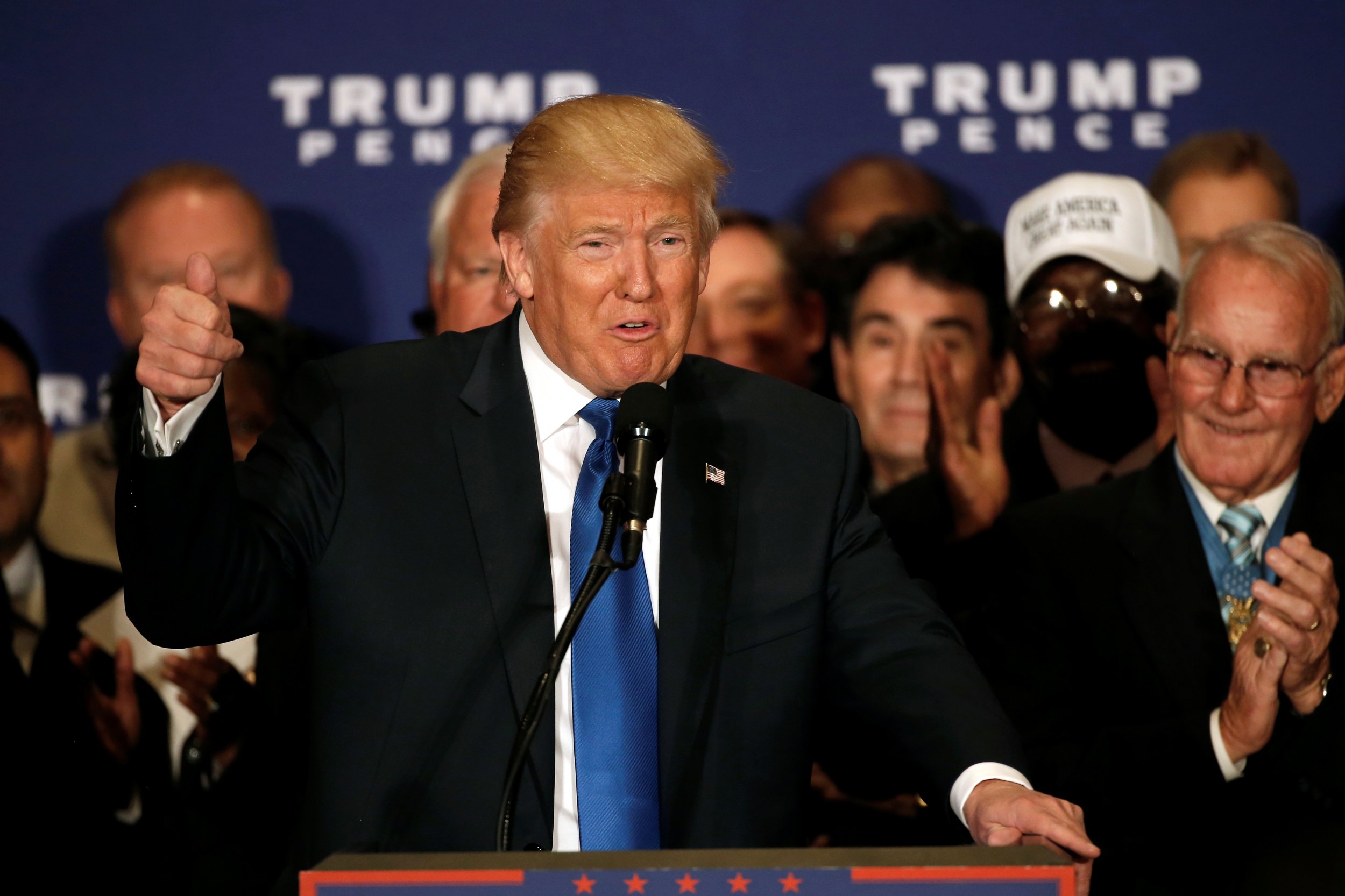 The satellite trucks and video cameras were ready Friday morning, hours before Donald Trump was slated to speak at his new hotel in Washington, D.C.'s Old Post Office building, just a few blocks down Pennsylvania Avenue from the White House. The buzz from his campaign was that the GOP presidential nominee would address his past embrace of "birtherism"—the conspiracy theory that President Obama was born in Kenya, not Hawaii. Trump during a morning interview on Fox News even promised a "big announcement" on the subject.
Instead, the press and cable news viewers were treated to what amounted to an extended advertisement for Trump's hotel and a series of testimonies from military veterans before finally—finally—Trump declared in his closing remarks, "President Barack Obama was born in the United States, period. Now we want to get back to making America strong and great again. Thank you."
It was another master class in how to win free airtime. Trump basically acknowledged the ploy, telling Fox News host Maria Bartiromo, " We have to—we have to keep the suspense going, OK?"
It was Trump himself who renewed the issue by declining to say, during an interview with The Washington Post, that he believed the president was an American. "I'll answer that question at the right time," he said. "I just don't want to answer it yet." The article went online at midnight, driving news coverage Friday morning.
Trump was supposed to speak at 10 a.m., but as the clock ticked toward 11 a.m. the assembled guests and reporters were still waiting, gathered in the sparkling Presidential Ballroom of Trump International Hotel, which opened Monday. After a brief introduction from retired Lieutenant General Michael Flynn, a Trump adviser, the Republican presidential nominee finally appeared on stage, more than an hour late. His first words: "Nice hotel."
"Under budget and ahead of schedule," Trump continued, to whoops from the crowd. He noted this was the first event ever held in "our brand new ballroom" and thanked all the workers, construction managers, hotel staff, and even the General Services Administration, the federal agency that leased the historic building to Trump for the hotel. "I really believe this will be the best hotel in Washington," he said.
Trump then turned the discussion to the group of Medal of Honor recipients and military veterans assembled onstage. One by one, many of them stepped to the microphone to extol Trump's leadership qualities and his support for the military. On Twitter, meanwhile, journalists and political commentators were losing their minds.
"Has any hotel ribbon cutting in the history of hotel ribbon cuttings received so much national media attention?" asked Washington Post reporter Philip Rucker.
"When was the last time CNN covered a full Clinton event with multiple surrogate speakers? This is unreal," tweeted Guy Cecil, head of the pro-Hillary Clinton super PAC Priorities USA.
In the end, the cable channels and the newspapers got the headline they came for—"Trump Renounces Birther Conspiracy"—as did Trump.