President Donald Trump tweeted an apparent threat to Democratic Congresswoman Maxine Waters Monday, telling her to "be careful what you wish for." Over the weekend, Waters called on people to show up "wherever we have to" to let Trump's cabinet know that "they're not welcome anymore, anywhere." Her comments came in the aftermath of White House press secretary Sarah Huckabee Sanders being asked to leave a Virginia restaurant.
In his response, Trump falsely claimed that Waters had called for violence against his supporters.
"Congresswoman Maxine Waters, an extraordinarily low IQ person, has become, together with Nancy Pelosi, the Face of the Democrat Party. She has just called for harm to supporters, of which there are many, of the Make America Great Again movement. Be careful what you wish for Max!" Trump tweeted.
The White House did not immediately respond to a request for clarification on what Trump meant with his closing comment directed at the California Democrat.
In response, Trump called Waters a "low-IQ" individual on multiple occasions. Waters previously said she considered the comment racist.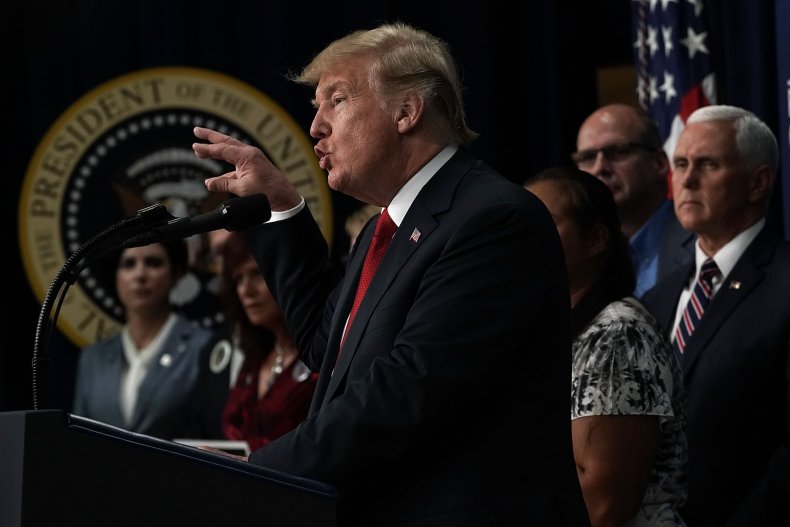 Still, Waters's latest remarks drew attracted criticism even among members of her own party.
"In the crucial months ahead, we must strive to make America beautiful again," House Minority Leader Nancy Pelosi tweeted along with a link to a story reporting Waters's comments. "Trump's daily lack of civility has provoked responses that are predictable but unacceptable," Pelosi (D-Calif.) wrote on Twitter. "As we go forward, we must conduct elections in a way that achieves unity from sea to shining sea."
Waters, who was among the earliest and most vociferous lawmakers to call for the president's impeachment, made her remarks during a rally in Los Angeles on June 25. "Let's make sure we show up wherever we have to show up," she said. "And if you see anybody from that Cabinet in a restaurant, in a department store, at a gasoline station, you get out and you create a crowd. And you push back on them. And you tell them they're not welcome anymore, anywhere."
She stepped up the attack later, in an interview with MSNBC.
"The people are going to turn on them," she said. "They're going to protest. They're going to absolutely harass them until they decide that they're going to tell the president, 'No, I can't hang with you.'"