Will Trump Meet Kim Jong Un? Summit Date 'Hasn't Changed,' President Now Says
The much-hyped meeting between U.S. President Donald Trump and North Korean leader Kim Jong Un will seemingly take place in Singapore next month, on the same date as previously planned before the surprise cancellation that emerged from the White House on Thursday.
Talks stalled without warning earlier this week after Trump accused North Korea of displaying "tremendous anger and open hostility." Preceded by multiple meetings with South Korean President Moon Jae-in, the summit was set up to discuss the prospect of denuclearization, among other contentious topics. The fragile balance was first tipped on May 15, after North Korea said it would cut off talks over military exercises being conducted in the region by the U.S. and South Korea.
But on Saturday, the White House signaled that the unprecedented meeting would still go ahead. "We're doing very well in terms of the summit with North Korea," Trump said, as first reported by The New York Times. "It's moving along very nicely," the president continued, "so we're looking at June 12 in Singapore. That hasn't changed. So we'll see what happens."
The renewed interest came roughly 24 hours after Kim Jong Un met with Moon Jae-in in the so-called "truce village" of Panmunjom, on the North Korean side of the border. According to The Guardian, Moon said, without elaborating, that Kim had "committed to complete denuclearization" but noted that he was unsure if he could trust the U.S. administration. North Korea's state news agency, KCNA, said its leader had "expressed his fixed will on the historic" summit.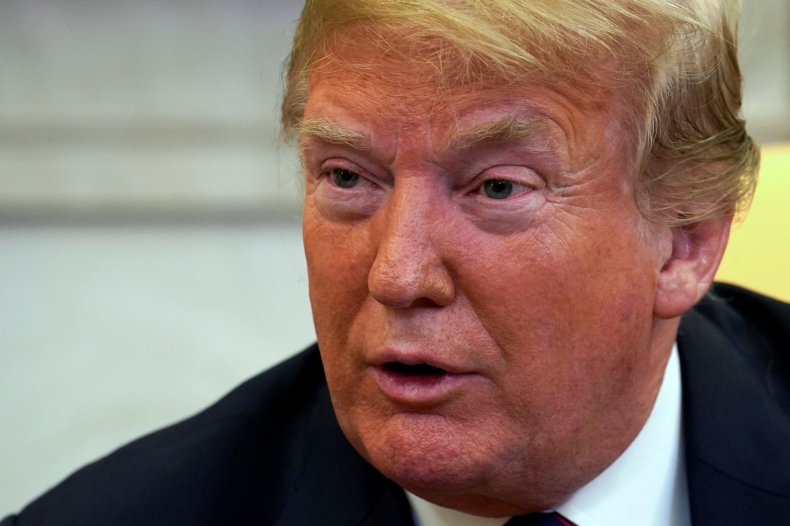 On Friday, Trump said on Twitter that despite his abrupt cancellation letter only days prior, negotiations were under way to finalize a date. He wrote: "We are having very productive talks with North Korea about reinstating the summit which, if it does happen, will likely remain in Singapore on the same date, June 12th, and, if necessary, will be extended beyond that date."
In an apparent peace concession just before Trump canceled the summit, North Korea claimed to have destroyed key parts of Punggye-ri, its sole nuclear test site. Foreign reporters, who were in the country when Trump issued his surprise letter, were taken to the location and shown the huge blasts as they happened. But some scientists believe the site was already partially destroyed during tests last year.
Earlier this month, North Korea also released three U.S. citizens, Kim Hak-song, Tony Kim and Kim Dong-chul, who had been detained in the country on charges of espionage and suspicion of "hostile acts." North Korea is being sued by the parents of another former prisoner, the deceased Otto Warmbier, who claimed their son had been "brutally tortured and murdered" by the regime after being jailed there for roughly 17 months for stealing a poster.