Donald Trump Meets Members of Congress Plotting to 'Fight Back' Against Election Result
President Donald Trump met with Republican lawmakers to discuss "mounting evidence" of alleged "voter fraud" on Monday as he continues to challenge the results of the 2020 presidential election.
White House Chief of Staff Mark Meadows revealed details of the meeting on social media on Monday night, and told followers to "stay tuned" for further updates on the president's plans.
But he did not reveal which lawmakers had attended the meeting, or the precise details on who they planned to "fight back" after President-elect Joe Biden was confirmed as the winner of the election by the Electoral College earlier this month.
"Several members of Congress just finished a meeting in the Oval Office with President Donald Trump, preparing to fight back against mounting evidence of voter fraud," Meadows tweeted. "Stay tuned."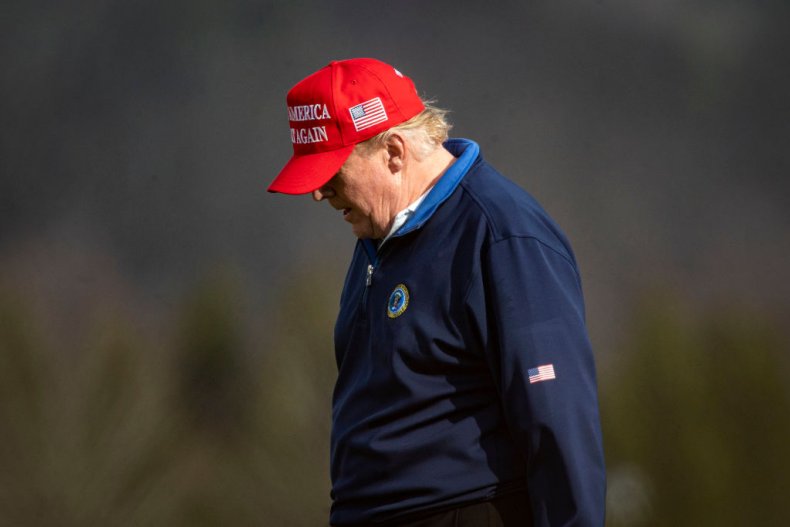 Reuters reported that Reps. Matt Gaetz (R-FL) and Jim Jordan (R-OH), long-term allies of Trump and his agenda, attended the Monday meeting with the president. Gaetz retweeted Meadows' post about the "voter fraud" talks last night.
Newsweek has contacted the White House for comment and further details of the meeting. This article will be updated with any response.
President Trump has not conceded the election to President-elect Joe Biden, more than a month after the Democrat won the contest with 306 Electoral College votes—putting him 36 votes above the 270 needed to secure the White House.
The commander-in-chief has repeatedly made claims that mass voter fraud cost him the election. However, several lawsuits filed by his campaign contesting state results and election practices have been tossed out.
Earlier this month, the U.S. Supreme Court rejected a lawsuit filed by Texas that aimed to overturn the election results in four key swing states that elected Biden to the presidency. The court refused to even hear the case.
The New York Times reported on Saturday that Trump had talked about naming Sidney Powell as a special counsel overseeing an investigation into voter fraud during the presidential election. The attorney has previously peddled baseless conspiracy theories about voting machines and a supposed Venezuelan plot to rig the contest.
Trump's personal lawyer Rudy Giuliani has since sought to distance Powell from the commander-in-chief. He told Newsmax on Monday night that she was "definitively" not part of the re-election campaign's legal team.
"She is not a special counsel for the president, she does not speak for the president, nor does she speak for the administration," the former New York City mayor said. "She speaks for herself."