Reverend Al Sharpton believes Donald Trump's behavior has become "more extreme," but also said that the president has "always been a megalomaniac."
During a segment of MSNBC's Morning Joe on Monday, a panel discussed the president's recent bizarre July 4 speech referring to "airports" during the Revolutionary War and his Twitter rant attacking Fox News, The New York Times and other media outlets on Sunday evening. Elise Jordan, an MSNBC contributor and former White House aide during George W. Bush's administration, suggested that Trump was slipping mentally. She then asked Sharpton if he felt Trump's actions were getting worse.
"I think it is more extreme. He has always been different, let's put it that way, and always been a megalomaniac," Sharpton, who hosts PoliticsNation on MSNBC, responded.
"But I don't recall him ever seeing airports in the 18th century and denying climate change," he continued. "I think we're seeing him–either the pressure of being president has made him worse or there are other factors. But he's clearly gone beyond even the bizarre behavior we were used to in New York."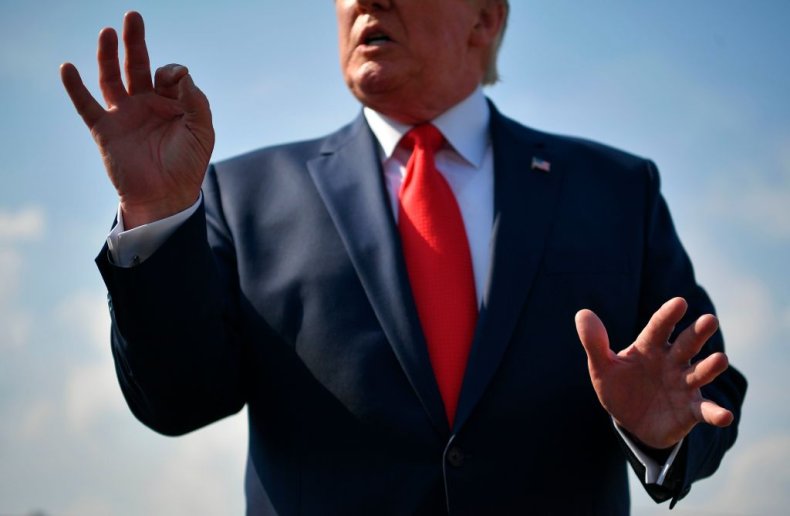 Prior to Sharpton's comments, Jordan argued that if any "major CEO or a family member" exhibited behavior like that of Trump, "you'd be gravely concerned."
Last week, during the president's controversial Salute to America event, he stated in his speech that "our army manned the air, it rammed the ramparts, it took over the airports, it did everything it had to do" during the Revolutionary War, which was fought between 1775 and 1783. The first airplane would not fly for well over a century after that conflict ended.
Trump later tried to explain the bizarre gaffe, claiming there was a problem with the teleprompter. "Actually, in the middle of that sentence, it went out. And that's not a good feeling," he told reporters on Friday.
During the Morning Joe segment, the panel also discussed how a new poll by ABC News and The Washington Post showed that the president currently is enjoying the highest approval rating of his presidency. However, the panelists pointed out that instead of sharing the poll results with his followers, which is positive news, Trump decided to attack Fox News, which has generally been seen to be supportive of the president.
"Watching @FoxNews weekend anchors is worse than watching low ratings Fake News @CNN, or Lyin' Brian Williams," the president wrote on Twitter at the start of a series of tweets. He later added: "But @FoxNews, who failed in getting the very BORING Dem debates, is now loading up with Democrats & even using Fake unsourced @nytimes."
Morning Joe co-host Joe Scarborough said that "normally" Trump "would be bragging about these poll numbers."
"But instead he was melting down last night," Scarborough said.