President Donald Trump called for "peace among nations and joy to the world" in a Christmas message to the United States on Wednesday.
The video—which is a little over a minute long—was shared on Twitter by First Lady Melania Trump and retweeted by Donald Trump. The presidential couple began by wishing "each and every American a very merry Christmas."
"At this sacred time of year, Chistrians celebrate the birth of our Lord and Savior Jesus Christ and rejoice in his love for every person," said Donald Trump.
"We give thanks for the millions of Americans who come together to care for others with compassion and bring the warmth and bliss of this holy season to our families, our friends, our neighbors and to those in need."
Melania Trump continued the message by expressing gratitude on behalf of the nation towards the military, police and everyone in law enforcement "who keep us safe."
Donald Trump continued: "We say a special prayer for those military service members stationed far from home and we renew our hope for peace among nations and joy to the world.
"On behalf of the entire Trump family, we wish everyone a joyous and merry Christmas and a very happy, happy new year," the president concluded.
The message came a day after Donald Trump made a Christmas Eve video call to the troops in which he discussed (among other things) his cameo appearance in Home Alone II.
It also follows polls that shows his support among military service members is at its lowest since taking office.
A recent survey by Military Times found that 42 percent of respondents said they had either a "favorable" (17.3 percent) or very favorable" (24.3 percent) view of Trump, compared to 46 percent in November 2016. One in two said they had a negative view of the president—and 45.1 percent reported having a "very unfavorable" view of Trump.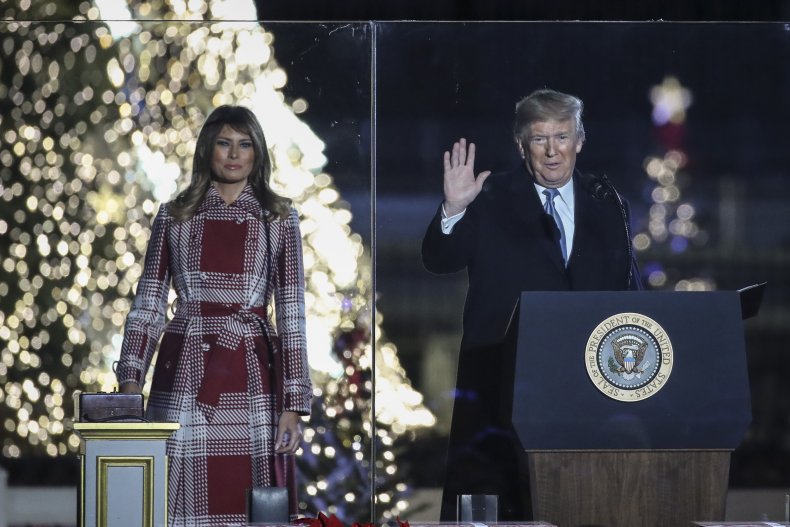 As for how the president spent his Christmas day, he appeared to have a relatively quiet start—at least as far as Twitter is concerned—tweeting a simple Christmas message to his followers.
Things appeared to heat up as the day went on as the president tweeted about the economy and homelessness, berating the California governor Gavin Newsom for the state's homeless population.
"2019 HOLIDAY RETAIL SALES WERE UP 3.4% FROM LAST YEAR, THE BIGGEST NUMBER IN U.S. HISTORY. CONGRATULATIONS AMERICA!" Trump tweeted—apparently referring to the results of a report by Mastercard, published Wednesday, which found holiday retail sales (excluding autos) increased 3.4 percent on last year.
However, this may only be half correct. Mastercard spokesperson William Tsang told Reuters that 2019 did not see the biggest growth. It was 2018 which saw 5.1 percent growth compared to 2017.
Mastercard did note that "E-commerce sales hit a record high this year," according to senior adviser for Mastercard, Steve Sadove. E-commerce sales were up 18.8 percent compared to 2018, accounting for 14.6 percent of total retails sales according to Mastercard data.
Later in the day, Trump's tweets circled back to impeachment proceedings.
"Why should Crazy Nancy Pelosi, just because she has a slight majority in the House, be allowed to Impeach the President of the United States? Got ZERO Republican votes, there was no crime, the call with Ukraine was perfect, with 'no pressure.'
"She said it must be 'bipartisan & overwhelming,' but this Scam Impeachment was neither. Also, very unfair with no Due Process, proper representation, or witnesses. Now Pelosi is demanding everything the Republicans weren't allowed to have in the House. Dems want to run majority Republican Senate. Hypocrites!" Trump said.
The tweets come one week after Trump became the third president in U.S. history to be impeached.
He faces two impeachment articles (one on abuse of power, one on obstruction of Congress)—which, as Newsweek previously reported, received the biggest and second biggest support of any American impeachment proceeding.