Donald Trump Ripped For Appearing to Summon Melania Like a Dog in Viral Video
President Donald Trump was criticized after a video went viral in which he slapped his leg in an apparent move to summon his wife Melania Trump, much like a dog call.
The video from early this month, shared on Twitter early Wednesday by comedy writer James Felton, shows the president looking in the First Lady's direction and patting his leg with his right hand three times. Melania Trump walks over to him moments later.
It is not clear what the president was signaling with the slaps and whether they were even directed at his wife, but many Twitter users interpreted it as a demeaning way to get the first lady's attention and compliance.
"Donald Trump: 'Nobody respects women more than me,'" Felton captioned the clip. "Also Donald Trump: 'Here girl, come here girl' [pats leg] 'come here wife, there's a good girl.'"
In another tweet implying the president for denying he is sexist, Felton wrote: "'Heel, wife.'"
By mid-afternoon Wednesday, Felton's post had more than 240,000 retweets and more than 1,100 likes. A Twitter user replied with Donald Trump's quote from a 1992 New York Magazine report in which he said, "You have to treat 'em like s***," referring to women.
The clip from Donald Trump's August 7 visit to Dayton, Ohio, three days after a mass shooting there, appears to have originally been shared by Twitter user Matt Dinan.
A parody account of British Prime Minister Boris Johnson with more than 35,000 followers also shared the video shortly after Felton's post, offering a similar take.
"If you were a misogynistic, arrogant old s***, how would you ask your wife to join you?" @BorisJohnson_MP tweeted. "1. Call her name 2. Wave to catch her attention 3. Pat your leg as if she were a dog."
But other Twitter users gave Donald Trump the benefit of the doubt.
"I thought he was just checking that he had keys," a Twitter user replied to the parody Johnson account.
The video also shows Vice President Mike Pence getting out of a black car as the president stands by, and possible interpretations of the president's action are endless. But given Melania Trump's appearance on screen after the president's leg pats, and that she follows her husband as they walked off together, the viral interpretation cast the president's actions as degrading to the first lady.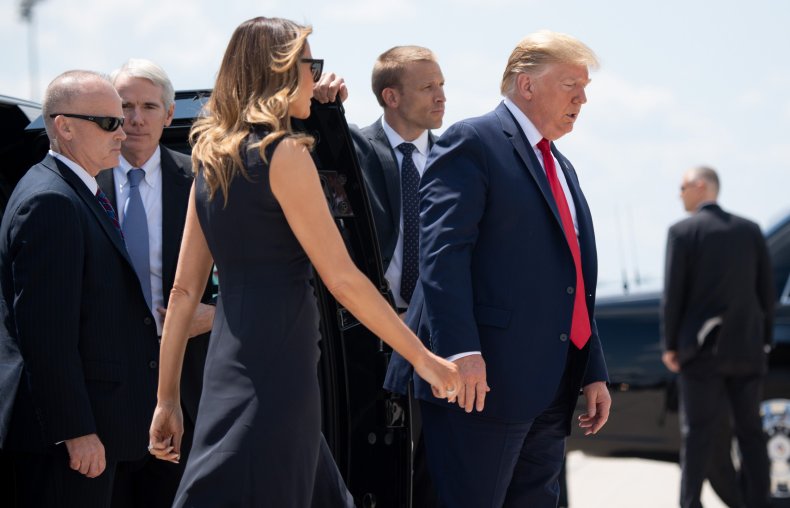 Donald Trump has had other awkward, viral moments with the first lady.
In January 2018, the president covered himself with a large umbrella at Palm Beach International Airport while boarding Air Force One, leaving his wife exposed to a gust of wind. It was unclear if it was raining.
In February 2018 while walking towards the presidential helicopter, Donald Trump reached for the the first lady's hand, but failed to hold it and had to settle for her coat sleeve. Two months later while welcoming French President Emmanuel Macron to the White House, Donald Trump appeared to struggle once again to hold his wife's hand, using his pinkie finger to poke at her hand before grabbing it. She she did not look thrilled.