Donald Trump Predicted He Was 'Going to Get in Trouble' With Melania Due to Presidential Run: Former Aide
Donald Trump said he would "get in trouble" with his wife Melania upon announcing his 2016 presidential bid, in an apparent reference to his alleged affair with adult film star Stormy Daniels, according to one of his former aides.
The account of the future president is detailed in the book The Method to the Madness: Donald Trump's Ascent as Told by Those Who Were Hired, Fired, Inspired—and Inaugurated by journalists Allen Salkin and Aaron Short, to be released July 9.
Former Trump campaign aide Sam Nunberg is quoted as asking Donald Trump, "What's our biggest problem going to be?"
Donald Trump apparently replied, "You know what our biggest problem's going to be, and I'm going to get in trouble upstairs."
"Meaning Melania," Nunberg said of Donald Trump's answer according to the book. "He didn't specify anything. To me the whole Stormy Daniels thing, I feel bad for Melania; otherwise, it's f***ing funny to me."
Reports of Donald Trump's alleged affair with Daniels, whose legal name is Stephanie Clifford, broke out in January 2018, nearly a year after he entered the White House. Donald Trump's former longtime lawyer, Michael Cohen, arranged a $130,000 payoff to Daniels in exchange for her silence on the matter a month before the 2016 presidential election.
The nondisclosure agreement was an effort to keep under wraps an issue that could have damaged the presidential bid of Donald Trump, who had gone from an underdog and political outsider to securing the Republican nomination.
Following the news of the alleged affair with Daniels in 2006, less than four months after Melania Trump gave birth to their son Barron Trump, the first lady arrived alone to her husband's State of the Union address and traveled apart from him in the ensuing months.
In February 2019, Cohen apologized to Melania Trump for lying to her about Daniels. He is now serving a three-year prison sentence for crimes that include arranging the hush payment.
"Mr. Trump is a conman. He asked me to pay off an adult film star with whom he had an affair, and to lie to his wife about it, which I did," Cohen told the House Oversight Committee. "Lying to the first lady is one of my biggest regrets. She is a kind, good person. I respect her greatly—and she did not deserve that."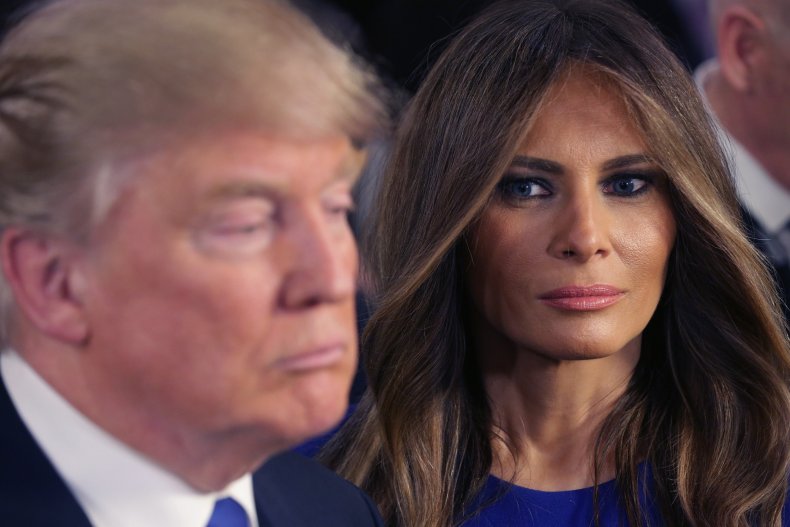 Nunberg, who was one of the first people to be hired on the Trump campaign, also says in the book that "Melania really believed" her husband would win the presidency at a time when few had faith in such an outcome.
According to Nunberg, Melania Trump said: "People don't think you're serious. When they know you're serious, you'll get a lot of support."
"She wasn't blowing smoke up his ass. She thought he was going to win the whole thing," Nunberg said. "I like her a lot, by the way. She gets a raw deal in all of this. She gets very high ratings."
Roger Stone, a longtime associate of Donald Trump, is also quoted in the book as saying the future president would always joke, "You know who my absolute best pollster is? Melania."