Donald Trump Says Melania's Africa Trip was 'Eye-Opening' Because of the 'Tremendous Poverty'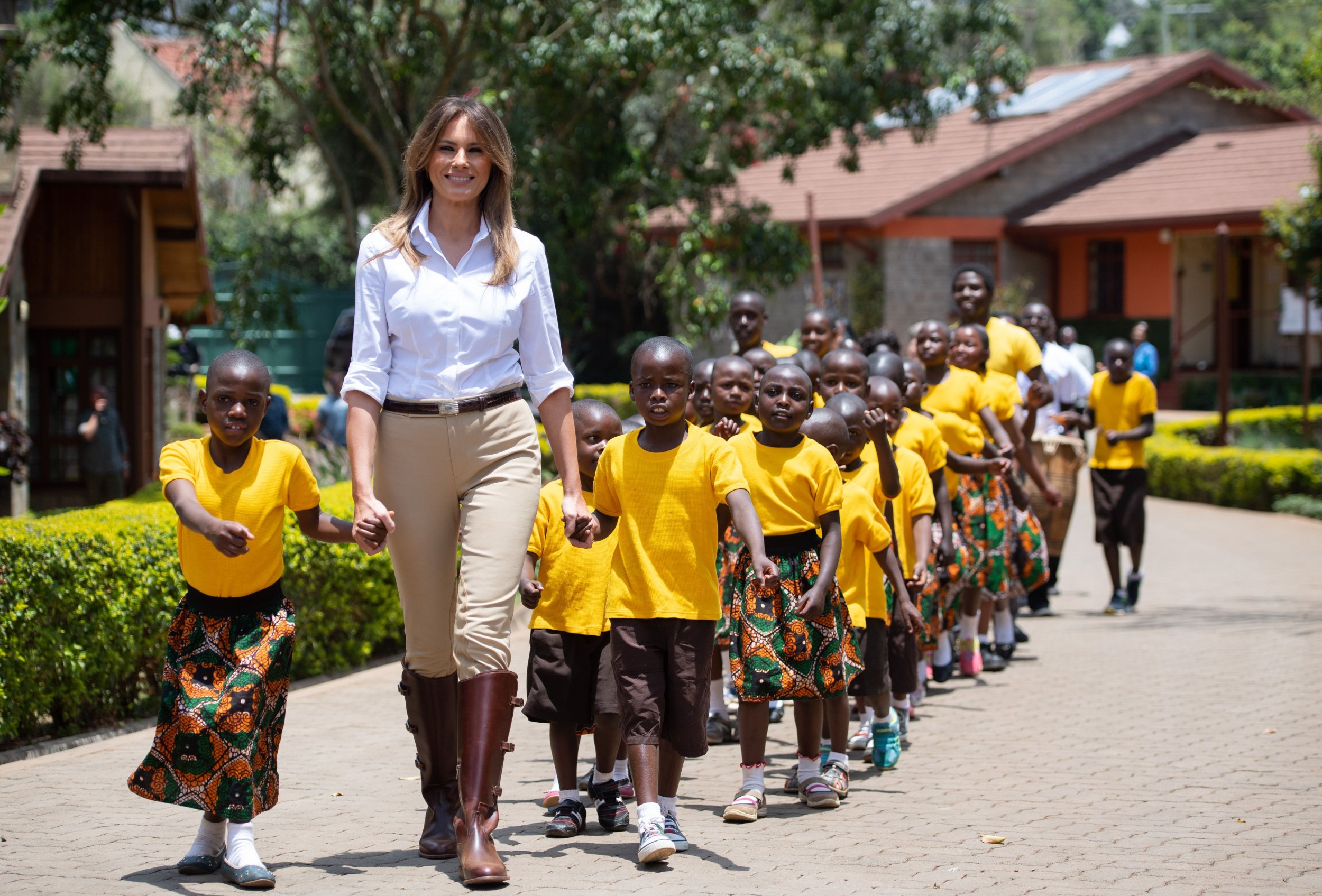 First lady Melania Trump had an "eye-opening" experience on her recent trip to Africa, according to President Donald Trump.
The president, who in January reportedly called African nations "shithole countries," said in an exclusive sit-down interview with Fox News host Laura Ingraham in the White House Monday night that they are "trying to help" with the extreme poverty in the continent following his wife's first solo trip abroad earlier this month.
The Ingraham Angle host, after having the president address issues including the migrant caravan, his potential 2020 presidential opponents and the midterm elections, asked, "How's Melania doing?"
"She's doing fantastically, really good. She's doing a great job. Just got back from Africa," Trump responded. "And she saw some things that were very eye-opening and tremendous poverty. Tremendous poverty. So we're trying to help."
The president did not elaborate and the interview ended there.
Melania Trump raised eyebrows when she chose to visit Ghana, Kenya and Egypt, following reports that her husband's reported "shithole" remark about African nations, Haiti and El Salvador in an immigration meeting with lawmakers in the Oval Office.
During her trip, Melania Trump visited a hall in Ghana named after ex-President Barack Obama and a former slave holding facility.
"I will never forget [the] incredible experience and the stories I heard," she said at the former slave trading fort. "The dungeons that I saw, it's really something that people should see and experience." She added that "it's very emotional," and in other legs of the trip spent time reading to children.
The president, while his wife was away, tweeted that she was "doing really well in Africa," and, "The people love her, and she loves them! It is a beautiful thing to see."
Despite his wife appearing distant at times—particularly when his alleged affair with adult film star Stormy Daniels (whose real name is Stephanie Clifford) came to light—the president has often described the first lady as doing really well and fantastic.
In June, when Melania Trump appeared with the president in public for the first time after nearly a month's absence that the administration said was due to a kidney procedure, Donald Trump said: "Melania, she's doing great. She went through a little rough patch, but she's doing great, and we're very proud of her. She's done a fantastic job as first lady."
The White House did not immediately respond to a request for comment from Newsweek on how the president plans to help Africa.