Melania Trump Silences All Sexual Assault Victims When She Defends Her Husband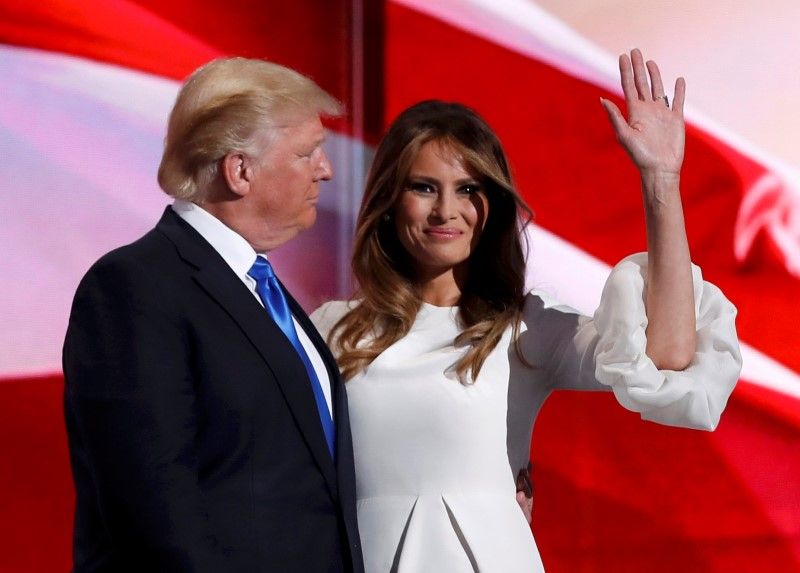 Melania Trump is a woman of few words, at least in public. While her husband's logorrhea has invaded every inch of our public space for the last 16 months, she has remained mostly silent, shunning the campaign trail.
When she addressed the Republican convention last July, she was accused of plagiarizing one of Michelle Obama's 2008 speeches. Since then, it has been difficult to consider her words as her own and the interviews she gave to CNN and Fox News at the beginning of the week failed to dispel this impression.
Following the release of a 2005 recording of Trump bragging about taking advantage of his fame to kiss and "grab women by the pussy," as well as sexual assault allegations against him, Melania Trump has now joined the not-so-exclusive club of the wives of American male politicians and public figures who have had to go through the humiliation of "standing by their men."
Melania Trump describes herself as a "strong woman" and a "rock," and you have to admire her self-control and composure. Throughout her interview with CNN's Anderson Cooper, she remained in the exact same position apart from the occasional hand gesture. The only discernible cracks in her otherwise cool façade appeared when Cooper started reading quotes from Michelle Obama's powerful speech about Trump's comments that were caught on tape.
It was difficult to make sense of Melania Trump's defense of her husband. She said the conversation between her husband and Billy Bush was "dirty and bad stuff," but dismissed it as "boy talk," adding "I know how some men talk." In the course of the same interview, she called her husband both a "teenage boy" and "a gentleman," reminding the interviewer that he was "an adult," while at the same time accusing Billy Bush–Trump's infamous partner-in-crime in the recording–of "egging him on." More surprisingly given her husband's history, she said that, if she ever became First Lady, she would make the fight against cyber-bullying and "negativity" her priority.
That Melania Trump has chosen to stand up for her husband is not in itself surprising. It might be that she truly believes he is a good man incapable of sexual assault and that "the man she knows," is different from his public persona and is the 'true' Donald Trump. She might also be defending herself and her own decisions. Whatever the reasons, and perhaps because we have become so used to seeing women flying to the rescue of their husbands, or also because we somehow think this is her choice, her life, we get it.
What is, however, more problematic is the way she spoke about women throughout the interview–as manipulative and hypocritical beings–thus agreeing with Trump's claim that "when you're a star, they let you do it." She spoke of women hitting on her husband and giving him their phone numbers in front of her. To describe their behavior, she used the same word–"inappropriate"–as the one she used for her husband's "grab the pussy" comments.
Although she did not elaborate on this remark, she also noted that the negative stories about her and her husband had been written by female journalists. When asked about sexual assault allegations against her husband, she claimed the "backgrounds" of her husband's accusers had not been checked and refuted the testimony of People Magazine 's journalist Natasha Stoynoff on one point, although not the accusation of sexual assault.
What do Melania Trump's words tell us about her world? She presents his comments on women's physical appearance as evidence that "he tells it like it is" and thus should be trusted for telling the truth. She argues that the women who have made allegations against her husband are manipulated by the "opposition"–whatever that means. In Melania Trump's world, women are the predators who, to use Donald Trump's word, want their "10 minutes of fame," and it is her husband who is the victim of female assault.
She claims she is a "strong" and "independent" woman, her own person, yet she denies women this very same quality. It is probably no coincidence that she flinched when Cooper mentioned the First Lady. While Michelle Obama's intensely personal words have resonated with millions of Americans, female and male, Melania Trump has been, of her own volition, a parrot-like figure in terms of her husband's campaign, but more importantly in her endorsement of the worst clichés about women.
Hélène Quanquin is associate professor of American history and civilization at Université Sorbonne Nouvelle in France.