Donald Trump Signs Authorization for Border Troops Using Lethal Force as Migrant Caravan Approaches, Document Reveals
As 400 military police officers from the U.S. Army redeployed to San Diego, the Trump administration approved the use of troops for law enforcement tasks at the southern border, stating that they are permitted to employ lethal force, according to a White House memo obtained by Newsweek.
The "decision memorandum" was signed by President Donald Trump on Tuesday and ran through Derek S. Lyons, a Harvard-educated lawyer and White House staff secretary to John Kelly, the White House chief of staff and former U.S. Marine general. The documents were obtained from a Defense Department source.
Kelly signed the memo late Tuesday authorizing U.S. service members to perform "military protective activities," allowing service members to use "a show or use of force (including lethal force, where necessary), crowd control, temporary detention, and cursory search," as determined by Defense Secretary James Mattis to protect agents with Customs and Border Protection (CPB).
The news of the memo was first reported by The Military Times on Wednesday morning but said the president did not sign off on the White House directive. The memo obtained by Newsweek shows Trump signed off on the order to Mattis. (You can read the full memo at the bottom of this article.)
The White House issued the memo on the same day Newsweek reported that U.S. Army North will shift roughly 400 military police officers from the port of entry in Brownsville, Texas, to the San Ysidro Land Port of Entry in San Diego over the next three days, according to a Defense Department source with knowledge of the southern border mission.
The military police officers will support Border Patrol agents as the initial wave of migrants reaches the California-Mexico border.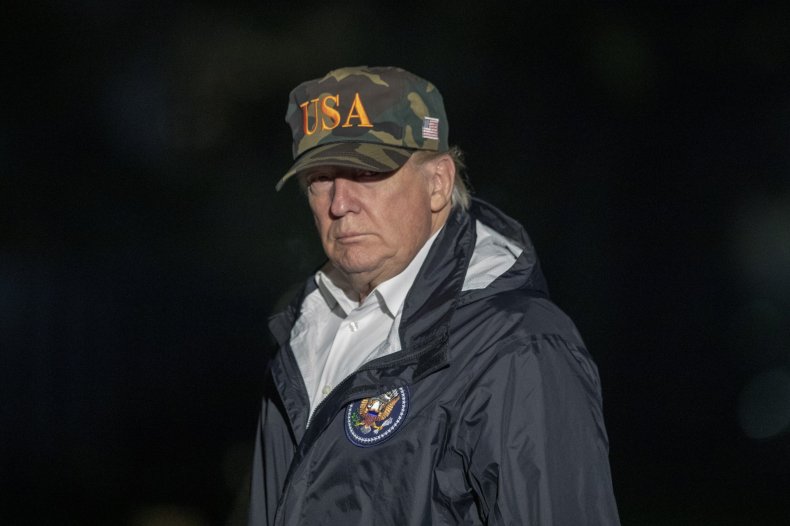 A spokesman for U.S. Army North told Newsweek Wednesday morning that they had not received any guidance about the White House memo as the Defense Department would be ironing out the operational particulars of the directive.
Mattis told reporters in a press gaggle at the Pentagon Wednesday that U.S. forces would not violate the Posse Comitatus Act, the 1878 federal statute that restricts the government's ability to use the U.S. military as a police force. However, Mattis did indicate that the new authorities give U.S. forces an expanded law enforcement role to protect Border agents.
"I now have the authority to do more. Now we'll see what she asks me to do," Mattis said Wednesday, referring to Homeland Security Secretary Kirstjen Nielsen.
Earlier this month, Trump suggested he wanted to change the rules of engagement for U.S. troops and Border Patrol Agents when he spoke to reporters in the Roosevelt Room at the White House.
"Anybody throwing stones, rocks, like they did to Mexico and the Mexican military, Mexican police, where they badly hurt police and soldiers of Mexico, we will consider that a firearm," Trump said. "We're not going to put up with that. They want to throw rocks at our military, our military fights back. I told them to consider it a rifle."
Defense Department sources speaking to Newsweek moments after Trump concluded his comments said that service members at the southern border had not received intelligence about "bad actors" contrary to the president's remarks and there had not been a change to the use of force rules that would permit service members to treat rocks as firearms.
Under federal law, U.S. troops are allowed to use deadly force in self-defense and to defend other people and property.
However, the rules governing the use of deadly force state it can be used only when "all lesser means have failed or cannot reasonably be employed," according to a 2012 Defense Security Cooperation Agency handbook published by Public Intelligence, an online collaborative research project that publishes government documents.
"They are pushing DoD's authority right up to the line of what is permitted without violating the restrictions of Posse Comitatus. Active duty personnel can respond in self-defense of border officials, but the perfect world does not exist in factual reality in which this subjective concept can be neatly applied to the environment of border enforcement," said Brad Moss, a Washington, D.C. based attorney specializing in national security.
The Military Times reported that Defense officials said the language in the White House directive was carefully crafted to stay within the legal limits established under Posse Comitatus.
However, the areas most vulnerable to Posse Comitatus violations, according to Moss, are U.S. service members participating in crowd control and the detention of migrants.
"That becomes the undefined gray line between emergency circumstances and routine border enforcement," Moss said. "The fine print of when either such behavior is permissible needs to be fleshed out by the government in far more detail."
"It is virtually guaranteed that the presumed good faith efforts of active duty personnel notwithstanding, there will be several repeated violations of the Posse Comitatus restrictions," Moss added.
When asked how the U.S. military would prevent a repeat of a May 1997 incident when Marines on the border mistakenly shot and killed a teenager, Mattis said, "They're not even carrying guns, for Christ's sake," according to Politico.
Mattis went on to indicate that if troops are used as an additional protective force for Border Patrol agents, military police officers will be "unarmed MPs with shields, batons, and no firearms," and that service members might detain migrants if they were "beating on a Border Patrolman and we're in a position to stop them."
Kelly's signed directive said the additional authorities granted to the Defense Department were driven by "credible evidence and intelligence" indicating thousands of migrants arriving at the port of entry near Tijuana, Mexico, "may prompt incidents of violence and disorder" that could threaten border officials.
Since the announcement of troop deployments to the U.S. southern border, reports have questioned the credibility of intelligence touted by the Department of Homeland Security and the White House.
On Tuesday, Newsweek confirmed DHS was actively spying on migrants traveling to the U.S. southern border through paid undercover informants and infiltrated WhatsApp text messaging groups the caravan uses to coordinate.
The information gathered from the informants and text messages is combined with reports from DHS personnel working with the Mexican government, according to NBC News, who first reported the news.
NBC News additionally reported that over the weekend, DHS intelligence assessments indicated that a group of migrants wanted to run through the car lanes of a border crossing near San Diego, prompting CBP to shut down all northbound lanes from 3 a.m. to 6 a.m. The border breakthrough by migrants never occurred.
Earlier this month, Newsweek reported that the Pentagon had not been briefed on whether there were hundreds of criminal suspects allegedly traveling with the migrant caravan.
Newsweek has been unable to determine how DHS preemptively identified at least 270 migrants with criminal backgrounds in the convoy and concluding they are ineligible to request asylum.
On the eve of Thanksgiving, roughly 5,900 active-duty troops and 2,100 National Guard forces are deployed to the U.S.-Mexico border waiting for what the president has called "an invasion."
This article has been updated with comments from Defense Secretary James Mattis and past quotes from President Donald Trump on wanting U.S. troops to treat rocks as firearms.