Trump's Mental Health Exam Was Insufficient And Potentially Dangerous, Yale Psychiatrist Writes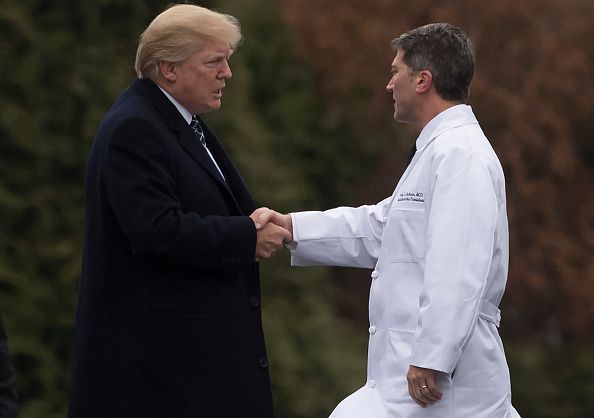 The physical examination that President Donald Trump received was insufficient to thoroughly judge his mental fitness for office, and could even be giving Americans a false sense of reassurance, according to a psychiatry and law professor at the Yale School of Medicine and a former White House ethics czar.
Mental health experts have been silenced in their effort to call for an in-depth cognitive exam, said Dr. Bandy Lee and Norman Eisen, who penned an op-ed in USA Today on Friday. The brief screening that Trump received in his annual physical, performed by White House physician Dr. Ronny Jackson, proved little, and the op-ed described a handful of other tests that would have been more thorough.
"There are already ample indicators that additional testing is indicated," reads the op-ed. "And this is just on the neurological side. It does not even touch the psychological side, where urgent concerns also lie and an assessment should have been done starting with a full history and standardized battery of testing."
The authors, who described themselves as "a forensic psychiatrist and government ethicist" say that the question of Trump's mental fitness is a matter of public health, and that the public shouldn't be left to "fend for themselves" without analysis from qualified mental health professionals.
Dr. Bandy Lee is a project leader for the World Health Organization, and briefed members of Congress on Trump's mental fitness, just months after editing a series of essays written by 27 mental health professionals. Her outspokenness regarding the president's mental state has raised some eyebrows, with some colleagues criticizing her and accusing her of breaking the Goldwater rule, which is an American Psychiatric Association rule that says it is unethical to give a professional medical opinion about public figures they haven't formally examined.
"The limited screen Trump received can even be harmful, by giving the public a false sense of reassurance," continued the op-ed, pointing out that Jackson is neither a psychiatrist nor a psychologist.
Trump's cognitive exam came back with a perfect score, according to Jackson's press conference on Tuesday, but several psychiatrists said it didn't prove much besides basic cognitive function. The test asks patients to repeat sentences, name animals like lions and camels, remember five words and draw a cube.
Regardless of Lee's critics, she and Eisen, who is chairman of Citizens for Responsibility and Ethics in Washington, say that it is the "public duty" of qualified experts to point out warning signs of mental disorder in the president, and that doing so should not be condemned as unfair diagnosing. Critiques of Trump's cognitive exam don't seek to diagnose, say the authors, but bring attention to the concern rather than remain silent on an issue of such importance.