Donald Trump Has Never Looked More 'Terrified' and 'Sees the Walls Closing In,' Says 'Art of the Deal' Co-Author
President Donald Trump "sees the walls closing in and no way out," claimed the co-author of Trump's 1987 bestseller The Art of the Deal. Tony Schwartz made the comment based on a response the president gave to reporters about a scathing New York Times op-ed written anonymously by a senior official within his own administration.
"Wow. Watch this video of Trump and tell me if there is terror and desperation in his eyes. He's in free fall mentally & emotionally because he sees the walls closing and no way out," Schwartz, who has been an outspoken critic of Trump, wrote on Twitter.
Schwartz later deleted the tweet but added another on a similar theme shortly after, calling for Trump's cabinet to invoke the 25th Amendment, which would declare the president unfit for office and see him replaced by the vice president.
"I have never seen Trump look more terrified and desperate than he did tonight trying to explain why he is a great president as his own senior officials turn against him publicly and the walls close in tighter each day. We have a true sociopath as president. #25thAmendmentNow," Schwartz tweeted.
The author of the op-ed claimed that "many of the senior officials in his own administration are working diligently from within to frustrate parts of his agenda and his worst inclinations."
Later in the piece, the writer claimed that members of Trump's cabinet had even discussed removing Trump from office.
"Given the instability many witnessed, there were early whispers within the cabinet of invoking the 25th Amendment, which would start a complex process for removing the president," wrote the author.
Trump was hosting an event at the White House with sheriffs from across the country moments after the piece was published but subsequently took shouted questions from the media.
"We have somebody in what I call the failing New York Times talking about he's part of the resistance within the Trump administration," Trump said. "This is what we have to deal with. And you know, the dishonest media, because you people have to deal with it as well as I do."
Trump added: "So if the failing New York Times has an anonymous editorial, can you believe it, anonymous, meaning gutless, a gutless editorial. We're doing a great job."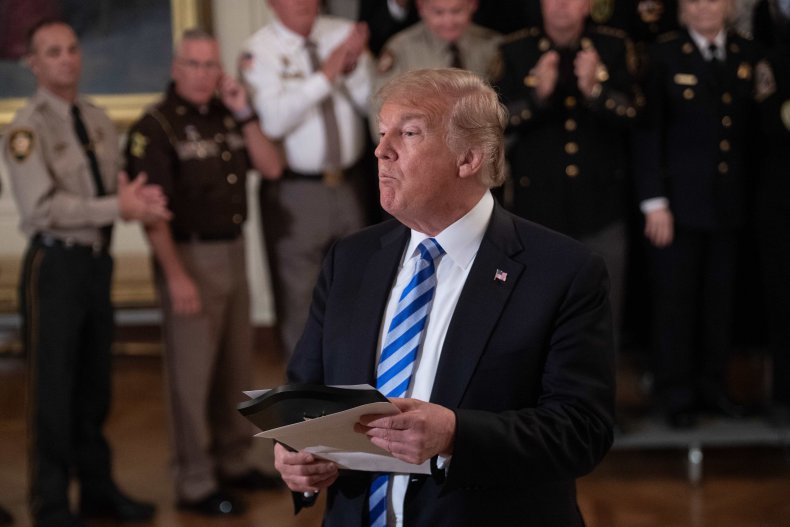 White House press secretary Sarah Huckabee Sanders later provided a further scathing response, calling on the official who penned the op-ed to step down.
"The individual behind this piece has chosen to deceive, rather than support, the duly elected President of the United States," Sanders wrote in a statement. "He is not putting country first, but putting himself and his ego ahead of the will of the American people. This coward should do the right thing and resign."