Donald ​Trump Says He Can Send '25 Million Mexicans' to Shinzo Abe and He'd 'Be Out of Office': Report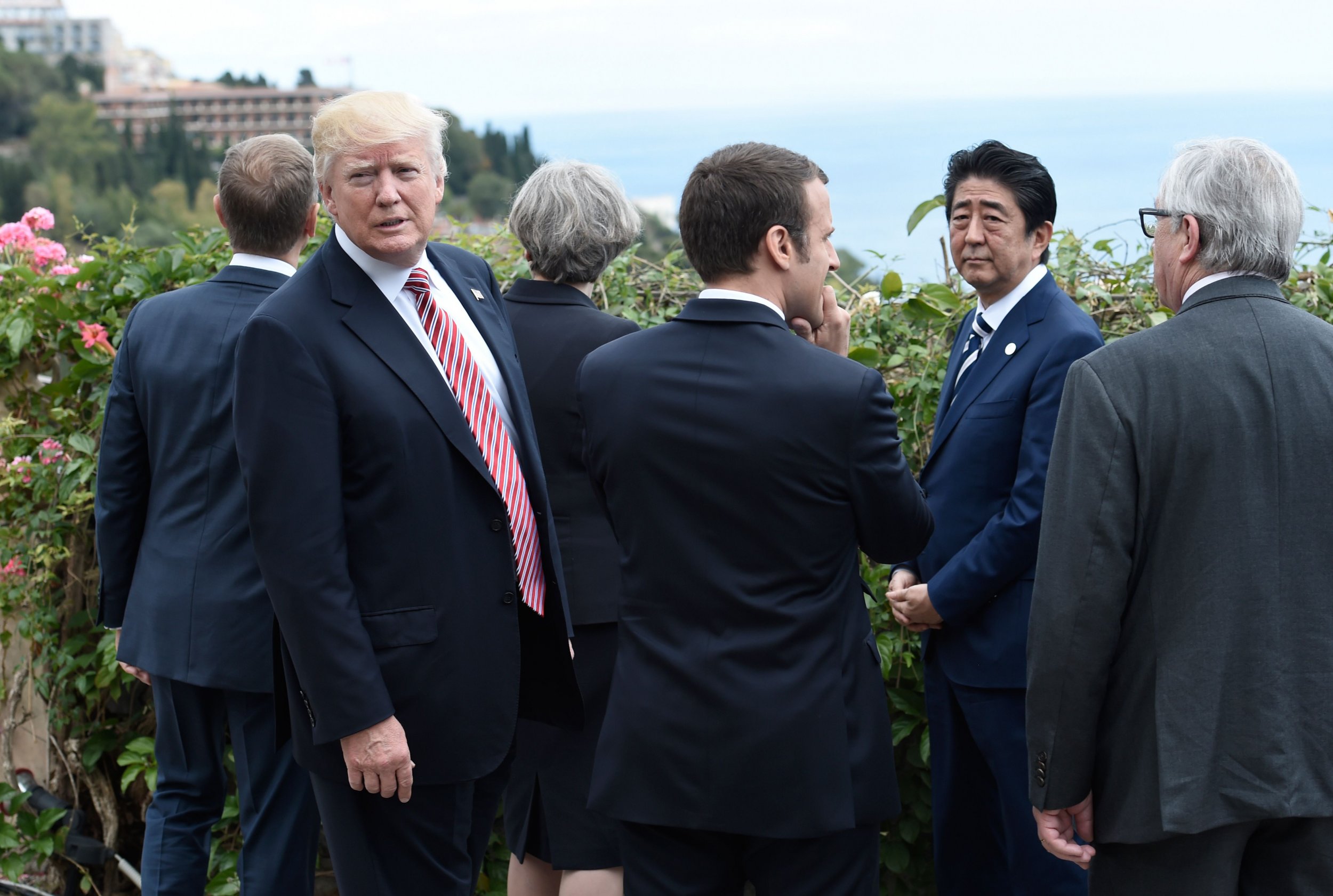 President Donald Trump reportedly made some bold, and potentially offensive, remarks in private conversations with world leaders at the G7 summit last week.
Trump told Japanese Prime Minister Shinzo Abe he'd be "out of office" if he had to deal with "25 million Mexicans," and told French President Emmanuel Macron that "all the terrorists are in Paris," The Wall Street Journal reported on Friday.
Related: Trump should be impeached because he 'sabotaged' bipartisan immigration effort with 'shithole' comment, democrat says
Claiming that migration is a huge issue in Europe, he reportedly told Abe: "Shinzo, you don't have this problem, but I can send you 25 million Mexicans and you'll be out of office very soon," a senior European Union official in the meeting in Quebec, told the Journal.
But Trump, who has followed up on his campaign promise to restrict immigration into the U.S., didn't stop there.
During talks about terrorism and Iran, the U.S. president told Macron: "You must know about this, Emmanuel, because all the terrorists are in Paris," the EU official said.
Irritation with Trump was in the air, "but everyone tried to be rational and calm," added the official.
Trump seemed wary of coming off as isolated, people in the room told the newspaper, and apparently said, "Oh, well, then it's five versus two," when Abe expressed opposition in wording for a joint statement on addressing plastic waste.
The White House could not immediately be reached for comment by Newsweek on Friday.
Trump's blunt statements came after he appeared to have friendly and productive meetings with both Abe and Macron in the U.S.
Abe visited Trump at his Mar-a-Lago resort in Florida for two days in April to discuss North Korea and trade sanctions. They partook in a friendship walk in the White House Rose Garden and even played some golf at Trump International Golf Club in West Palm Beach.
Trump welcomed Macron to the White House later in April with his administration's first state dinner. Their gathering had its awkward moments, with Trump dusting off "a little piece of dandruff" from Macron's suit "to make him perfect."
But it appeared to reinforce the partnership as one of Trump's strongest. "We have a very special relationship," Trump said at the time.
Over two days of meetings at the G7 summit, however, Trump distanced himself from the United States' chief allies once more. Other leaders at the table reportedly seemed dismayed they could not sway Trump on not only immigration, terrorism, and trade, among other issues.
After agreeing to endorse the joint communique following the summit, Trump abruptly announced on Twitter that he would not be signing on in retaliation to what he claimed were "false statements" from Canadian Prime Minister Justin Trudeau about trade tariffs.