Will he, or won't he?
That's the question Congress continued to ask itself Thursday as top officials from the U.S. and Mexico met to try and reach a deal to avert President Donald Trump's impending tariffs on goods from Mexico.
House Democrats are prepared to test their Republican counterparts in the Senate on whether the criticism of the president is genuine. House Ways and Means Committee Chairman Richard Neal, a Massachusetts Democrat, said Thursday that if Trump issues a national emergency declaration to free up additional executive powers to implement the tariffs on Mexico, he will introduce a resolution of disapproval. Such a resolution would be "privileged," meaning it would require both chambers to vote on it.
The move by Neal would force Senate Republicans, many of whom oppose the tariffs and have noted the potential economic impact they would have, to vote on whether to rebuff the president and attempt to block him.
"Commandeering U.S. trade policy to influence border security is an abuse of power," Neal said in a statement. "If the President does declare a national emergency and attempt to put these tariffs into place, I will introduce a resolution of disapproval to stop his overreach."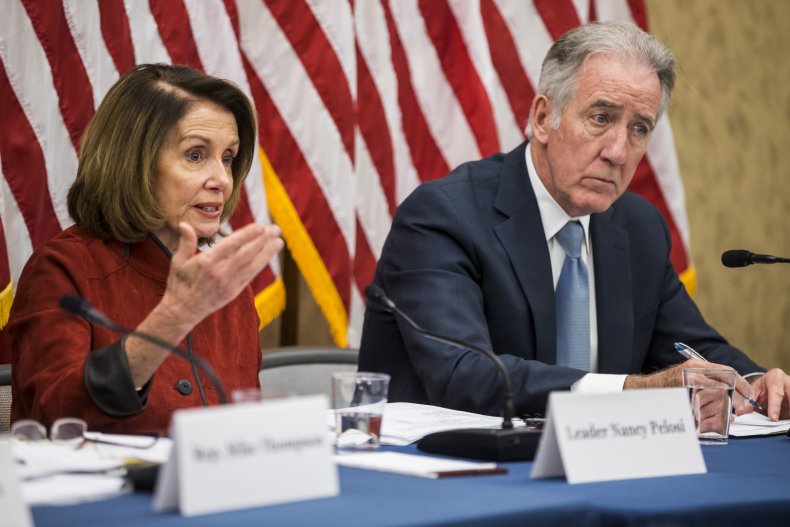 Senate Republicans continued to gripe Wednesday about the possibility of imposing tariffs on America's largest trade partner, even warning they may go so far as to buck him legislatively.
"We'll see what happens. But something pretty dramatic could happen," Trump told reporters Thursday. "We've told Mexico the tariffs go on. And I mean it, too. And I'm very happy with it. And a lot of people, senators included, they have no idea what they're talking about when it comes to tariffs. They have no—absolutely no idea."
The president may need to issue a national emergency declaration, in order to use the International Emergency Economic Powers Act (IEEPA) to implement the 5 percent tariffs starting Monday, teeing himself up for Congress to pass the disapproval resolution. Senate Republicans warned there's little-to-no appetite for tariffs on an ally.
"There is not much support in my conference for tariffs, that's for sure," Senate Majority Leader Mitch McConnell, a Kentucky Republican, told reporters Tuesday.
If it feels like déjà vu, that's because it's a strikingly similar situation to the one the president found himself in just months ago when he issued an emergency declaration for border wall funding. Congress ultimately failed to muster a veto-proof majority.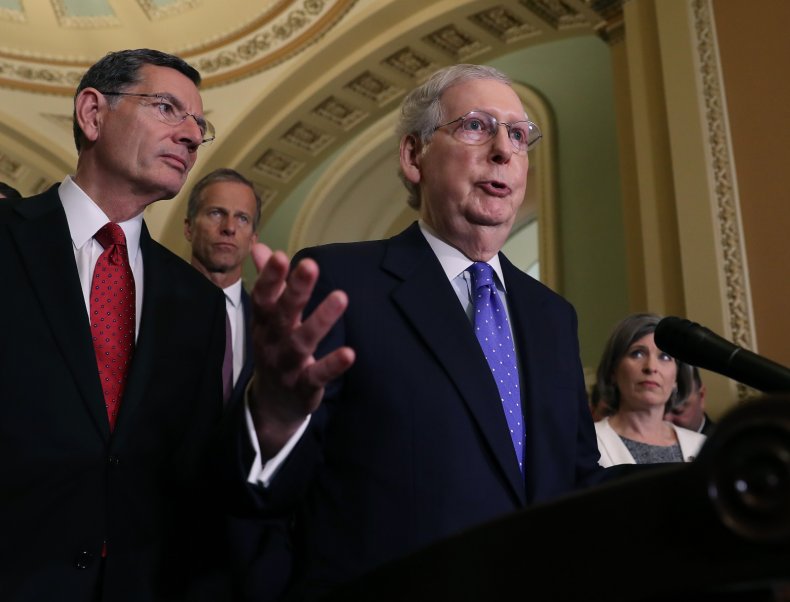 Rand Paul, McConnell's fellow Kentucky Republican senator, told Politico there was "a possibility that there could be a veto proof-majority" this time around.
When rebuking Trump's emergency declaration for the border wall, some Senate Republicans who indicated they would oppose the declaration ended up voting in its favor. And despite the vehement opposition by Senate Republicans and threats to block the president's actions, there's evidence to suggest they may again walk back that position when it comes time to vote, should Trump move forward with tariffs and an emergency declaration.
"We're not there yet," Republican Senator John Kennedy told Newsweek on the prospect of his less conservative GOP colleagues voting against tariffs.
Kennedy, like several other Republicans, was hopeful about the U.S. and Mexico striking a deal and avoiding the tariffs.
"I think a deal is gonna get done," GOP Senator Mitt Romney, who, like Kennedy, opposed the tariffs, told Newsweek.
The number three Senate Republican, John Barrasso, said Wednesday it would be too "theoretical" to try and predict his party's support for disapproving Trump's tariffs via resolution. He told Newsweek that if and when the time comes, Senate Republicans would "make sure that we have a fruitful discussion."
Republican Senator James Lankford, an opponent of the tariffs, believed it to be "very likely" that the tariffs come to fruition, but said it was "just too early right now" to determine whether he and his GOP colleagues would vote to stop Trump.
"We don't know what it is yet. We have a conversation," Lankford told Newsweek. "We have no paperwork, to be able to say, 'this is what he's actually going to do. This is how he's going to do it. This is the justification he's got.' So, we're stuck."
That same grievance was issued by House Speaker Nancy Pelosi, who labeled the possible tariffs "a distraction from the Mueller report" while accusing Trump of "treat[ing] Mexico as an enemy."
"We haven't seen anything yet except a tweet—a tweet, and then this statement of the authority under which they would do this," the California Democrat told reporters. "But we haven't seen anything that we would be overruling."