President Donald Trump on Monday called for his former lawyer to be thrown in prison for awful crimes, which the president claimed had nothing to do with him.
In a series of tweets, the president reacted to the news that Cohen preferred to not spend time behind bars. Trump posted:
"'Michael Cohen asks judge for no Prison Time.' You mean he can do all of the TERRIBLE, unrelated to Trump, things having to do with fraud, big loans, Taxis, etc., and not serve a long prison term? He makes up stories to get a GREAT & ALREADY reduced deal for himself, and get...his wife and father-in-law (who has the money?) off Scott Free. He lied for this outcome and should, in my opinion, serve a full and complete sentence."
Cohen—who spent more than a decade as Trump's lawyer and "fixer"—has cooperated with special counsel Robert Mueller's investigation and last week pleaded guilty to having lied to Congress about the timeline of a Moscow Trump Tower project, in what he said was an effort to protect Trump.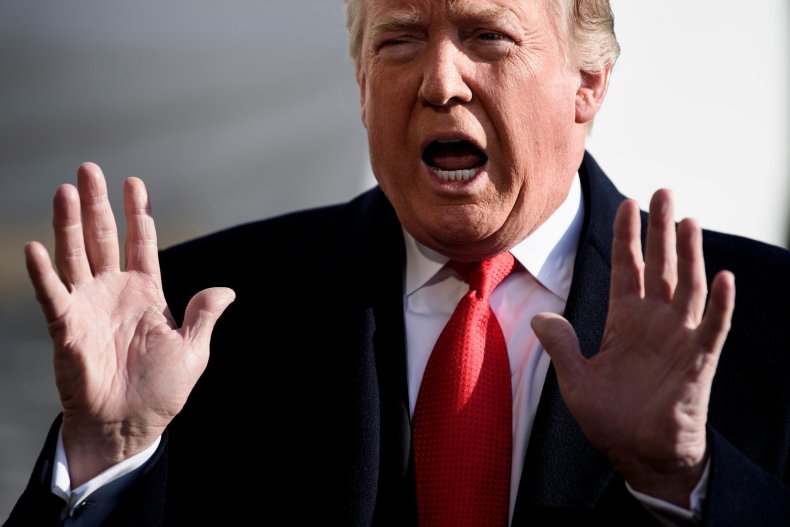 Trump soon followed up his tweets, slamming Cohen while offering praise to another longtime associate, Roger Stone. The post implied Cohen had been gutless for cooperating with law enforcement.
"'I will never testify against Trump,'" Trump tweeted, quoting Stone. "This statement was recently made by Roger Stone, essentially stating that he will not be forced by a rogue and out of control prosecutor to make up lies and stories about "President Trump." Nice to know that some people still have 'guts!'"
The latest tweets from Trump referring to Cohen's New York City taxi dealings and unspecified loans were hardly the first insults lobbed by the president against his former lawyer.
"[Cohen is] a weak person," Trump told reporters last week. "And by being weak—unlike other people that you watch—he's a weak person, and what he's trying to do is get a reduced sentence. So he is lying about a project everybody knew about."
Naturally, a reporter followed up by asking the president why he hired "such a bum," which prompted a curious response from Trump.
"Because a long time ago, he did me a favor," the president said. "A long time ago he did me a favor."