President Donald Trump Threatened Michigan for Sending Absentee Ballot Applications—Here's What the Law Actually Says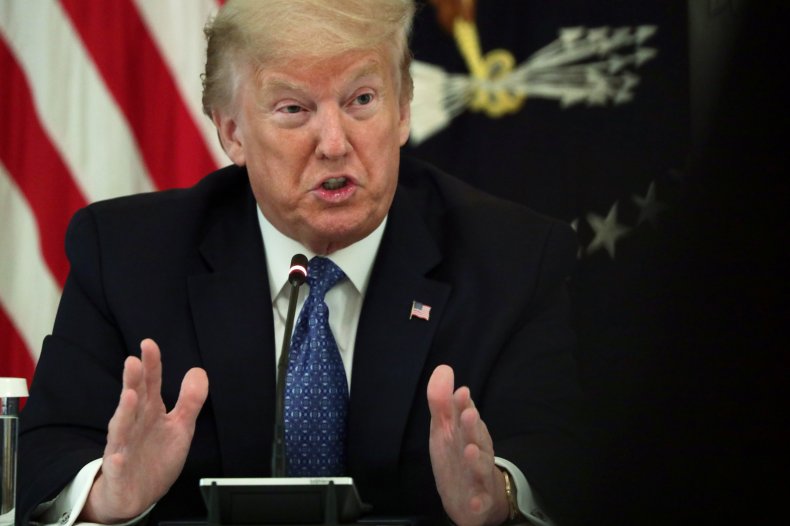 President Donald Trump Wednesday morning decried a decision by Michigan officials to mail all state residents an absentee ballot ahead of the November general election, calling Secretary of State Jocelyn Benson a "rogue" actor.
That was his first mistake in this tweet. They were ballot applications, not ballots.
He also said that the secretary's actions were taken "illegally." But experts caution that state emergency powers are at their highest during a public health crisis and that current election law does not appear to preempt Benson's decision.
Jake Rollow, a spokesperson for Michigan's Department of State, called Trump's assessment of Michigan election law "false" in a statement Wednesday.
"We have full authority to mail applications to ensure voters know they have the right to vote safely by mail," Rollow said.
Trump also threatened to withhold federal funds from Michigan because of the move, which critics have dubbed unlawful retaliation. He said, as he has previously, that mailed ballots will lead to widespread voter fraud, a claim that is not supported by the available evidence.
Trump, however, later deleted the tweet and reposted it to correctly note that Benson's efforts involve applications, not ballots. But his comments come at a time when already bitter relationships between Trump and Democratic state officials have been heightened.
The president embarked on a similar path as the one he articulated Wednesday in response to grievances about immigration sanctuaries and other policy regimes he disfavors. He has previously threatened to withhold funds from California and New York.
"I will ask to hold up funding to Michigan if they want to go down this Voter Fraud path," he said initially, tagging the U.S. Treasury Department in a tweet.
Michigan election law is governed by the state's Constitution and statutes enacted by the legislature. A tiny provision of the election code sits at the center of this long-simmering dispute. It outlines the process for Michigan residents to apply for an absentee ballot, stating that a city clerk is responsible for furnishing applications "to anyone upon a verbal or written request."
Critics complain that state law does not expressly grant Benson the power to send out millions of unsolicited absentee ballot applications to the state's registered voters.
"Do we have a statute that says the Secretary can mail out holiday cards?" Rollow objected. "Really, anyone has the right to send them out."
A pair of notable appellate court decisions in Michigan have interpreted key language of election law to prohibit city or county clerks from mailing unsolicited absentee ballot applications. These decisions have been seized on by Benson's critics, who argue she is exceeding her authority.
"The majority said that because the city clerk could do certain things—x, y, z—it meant the city clerk was not authorized to do anything else," Mary Massaron, a partner at the firm Plunkett Cooney, explained about an appellate court's decision in Taylor v. Currie to limit the distribution of ballot applications.
But Massaron and Rollow noted that Taylor, alongside a subsequent decision relating to county clerks, defined the powers of municipal officials, not statewide officeholders.
Rollow argued that, as the state's chief election officer, Benson's powers are not as circumscribed as those of local officials, who an appellate court said "must follow the directions provided by the Secretary of State."
"Municipal powers are often more limited," Massaron explained. "So the question of whether this decision would carry over to action by the Secretary of State has not been resolved."
Michigan Governor Gretchen Whitmer had already exercised emergency powers, which allow for the suspension of some laws, to require that the state's May 5 election be conducted almost entirely by mail. Unsolicited ballot applications were sent out following this order.
But the governor has not declared a comparable order for the November election to suspend election laws that continue serve as fodder for critics of this exercise of power. Elections officials do not believe they need to.
"The Secretary of State, like so many other organizations, has the authority to send out voter applications to all voters," Rollow said.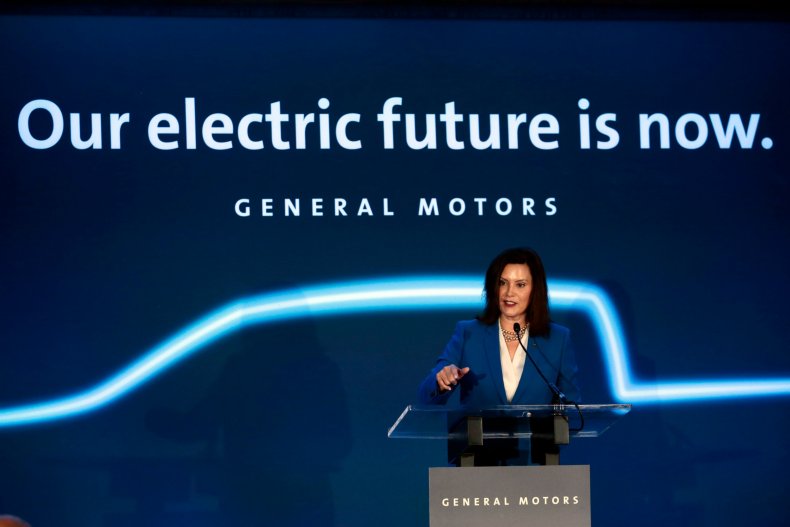 In 2018, Michigan voters approved an amendment to the state's Constitution enshrining the right for all residents to vote by absentee ballot. Previously, this was limited to certain subgroups, such as the elderly or infirm.
Defenders argue that all of these factors in combination weigh in favor of Benson's decision: She is a not a city or county official; the constitutional amendment strongly favors access to the absentee ballot; and executive emergency powers are wide-reaching.
Although they did not explicitly change the process for absentee ballot applications, the will of the voters expressed by the 2018 constitutional amendment will be hard to overlook if Benson's mass mailings are challenged in court.
Prior court decisions relating to absentee voting were issued a decade before the amendment passed, leaving open the possibility that the issue could be re-examined in a light more favorable to voting-rights advocates.
"When you have a constitutional amendment that is intended to expand the availability of absent ballot voting for the voters, that desire of the voters is expressed through the petition and voting process," Massaron explained. "This is not going to be lost on the courts if they're dealing with legal issues of the availability of absent voter applications."
Vanita Gupta, a former senior Justice Department official and president of the Leadership Conference on Civil and Human Rights, called Trump's initial tweet a "blatant lie." She also found the focus on Michigan misguided. Republican-controlled Georgia, for example, recently sent out an absentee ballot request form to all the state's registered voters for its primary elections.
Whitmer is a frequent target of the president, who infamously described her as "the woman in Michigan" at a coronavirus press conference in March.