Donald Trump Has Repeatedly Claimed He Was 'Michigan's Man of the Year.' That's Not A Real Award
Some are questioning a statement made by President Donald Trump during a rally on Thursday where he claimed he was named Michigan's Man of the Year. The award, however, doesn't appear to exist.
The statement came about 30 minutes into Trump's 90-minute speech at his re-election rally in Manchester, New Hampshire, as the president thanked Republican National Committee Chair Ronna McDaniel for her work.
McDaniel is the former Michigan GOP chair, who Trump credited in the speech with helping him win the state during the 2016 general election.
"I used to complain and you know I just –– I'd go [to Michigan] and I'd say, 'They're stealing your car business,'" Trump said. "I go for years. In fact, five or six years before I even thought about running, for whatever reason they named me man of the year in Michigan. I said, how come? I didn't even understand it myself, but I was named man of the year. I wasn't even political. That was years before I did this, but I was always complaining that our car business is being stolen."
Trump continued by saying that Mexico has gained 32 percent of the U.S. auto industry adding that it "all left the state of Michigan."
"We are bringing it back at a level that nobody has ever seen before — our car business," the president added.
While Trump has often touted the success his administration is having on bringing back manufacturing jobs to the United States, the claim of receiving Michigan's Man Of The Year award is the seventh time he has made such a statement.
However, a search performed by Newsweek did not find any sort of 'Man of the Year' award for Michigan that isn't connected to a specific group or non-profit organization. Of those groups, Trump was not among the winners listed, and no award with that name appears related to the auto industry.
The Detroit News also publishes a Michiganians of the Year list, but Trump does not appear nor would it seem that the president qualifies for consideration as he is not a Michigan resident.
According to The Huffington Post, Trump first touted the award as a presidential candidate on Nov 3, 2016 while speaking about Michigan's auto industry. At that time, he stated he was given the award "five years ago," which would mean sometime in 2011.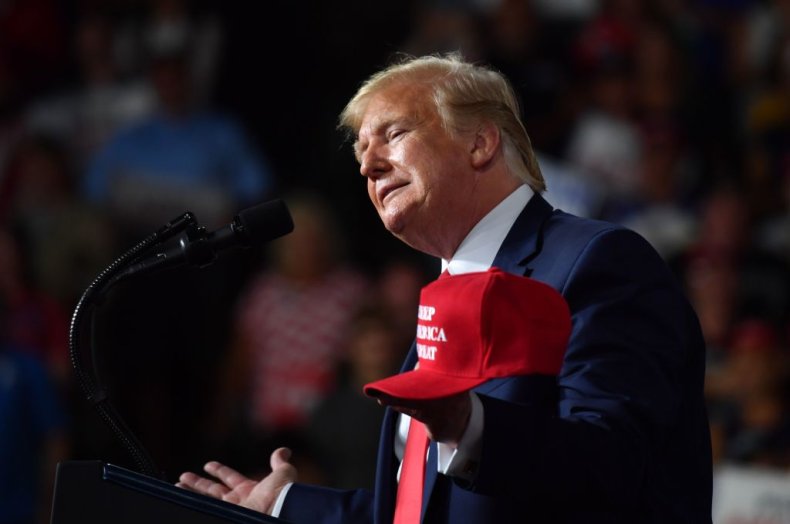 At the campaign stop, Trump went on to describe the speech he gave when accepting the award, saying, "during my speech, all I talked about is what Mexico and these other countries are doing to us. And especially what they're doing to Michigan. That's all I talked about. And I was criticized. They said, 'Donald, speak about something else.' I said, 'No. What's happening is horrible.'"
Trump has repeated the claim during a roundtable discussion in Michigan in 2017 and during a rally in Wisconsin earlier this year, CNN said.
In 2015, Trump was named runner up for Time's Man of the Year prize. The Post said that the president also received similar designations from the United Services Organization (USO) in 2002, and from World Net Daily, a conservative news website, in 2015. He was also named 'statesmen of the year' by the Republican Party of Sarasota County in 2012. However, none of those awards were issued by any organization in Michigan, nor did they occur in 2011.
MLive.com also did a deep dive of their archives, which includes eight newspapers from around Michigan, and came up empty in searching for Trump's elusive Man Of the Year award. The publication also reached out to the Michigan Chamber of Commerce, who said they were also unaware of any type of award with that name.
CNN's Daniel Dale attributes Trump's comments to a speech made in 2013 at the Oakland County, Michigan GOP Lincoln Day Dinner. According to Dale, Former Michigan congressman Dave Trott said he invited Trump to speak at the dinner but there was no award given to him.
Trott also told Dale that he was present at the 2017 roundtable when Trump mentioned the award, but that he didn't correct the president at the time since he was then a member of Congress.
Newsweek has reached out to Trump's 2020 campaign and the White House for comment.
This article has been updated with information reported by CNN's Daniel Dale.