Will Donald Trump Cost Republicans the Midterms by Telling Voters Polls Are 'Fake News' and 'Tools of Suppression'?
As Tuesday evening approaches and the nation heads out to vote in midterm elections, President Donald Trump has one clear message for his supporters: Don't trust the polls.
"So funny to see the CNN Fake Suppression Polls and false rhetoric. Watch for real results Tuesday," the president tweeted Monday afternoon, rephrasing his oft-expressed presidential communiqué that if polls aren't supporting Republicans, they're fake news.
While the president has also been doing his part to encourage Republicans to vote, internal GOP messages leaked to Bloomberg earlier this fall showed there was fear that the "fake news" phenomenon was backfiring. The study found a complacency among GOP voters who believed that they would win in November regardless of what poll data said.
"While a significant part of that lack of intensity is undoubtedly due to these voters' sentiments toward the President, it may also be partly because they don't believe there is anything at stake in this election," the study's authors wrote. "Put simply, they don't believe that Democrats will win the House. (Why should they believe the same prognosticators who told them that Hillary was going to be elected President?)"
Translation: a motivated Democratic base coupled with a complacent Republican party could spell disaster for any coming red wave.
Early voter turnout this year has so far exceeded all expectations. More than 34 million Americans have already made their way to the polls and at least 28 states have surpassed their 2014 early-voting totals. Early-voting data, however, indicated that women are voting at a higher level than men and that voters between the ages of 18 and 29 have surged. Those are both good signs for Democrats.
Republican candidates have noticed the complacency. "We've had to push harder this year, we've had more of a go at it," Mark McGovern, campaign manager for Seth Grossman, a New Jersey Congressional candidate who closely aligns with Trump, told Newsweek.
Still, McGovern preached that polls are fake news. Since 2016, he said, polling is no longer "business as usual," and that the "silent majority has been awoken and I think the greater the voter turnout the better chance there is for this red wave. It means they're very concerned that the nation may veer off course."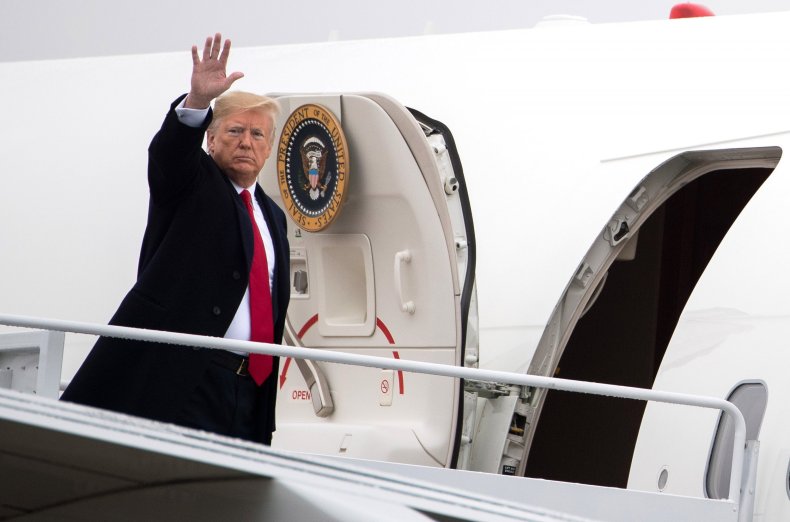 The concept of the silent majority rising up and defying poll numbers was a common one among the Trump voters Newsweek spoke with last month.
"The power of the secret, anonymous ballot is important to remember too. People can vote their conscience, and say another thing entirely over the dinner table with friends," said Nicole F., a Trump supporter from California who asked to be identified by her last initial only.
"I don't believe the polls—they were spectacularly wrong in 2016, and I don't think pollsters have learned a darn thing since then."
Debbie Lee of Oregon also latched onto the idea of Trump voters keeping quiet.
"We may be silent, but our silence is louder and more powerful than the screaming of the lunatic left. The polling is wrong," she said. "Just because people shout louder does not mean there are more of them than the others who quietly vote conservative. As if it hasn't been wrong before? We MAGA are mostly quiet. We don't answer polls, because we know they are fake news. Slanted. I know what my friends, family, and neighbors think. They are quiet as well. Until we vote."
Some supporters questioned the motives behind polling, latching on to the president's idea of "suppression polls."
"I think the polls are very misleading. You have to be careful with basing assumptions on those polls," said Jaclyn Maupin of Ohio. "I'm not sure if they're being deliberately misleading in an attempt to discourage conservatives from coming out in November..the whole 'well, they're going to win anyway, so I may as well just stay home!' tactic. I don't know."
Danny Pettit, a retired coal miner from West Virginia said that he thought polls were being faked by "people who want Democrats to win." The polls he said are mostly, "generated by the left-wing politicians to try to sway the votes of the people...I just don't trust the polls."
But the fake poll narrative tuns a real risk for the right this Tuesday, said Evan Siegfried, a Republican Strategist. "It's a real risk that voters will think polls are fake news and stay home, that's a massive risk," he said. "What's the incentive for them to show up? I mean it's not like a sports game where you have tickets and you go."
Siegfried, who has been analyzing voter registration numbers this election cycle, said that Democrats have significantly outpaced Republicans in new voters. "The voter registration data is really bad, it is really bad for Republicans," he said. "If Democrats don't take back the House, they don't deserve to exist as a party. That's how bad it is for us."
Still, Republicans remain positive. "My gut feeling is that the silent majority is not really saying anything but they're going to let their voices be heard again in November," said Pettit.