Trump Administration is Spying on Migrant Caravan With Paid Informants and Infiltrating WhatsApp Groups
The Department of Homeland Security is spying on migrants traveling to the U.S. southern border through paid undercover informants and infiltrated text messaging groups Newsweek has learned.
NBC News first reported DHS's infiltration operation to collect intelligence from migrants using WhatsApp text message groups citing two anonymous DHS officials.
Asylum seekers have used the messaging service to communicate and organize while traveling to the U.S. southern border in an attempt to flee war-torn and poverty-stricken countries in Central America.
Newsweek confirmed the reporting from NBC News through a Defense Department source with knowledge of the joint southern border operation.
DHS digital and human intelligence gathering is combined with on the ground reports from the department's personnel working in collaboration with the Mexican government, said NBC News.
The reports flow into an "indications and warning" analysis the U.S. intelligence community uses to detect and report time-sensitive information of real or perceived threats from opposing forces.
On Sunday night, intelligence assessments indicated that a group of migrants wanted to run through the car lanes of a border crossing near San Diego, according to NBC News.
Agents with Customs and Border Protection shut down all northbound lanes of the crossing from 3 a.m. to 6 a.m. in anticipation of a migrant bum-rush that never occurred.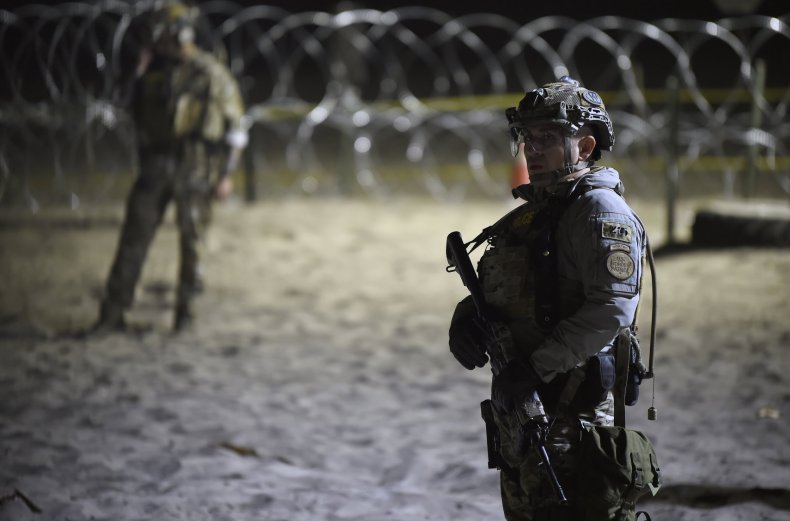 The total cost of sending U.S. active-duty forces to the southern border will cost American taxpayers about $72 million, the Pentagon announced Tuesday evening.
"Based on the current phased force laydown of approximately 5,900 Active Component personnel through Dec. 15, 2018, the estimated cost to deploy, operate, sustain, and redeploy forces is approximately $72 million," said a Defense Department press release.
The cost estimate includes only U.S. forces approved for deployment to the southern border on November 19, while the total cost of the mission formerly known as Operation Faithful Patriot is unknown.
It is unknown how much money DHS is spending on the intelligence-gathering operation inside the caravan. A Defense Department source estimated that it would only cost a few thousand for paying informants on the ground and factoring in stateside work to run the analysis.
Earlier this month, Newsweek reported that U.S. forces deployed to the southern border had not been briefed on hundreds of criminal suspects allegedly traveling with the convoy itself, despite the Pentagon aiding DHS with intelligence support.
"While there is a chance of people with some kind of criminal record to be traveling with the convoy," a senior Pentagon official said. "The current threat matrix does not offer any concrete indication of that."
Both DHS and the White House touted the claim of identifying 270 high-risk migrants traveling with the caravan. It's not clear how DHS had preemptively identified at least 270 migrants in convoy and determined they have criminal backgrounds and are ineligible to request asylum when migrants traveling to the southern border had yet to reach any port of entry.
DHS declined to give Newsweek any information, claiming that such data was law enforcement sensitive.
Meanwhile, U.S. Northern Command is preparing to redeploy about 400 military police officers from the U.S. Army to San Diego as the initial wave of migrants reaches the California-Mexico border.
Newsweek learned Tuesday that U.S. Army North will shift roughly 400 military police officers from the port of entry in Brownsville, Texas, to the San Ysidro Land Port of Entry in San Diego over the next three days, according to a Defense Department source with knowledge of the southern border mission formerly known as Operation Faithful Patriot.
U.S. Army North said Tuesday they are continuing to assess their resources and refining requirements to support the southern border mission formerly known as Operation Faithful Patriot.
"We may shift some forces to other areas of the border to engineering support missions in California and other areas," read a press release. "No specific timeline for redeployment has been determined."
The announcement did not mention the movement of Defense Department law enforcement units.
A spokesman from U.S. Army North told Newsweek on Tuesday that they would be unable to comment further beyond the information released Monday.
When asked about the next phase of the southern border mission, U.S. Army North said they could not comment as the decision would ultimately come from the National Command Authority, meaning President Donald Trump or Defense Secretary James Mattis.
The U.S. Army police officers will be assisting agents from Customs and Border Protection, according to a Pentagon source.
Military police officers are barred from direct participation in law enforcement tasks under the Posse Comitatus Act, a longstanding federal statute that restricts the government's ability to use the U.S. military as a police force. However, those restrictions can be lifted by Congress or by a presidential executive authority to restore order under extraordinary circumstances.
On Monday, Politico reported that some of the 5,800 troops deployed to the southern border amid the president's pre-election claims of an "invasion" would begin to rotate back to their home bases just some of the migrants start to arrive at U.S. ports of entry.
U.S. Army Lieutenant General Jeffrey Buchanan, the commander of U.S. Army North, told Politico on Monday: "Our end date right now is 15 December, and I've got no indications from anybody that we'll go beyond that."
This article has been updated with news out of the Defense Department about the estimated cost of the U.S. southern border mission.