Military Support for Trump Slips As Half of Troops View President Unfavorably, New Poll Shows
Support among military personnel for President Donald Trump is at its lowest since he became president, according to a new poll.
In the survey conducted by Military Times between the end of October to the start of December, nearly 42 percent of respondents said they had a positive opinion of the president. This comprised of 17.3 percent of respondents who had a "favorable" view and 24.3 percent who had a "very favorable" view of the president.
Meanwhile, just under 50 percent of respondents had a negative view, including 45.1 percent whose opinion of him was "very unfavorable."
These totals contrast Trump's ratings just after his election in November 2016, when 46 percent of troops had a positive view of Trump and only 37 percent had a negative view. The margin of error for most questions was around two percent.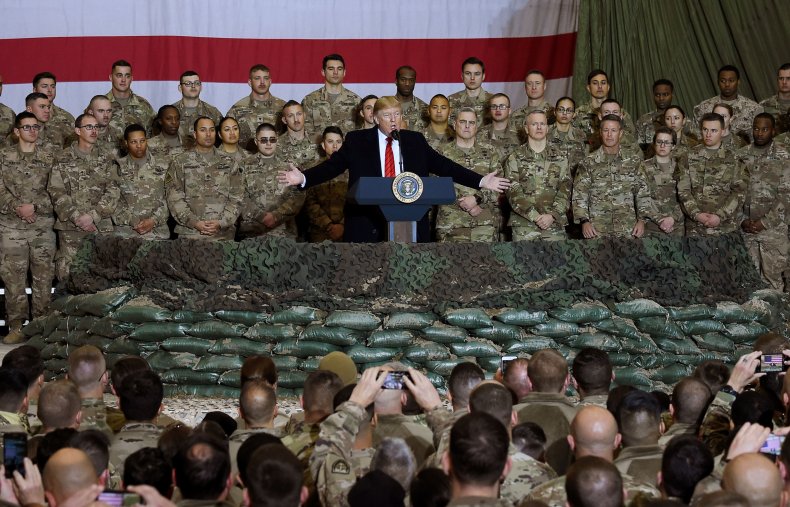 However, the publication noted that Trump's popularity is still higher than that of former president Barack Obama when he left office in January 2017.
Back then, a Military Times poll showed 52 percent of troops had a negative opinion of Obama and only 36 percent had a positive opinion.
Peter Feaver, ex-White House adviser to former president George W. Bush, said that those surveyed in the latest poll were a more career-minded part of the military. Trump is also much more popular with enlisted service members than with officers, the publication noted.
"These are people for whom the morals and standards of the military mean a lot," Feaver said.
"The president has criticized those same career workers in the State Department and other agencies. So, it's possible they are more likely to be offended by the president than other parts of the military," he added.
Newsweek has contacted the White House for comment on the survey's findings.
Retired Marine Corps Col. Dave Lapan, who was a department spokesman in the Trump and Obama administrations, said that the current president's popularity level has been affected by his involvement in "more controversial things connected to the military."
These included the firing of former defense secretary Jim Mattis, the withdrawal of U.S. troops from Syria and also granting clemency to three soldiers accused of war crimes.
Last month, Trump got a warm welcome from troops at a U.S. airbase in Afghanistan in a surprise Thanksgiving Day visit.
Trump's approval ratings among the military are slightly higher than those he enjoys among the general public. According to the latest Gallup poll, released on November 20, his disapproval rating is 54 percent and his approval is 43 percent.