Trump Forced Women to Wear 'Very Tiny' Bathing Suits and Higher Heels After Buying Beauty Pageants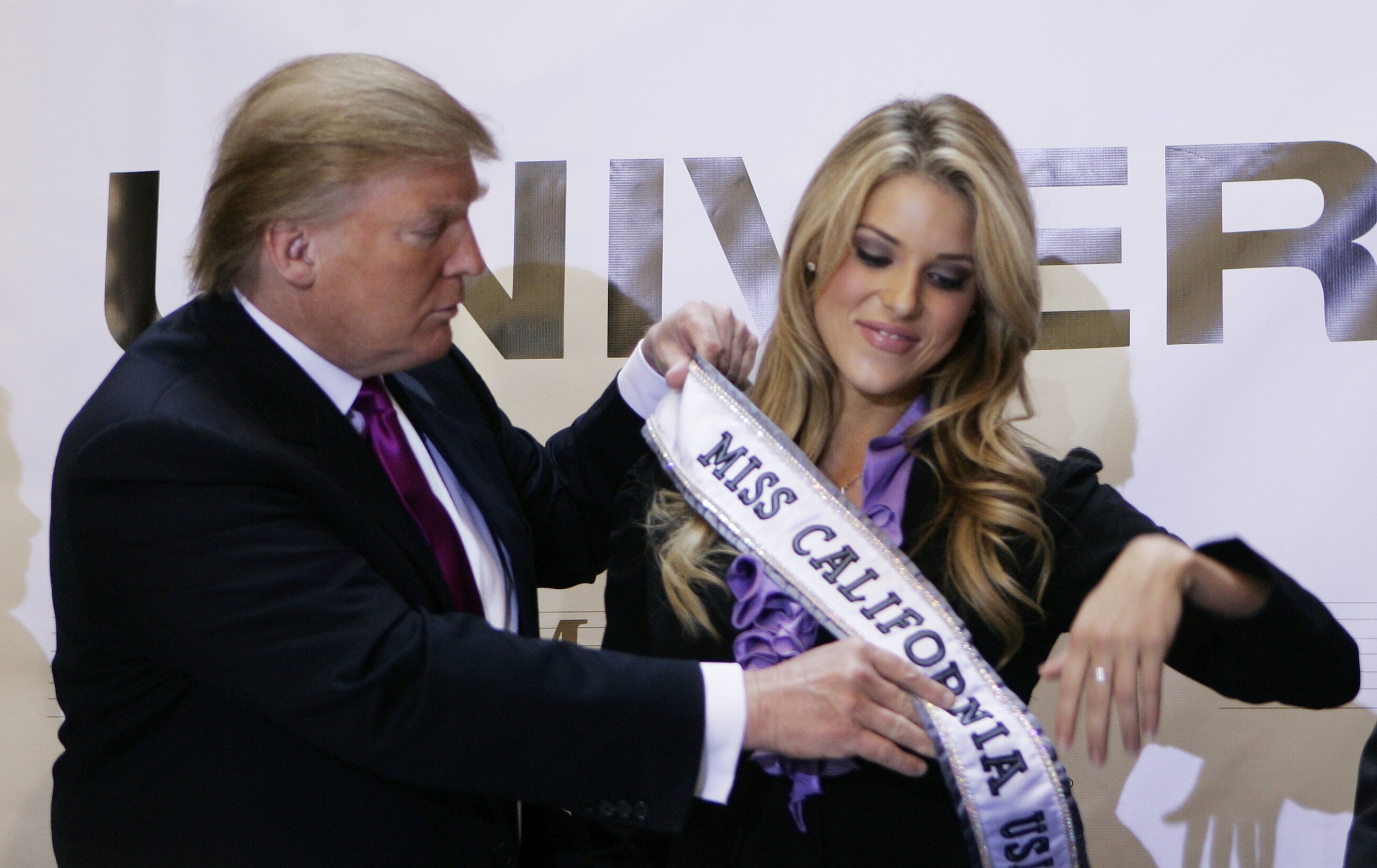 Donald Trump had a simple, albeit controversial, plan to boost ratings for the Miss USA pageant he purchased in 2005. "I'm gonna get the bathing suits to be smaller and the heels to be higher," the future president told radio show host Howard Stern that year.
Newsweek exclusively obtained 15 hours of interviews Trump gave The Howard Stern Show from 1993 to 2015, an archive that Factba.se has just added to its growing online database of every statement the president has publicly made in his lifetime. The recordings are peak "locker room talk" for Trump and reveal how the media and business mogul grew to prominence—sometimes by any means necessary.
Related: Trump Says Divorcing Wife Ivana and Going Bankrupt Were Worst Days of His Life
Trump told Stern and his cohost, Robin Quivers, he wanted better ratings for the pageant he purchased from ITT Corporation by giving audiences what he thought they wanted most: beautiful and barely dressed women.
Quivers: Now, one of the stipulations in the Miss USA pageant: What kind of suits are we talking about?
Trump: Well, you know, and I got myself into a little bit of a problem, they said, how are you gonna change the pageant because I bought it from ITT, you know the term is ITT, that's now under siege.
Stern: Right.
Trump: I bought it a few months ago from ITT, and so somebody called up from Reader's Digest and they said, what change is he gonna make to bring it up. I said, well, you know, 'cause it gives huge ratings, they've always gotten great ratings. And I said, well, the primary change is, I'm gonna get the bathing suits to be smaller and the heels to be higher.
Stern: Nice.
Trump: And we're gonna bring it in. And a lot of people wanted to see it sort of updated, so we're gonna update it.
Stern: Oh, you are—there are gonna be smaller bathing suits?
Trump: Very tiny.
Quivers: [With Stern] Whoa.
Trump: And by the time I get it, you know, by the time I have it for a year, forget it.
Stern: Oh, I like that.
Trump: It's a little gradual. [Inaudible]
Stern: It's a way to convince nude pageants.
Quivers: Oh yeah, yeah.
Stern: Let me tell you something: You're on the right track, you know what the people want. They want smaller swimsuits, and I am not kidding you, I will watch the pageant, legs akimbo, nude, with my tissues, I will pleasure myself. And I promise not to finish during your wife's performance, you understand that, out of respect to you. And congratulations on another great acquisition, the Miss USA pageant tonight on CBS tonight at 9 p.m. Eastern.
Trump: It will be a lot of fun, Howard.
Stern: All right. We'll all tune in.
Trump's pageants did become more scantily clad spectacles over the years, with a number of winners stirring controversy that put the owner himself in front-page news stories across the country. Trump allowed Tara Conner, Miss USA 2006, to keep her title after being caught drinking in New York City clubs underage after winning the crown. He was also notably criticized during last year's presidential campaign by Alicia Machado, Miss Universe 1996, who says the New York billionaire forced her to lose weight and stay within a certain body size after winning the competition.