Watch Donald Trump Mississippi Rally: Live Stream as President Rallies in Support of Cindy Hyde-Smith Before Elction
President Donald Trump is holding two rallies in Mississippi on Monday in support of Republican Senator Cindy Hyde-Smith, whose runoff election against Democratic challenger Mike Espy will take place the following day.
Trump's first rally is at 5:15 p.m. EST in Tupelo. The second rally is at 9 p.m. EST in Biloxi.
Hyde-Smith could use the president's help after being criticized for weeks for her comments that alluded to the state's history of slavery and racism as well as making voting harder for students at some universities.
"If he invited me to a public hanging, I'd be on the front row," Hyde-Smith joked with a supporter in a video earlier this month shared on Twitter. Espy, who is black, said her comment was "reprehensible" and "disappointing."
"They are hurtful to millions of Mississippians who are people of goodwill," Espy said on CNN. "And they're harmful because they tend to reinforce the stereotypes that have held back our state for so long and that have cost us jobs and harmed our economy."
In another video, Hyde-Smith also discussed making voting "just a little more difficult" for some university students.
In a debate with Espy, Hyde-Smith said she would "certainly apologize" to people who were offended by her "public hanging" comment but also said her remark "was twisted and it was turned into a weapon to be used against me."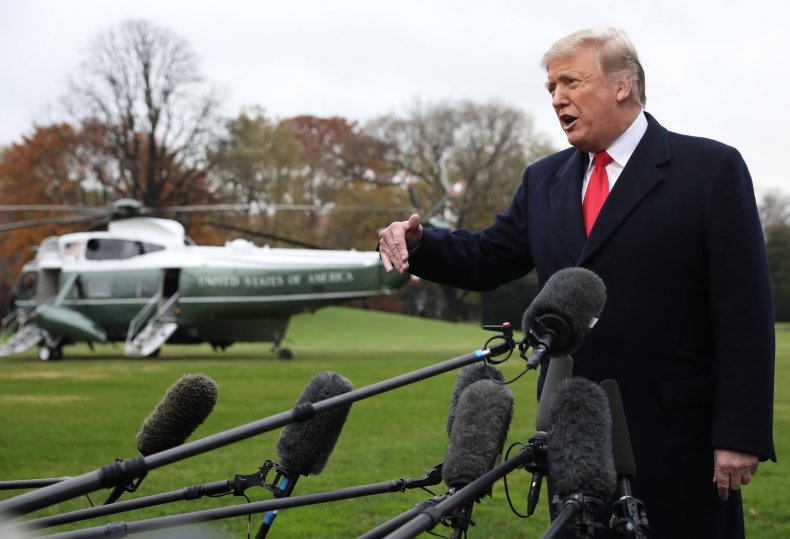 Before departing for Mississippi on Monday, the president said he felt "very badly" for the controversy Hyde-Smith has faced.
"She certainly didn't mean that and it was taken a certain way, but she certainly didn't mean it and as I understand it, she's already apologized and very strongly," Trump said.
He continued: "Well, I know her. I know her. And I know she apologized. And she misspoke. But I will tell you. I've known her for a period of time now as a senator. She's been an excellent senator. She's done a great job. She's somebody that's respected in the Senate."
Fox News is live streaming Trump's rally in Tupelo below.
WLOX-TV is live streaming Trump's rally in Biloxi at the Mississippi Coast Coliseum and Convention Center and the video can be found below.
The runoff between Hyde-Smith and Espy is taking place because neither got more than 50 percent of the vote in the midterm election.