Donald Trump Cursed Out Mitch McConnell Over Brett Kavanaugh Confirmation Process: Report
President Donald Trump was reportedly furious at Senate Majority Leader Mitch McConnell over his handling of Brett Kavanaugh's confirmation to the Supreme Court and made sure the top Republican knew just how irate he was.
Trump dealt McConnell an "expletive-filled tirade" during a call from the president's New Jersey golf club on September 21 and claimed McConnell had "let the process get away from him," according to Sunday's New York Times.
The president also reportedly took umbrage with White House General Counsel Don McGahn and Republicans for failing to push through a final vote on Kavanaugh's confirmation after the Senate Judiciary Committee passed him out of the committee on Friday, according to the report.
Trump and McConnell have clashed before, both behind the scenes and in public, with the president often calling for McConnell to change Senate rules to repeal and replace Obamacare last year.
"The only things the Democrats do well is 'Resist,' which is their campaign slogan, and 'Obstruct.' Cryin' Chuck Schumer has almost 400 great American people that are waiting "forever" to serve our Country! A total disgrace. Mitch M should not let them go home until all approved!" Trump tweeted July 27 as he railed against Democrats for delays on presidential nominees.
Still, McConnell has been one of Kavanaugh's strongest supporters. Despite the allegations against him, the top Republican in the Senate had publicly vowed that the longtime federal judge would be appointed to the Supreme Court and that no other candidate would even be considered.
Kavanaugh's potential approval was put on hold Friday after the committee, following a request by Republican Senator Jeff Flake, asked the White House to have the FBI investigate claims of sexual assault against the nominee. Trump agreed to the one-week investigation, but how deeply the bureau was asked to probe led to significant controversy over the weekend.
The FBI was reportedly told by the White House to interview four potential witnesses, a list that did not include Christine Blasey Ford, NBC News reported. Ford was the first to come forward publicly with assault accusations against Kavanaugh, and her testimony last Thursday was deemed "very compelling" by Trump.
The FBI was directed to interview Kavanaugh's friend Mark Judge, who Ford said was a witness to and cheered on the assault against her. Also on the interview list, according to reports, was Kavanaugh's second accuser, Deborah Ramirez; another friend of Kavanaugh's, P.J. Smyth; and a friend of Ford's, Leland Keyser.
The FBI's investigation evidently would not include Kavanaugh's third accuser, Julie Swetnick. She has claimed in a sworn affidavit that Kavanaugh took part in parties where girls were gang-raped.
Trump, however, refuted NBC's report and said the network should offer a correction.
"NBC News incorrectly reported (as usual) that I was limiting the FBI investigation of Judge Kavanaugh, and witnesses, only to certain people. Actually, I want them to interview whoever they deem appropriate, at their discretion. Please correct your reporting!" the president tweeted Saturday.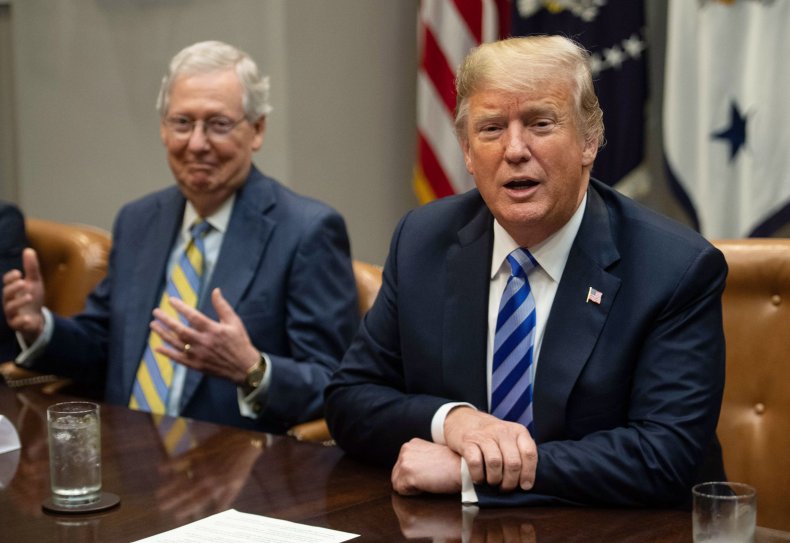 Donald Trump Cursed Out Mitch McConnell Over Brett Kavanaugh Confirmation Process: Report | U.S.