Donald Trump, Mitch McConnell and Lindsey Graham Bonded Over Effort to Reshape Supreme Court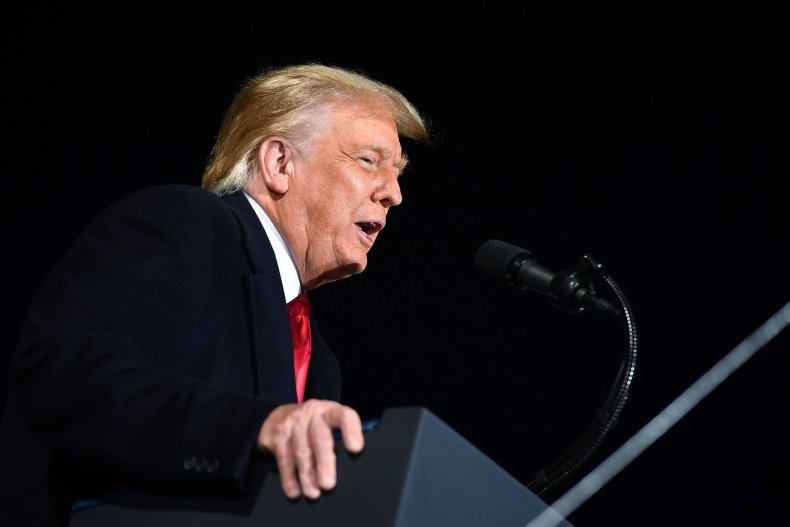 When the White House got word last Friday that Justice Ruth Bader Ginsburg had passed away, there were no frantic phone calls to the president—off on a campaign trip in Minnesota—nor to Senate Majority Leader Mitch McConnell. Widely panned for its shambolic responses to so many issues—not least the coronavirus—the White House was ready for this one. "We do judges," says one White House adviser who requested anonymity. ''We do judges well."
Under the guidance of White House counsel Pat Cipillone, a protege of Attorney General William Barr and, like Trump, a native New Yorker, the White House has worked almost seamlessly with McConnell in getting nearly 200 conservative judges appointed to the federal bench, including two Supreme Court Justices. Well aware that the 87-year-old Ginsburg was suffering from pancreatic cancer, Trump and McConnell knew for months that the president might well have a chance to nominate her replacement. The two men had had "a few conversations" about it prior to Ginsburg's passing, says another White House official not authorized to speak on the record. And Cipollone, given the number of judges Trump has been able to appoint, is in frequent contact with McConnell and his staff.
Trump on his return from Minnesota spoke from Air Force One to Cipollone, who has been in charge of vetting potential Trump nominees, and White House Chief of Staff Mark Meadows. Over the weekend he conferred with McConnell and South Carolina Senator Lindsey Graham, now Chairman of the Senate Judiciary. All of them knew of Trump's short list to replace Ginsburg—four women, all judges, one of whom, Amy Coney Barrett of the seventh circuit on the federal court of appeals, was the favorite.
McConnell told Trump he believed the Senate could confirm the president's nominee before the election, now just 42 days away. He noted that Ginsburg had gone from nomination to the bench in just 44 days in 1993. The night before, McConnell had issued a statement that the Senate would vote on whomever Trump would nominate—a sure sign that the majority leader believed he had the votes to confirm the nominee. Trump sought their views on when he should announce his choice.
Cippolone, Meadows, McConnell and Graham: to the Democratic opposition, these are the four horseman of the coming judicial apocalypse. They are, in many respects, strange bedfellows. Trump from the start has gotten along well with the pragmatic McConnell. The Kentucky senator has demonstrated to Trump that he is effective, and the president likes the fact that, in the words of one adviser, "he's a workhorse, not a show horse."
The fact that Trump has come to be close politically to Graham surprises some of the president's friends and advisers. The two had clashed bitterly during the 2016 campaign. Trump frequently derided Graham as a war-loving neo-con. "He's always wanting to bomb something," Trump said during one of the debates, while Graham dismissed candidate Trump as a "kook" and "crazy." Graham was also famously close to John McCain, whom Trump loathed.
But after the election both men "acted like grown ups," as one Senate staffer says. Graham understood the importance of having access to, and influence with, a president—no matter who it was. Trump, a neophyte, particularly on the issues of foreign and defense policy that Graham has long been immersed in, needed help—and Graham was there to provide it. The two began to play golf together, and became friends.
Nothing cemented their bond, however, like the last Supreme Court confirmation. Trump was infuriated by Senate Democrat's attacks on Brett Kavanaugh; they accused him of being a drunk and a sexual predator. Graham shared Trump's fury, and on September 27, 2018, he unleashed a furious, emotional denunciation of his Democratic Judiciary Committee colleagues. It cost Graham some friendships, but many believe it turned the tide in Kavanaugh's favor. Trump was ecstatic, and ever since, Graham has been one of his closest advisers.
Both Graham and McConnell are old-school senators, steeped in the need for bipartisanship and pragmatism when necessary. McConnell in his 2016 memoir, "The Long Game," went out of his way to denounce those in his party he viewed as inflexible ideologues, who on issues like immigration or economics would sooner denounce their GOP colleagues for insufficient adherence to their own dogma than get legislation passed. "If we fixate on hunting heretics within our ranks," he wrote, "we risk becoming a regional party."
At the time, one of the chief ''heretic hunters'' was Mark Meadows, the representative from North Carolina and the chairman of the so-called Freedom Caucus in the House. In 2015 he had filed a resolution calling for the removal of then-Speaker of the House John Boehner, a friend of McConnell's. Now he's Trump's chief of staff, and intimately involved in the forthcoming SCOTUS pick.
Meadows, both White House and Capitol Hill sources say, has largely stifled his more ideological side since taking the chief of staff job in March of this year. And on the issue of appointing judges, their interests are aligned. They want to approve a Supreme Court Justice that the Republican base will approve of, making it more likely that the GOP base will turn out in strong numbers in November. Meadows is particularly attuned to the conservative wing of the party, including evangelical voters who were critical to Trump's 2016 election.
Getting conservative voters to the polls will be particularly important to McConnell and Graham, both of whom are up for re-election this year in tighter-than-expected races. (The most recent poll in South Carolina, from Quinnipiac, shows Graham in a dead heat with his Democratic opponent, Jaime Harrison.)
On Monday, Trump announced that he would announce his selection this coming Saturday. Both Graham and McConnell assured him that would allow sufficient time to hold hearings and a vote. Those three have, to one degree or another, tied their political fates to the choice the Trump will make. In 42 days we'll know whether that was a wise thing to do.