Donald Trump Mocks 16-year-old Greta Thunberg, Twitter Reacts: 'She Has More Class in Her Little Finger'
President Donald Trump appeared to mock Greta Thunberg after her emotional speech to the United Nations on Monday.
Thunberg, 16, was tearful and her voice broke as she chided world leaders for having "stolen my dreams and my childhood" with their inaction on climate change.
The Swedish activist founded the school strike campaign to raise awareness about the climate emergency and the urgent need for governments to take comprehensive action quickly.
She has since traveled the world to campaign on climate change and recently sailed across the Atlantic to New York City so she could give this speech to the U.N.
"She seems like a very happy young girl looking forward to a bright and wonderful future. So nice to see!" Trump wrote on Twitter alongside a clip of Thunberg's speech.
He tweeted after a video of Thunberg glaring at him as he entered the U.N. headquarters went viral on social media.
Trump has questioned climate change science and sought to roll back environmental protections, as well as encouraged greater production in the fossil fuel industry.
But climate scientists are near-unanimous in the view that humans are the driving force of the current changes to the climate and that time is almost out for us to halt it and reverse its effects.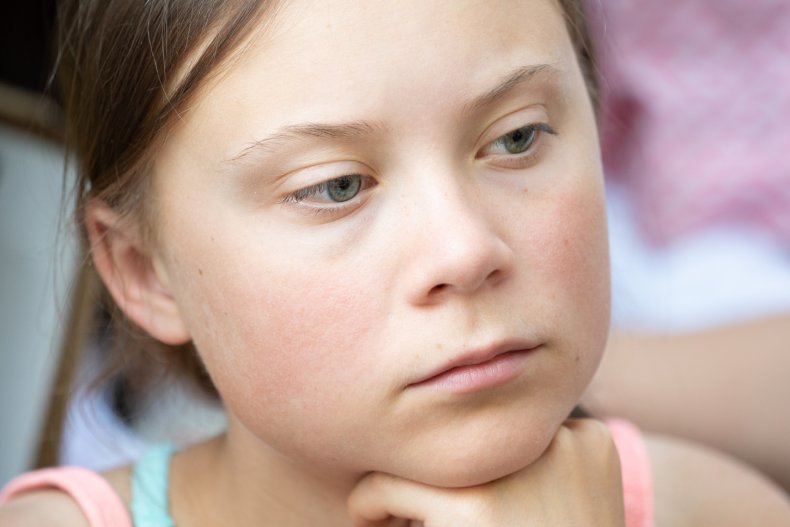 "This is all wrong. I shouldn't be up here. I should be back in school on the other side of the ocean," Thunberg told the U.N.
"Yet you all come to us young people for hope. How dare you? You have stolen my dreams and my childhood with your empty words. And yet, I'm one of the lucky ones.
"People are suffering. People are dying and dying ecosystems are collapsing.
"We are in the beginning of a mass extinction and all you can talk about is money and fairytales of eternal economic growth. How dare you?"
The president faced a mixed response on social media after his "very happy young girl" tweet.
His supporters ran gleefully with his tweet, adding their own derogatory remarks about the schoolgirl Thunberg and also rejecting the science on climate change.
To others, it was a new low for Trump.
"He has now officially broken me," tweeted the actor Willie Garson.
"A horrible evil world leader, trolling a 16 year old with Asperger's, for passionately discussing scientific facts.
"And the comments support him. I'm done, these people are not decent, Patriots, or humans. We are amidst monsters."
"She has more class in her little finger..." tweeted Kirsten Oswald, a former U.K. politician.
"While most world leaders at least make an effort to preserve a livable climate for @GretaThunberg's generation, our climate denier criminal-in-chief instead makes sarcastic comments while doing everything in his power to burn her future away," tweeted Dana Nuccitelli, a climate scientist.
"484 days until inauguration day 2021."