Watch Donald Trump Montana Rally: Time, Live Stream for Missoula Speech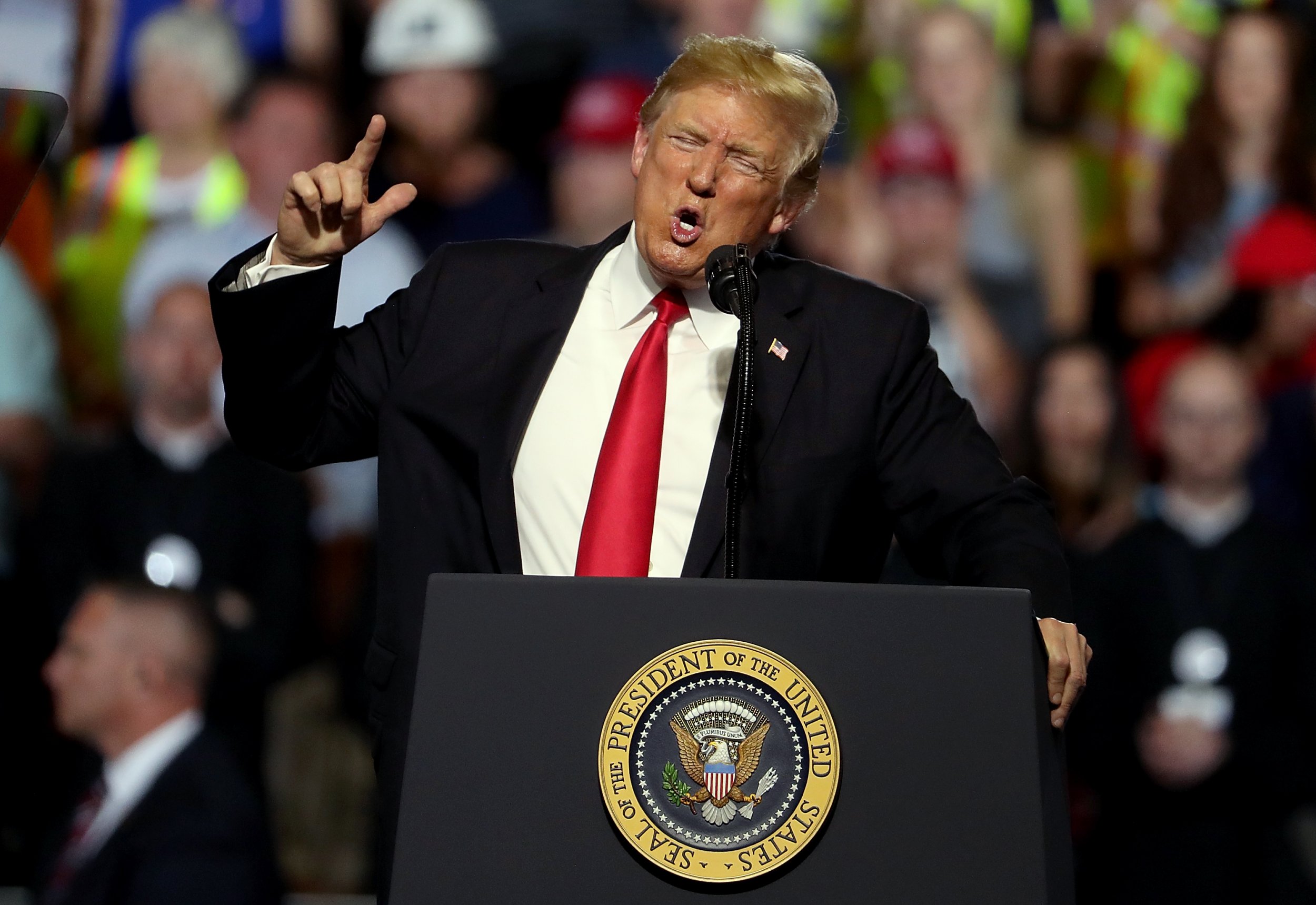 President Donald Trump will continue his series of rallies for Republican candidates Thursday night in Missoula, Montana. The rally is scheduled to start at 6:30 p.m. MDT at the Minuteman Aviation hangar.
It is Trump's first stop in a three-day tour of the West ahead of the November 6 midterm elections in which Democrats will seek to retake one or both houses of Congress. In Missoula, Trump will be calling on his supporters to vote for state Auditor Matt Rosendale, who is running against incumbent Democratic Senator Jon Tester, as well as Representative Greg Gianforte, who is being challenged by Democratic candidate Kathleen Williams.
The rally will be streamed live on YouTube by CBS News:
Tickets to the rally, up to two per reservation, are available at Trump's campaign website up until the event kickoff.
The crowd size is estimated to range from 6,000 to 8,000 people, according to the Missoulian.
Trump is only the fourth president to visit Missoula while serving and the first to do so in 64 years, by the newspaper's account. In 1909, President William Taft's train stopped late at night at the Northern Pacific station. In 1950, President Harry Truman spent a few hours one morning at a rail stop, while four years later President Dwight Eisenhower dedicated a new smokejumper base at the airport.
While running for the White House in 2008, Trump's defeated 2016 opponent Hillary Clinton held a rally in Missoula's Neptune Aviation hangar with about 2,000 people inside and outside the venue.
Controversy erupted ahead of the rally when former Montana Republican Party chairman Will Deschamps Sr. wrote in a Facebook post on Tuesday that some GOP members at the Missoula event will have guns and "know how to use" the firearms.
"For all the prospective attendees to the Trump event. Come early. Also all you protesters, show up as well. This is a concealed and open carry state and we know how to use em," Deschamps wrote.
Deschamps told the Missoulian that he was worried about protesters from the far-left "antifa" group.
"My concern is with antifa," Deschamps said. "Someone is going to get hurt at those protests."
In another Facebook post on Wednesday, Deschamps said that protesters "have become more and more brutal."
"They are in fact, now carrying fire arms, hardened gloves and other violent articles with them that can kill, or harm those they disagree with," he wrote. "Apparently, those of us that want peacful [sic] marches, are not allowed to suggest we defend ourselves."
Trump's schedule will continue at pace ahead of the midterms. On Monday, he will hold a rally in Houston, Texas, for Senator Ted Cruz, who faces a rough race against Democratic challenger Beto O'Rourke.