President Donald Trump, who last month ordered NASA to go back to the moon, was seemingly swayed by a Fox Business segment on Friday, tweeting shortly after that the space exploration agency "should NOT" be moon-bound and focus instead on "much bigger things."
Fox Business Network anchor Neil Cavuto at around 12:30 pm. EST said NASA is "refocusing on the moon, the next sort of quest, if you will, but didn't we do this moon thing quite a few decades ago?" according to a clip shared by a senior fellow with the liberal watchdog Media Matters for America.
Just over an hour later, Trump, an avid watcher of Fox News and Fox Business programs, tweeted, very similarly to Cavuto, "For all of the money we are spending, NASA should NOT be talking about going to the Moon - We did that 50 years ago."
The president continued: "They should be focused on the much bigger things we are doing, including Mars (of which the Moon is a part), Defense and Science!"
Trump's tweet was an about-face from a post on May 13 in which he expressed great pride in sending NASA back to the moon.
"Under my Administration, we are restoring @NASA to greatness and we are going back to the Moon, then Mars," Trump tweeted at the time. "I am updating my budget to include an additional $1.6 billion so that we can return to Space in a BIG WAY!"
At the end of his first year as president, Trump authorized NASA to "lead an innovative space exploration program to send American astronauts back to the moon, and eventually Mars."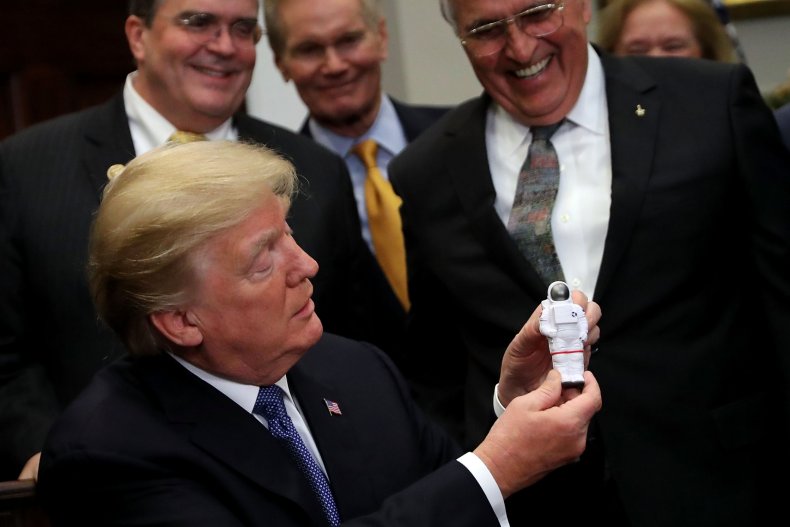 Twitter users on Friday also seized on Trump's new claim that the moon is part of Mars.
It did not appear that Fox can be blamed for the strange comment about the moon being part of Mars. However, it is likely that Trump's "Mars (of which the Moon is a part)" comment referred to NASA's talking point that going to the moon again would help efforts to later reach Mars.
In a CNN interview on Thursday, Apollo 11 astronaut Michael Collins mocked Trump's knowledge of Mars.
"I don't think he's too much aware of Mars," Collins opined of Trump. "Maybe he doesn't understand that there is a planet Mars."
Collins said that many experts consider the moon as a gateway to Mars, but that he stands with the minority view that going to Mars should be the priority.