Donald Trump's Most Shared Tweets of 2019
This has been a record-breaking year for President Donald Trump on Twitter, with the prolific commander-in-chief setting a personal best for the number of tweets and retweets in a single day—115.
Twitter-obsessed Trump has redefined the use of the platform since launching his presidential campaign in 2015, making his account the primary means through which the president reaches his allies, enemies, American voters and the world.
The president's pugnacious Twitter posts have been a constant accompaniment through this turbulent year. Trump used the platform to rail against special counsel Robert Mueller's investigation into Russian meddling, try to undermine his impeachment and tear down his political rivals as he prepares for his 2020 re-election bid.
Trump also conducts international diplomacy on Twitter, using posts to threaten war with Iran, bash China, attack the leaders of allied nations and boast of the death of the world's most wanted terrorist—to name just a few of the major issues he addressed online this year.
The president has sent more than 6,900 tweets this year—an average of more than 18 messages each day—to his more than 68 million followers. As the Statista graphic below shows, his rate of tweeting has accelerated significantly in the past year.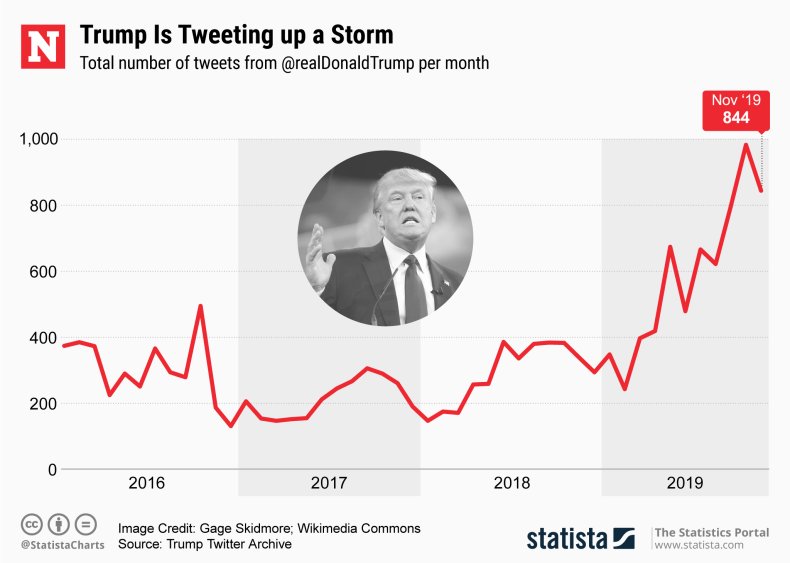 According to the Trump Twitter Archive website, the 2019 tweets with the most impact—at least in terms of retweets and favorites—related to the president's efforts to free rapper A$AP Rocky from detention in Sweden, where he had been arrested for assault.
Trump's most retweeted posts of the year related to A$AP Rocky. The most—with 251,530 retweets and 879,647 favorites read: "A$AP Rocky released from prison and on his way home to the United States from Sweden. It was a Rocky Week, get home ASAP A$AP!"
The second-most shared tweet showed how rapper Kanye West was leveraging his unlikely friendship with Trump to help his fellow rapper. "Just spoke to @KanyeWest about his friend A$AP Rocky's incarceration," the president wrote.
"I will be calling the very talented Prime Minister of Sweden to see what we can do about helping A$AP Rocky. So many people would like to see this quickly resolved!" That tweet garnered 210,186 retweets and 734,567 favorites.
Before the rapper's release, the president attacked Swedish authorities for not agreeing to his demands.
"Give A$AP Rocky his FREEDOM," read one message which was retweeted 98,749 times and favorited 335,130 times. "We do so much for Sweden but it doesn't seem to work the other way around. Sweden should focus on its real crime problem! #FreeRocky"
The president has regularly tweeted out memes to attack his critics and fortify his base.
Two such images were among Trump's most impactful posts of the year. The first—with 201,773 retweets and 700,861 favorites—was a photoshopped image of Trump's head on the muscular body of legendary movie boxer Rocky Balboa, posted without comment or explanation.
Another high performing tweet was the declassified photo of Conan the dog, who was injured in the operation to kill Islamic State leader Abu Bakr al-Baghdadi. Conan was wounded when Baghdadi detonated his suicide vest, having been cornered in a tunnel by U.S. special forces.
"We have declassified a picture of the wonderful dog (name not declassified) that did such a GREAT JOB in capturing and killing the Leader of ISIS, Abu Bakr al-Baghdadi!" Trump tweeted. The post was retweeted 131,283 times and favorited 574,621.
Trump also used a meme to attack possible 2020 rival Joe Biden, using a doctored version of a Nickleback's music video for the song "Photograph." In the doctored clip, singer Chad Kroeger holds up a photo of Biden and his son Hunter—who Trump and his allies accuse of corruption in Ukraine while Biden was vice president.
The clip was retweeted 122,631 times with 419,383 favorites. Alongside the video, Trump wrote, "LOOK AT THIS PHOTOGRAPH!" The clip has since been removed after Nickelback complained about the president's usage of it.
Trump used another tweet sent in April to attack Minnesota Rep. Ilhan Omar, who was accused of underplaying the severity of the 9/11 attacks.
It was one of many attacks by Trump on Omar during the course of the year. "WE WILL NEVER FORGET!" the president wrote alongside a clip of Omar speaking followed by footage of the burning World Trade Center.
The clip of Omar—which reportedly prompted a spike in death threats against the congresswoman—was retweeted 99,945 times and favorited 258,645 more.
Trump used another meme to celebrate what he considered "total exoneration" of collusion with Russia during the 2016 election. An image of Trump with Game of Thrones-style writing incorrectly declared, "No collusion, no obstruction. For the haters and the radical left Democrats—GAME OVER." It was retweeted 116,749 times with 398,708 favorites.
Another image-and-text post warned Trump's supporters that the House vote to impeach the president was really an attack on them. "In reality they're not after me they're after you," the text said."I'm just in the way."
The last post in the top 10 of the year were less partisan in nature. One wished followers a merry Christmas and was retweeted 115,372 times and favorited 735,775 times.