Donald Trump Falsely Claims Robert Mueller's Team Cried at Hillary Clinton's 'Funeral'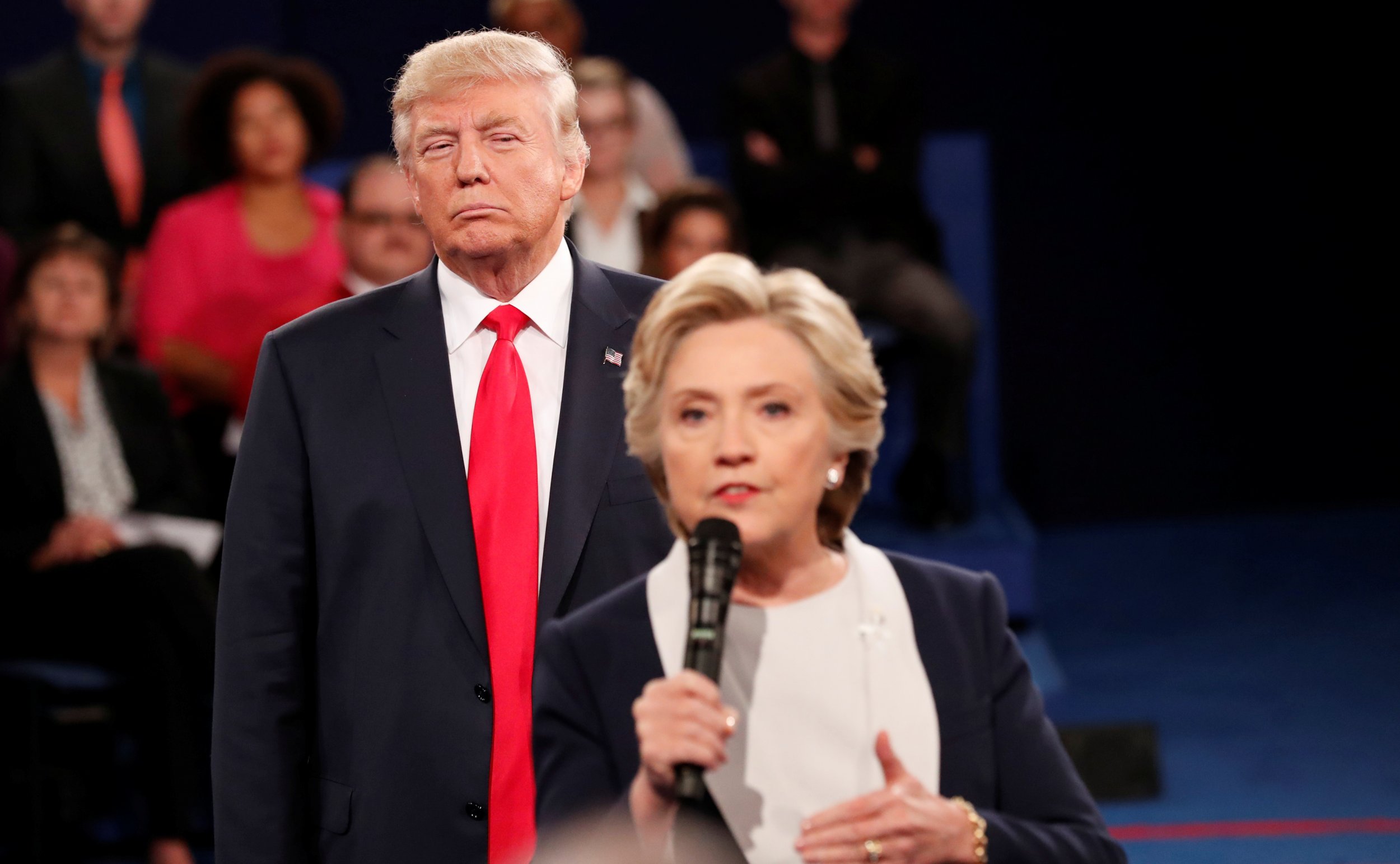 In a conversation with reporters Friday, President Donald Trump falsely claimed that members of Robert Mueller's special counsel team were "crying" the night Hillary Clinton lost the 2016 election, which he referred to as her "funeral."
"I call it Hillary Clinton's funeral, that was the night she lost the election. It was a funeral, it was a wake," Trump said about Clinton's election night party. The comment was made by the president to members of the media on Friday shortly before he was to speak at a rally in South Dakota.
"People that are on Mueller's team who are there crying, they were crying," the president added, offering no evidence to support his statement.
A senior political reporter from The Washington Post noted on Twitter that one news report found that Andrew Weissman, a Mueller deputy, was at Clinton's election night gathering at the Jacob K. Javits Center in New York.
"There is no evidence he cried," the reporter posted on social media, along with the link to the original Wall Street Journal article.
Trump has been an outspoken critic of both Mueller and Clinton, and is apparently looking to kill two birds with one stone with his latest comments.
The president has repeatedly slammed the special counsel investigation, which is examining Russian interference in the 2016 election and possible collusion between the Trump campaign and Russia, calling it a "rigged witch hunt." He has also pleaded with his Attorney General Jeff Sessions to stop the probe immediately, but Sessions has refused.
On Thursday night, during a rally in Montana, the president said that if the special counsel investigation were to result in any charges that could lead to his impeachment, it would make America "turn into a third-world country."
"You'll have a country that's going to turn into a third-world country," Trump claimed, "because if the opposite party becomes president, every time before it even starts, before you've even found out whether or not he or she is going to do a great job, they'll say: 'We want to impeach him!' And they'll impeach him. It's so ridiculous."
Trump also took another jab at Clinton during the rally on Thursday. "Now I have the privilege of going against crooked Hillary Clinton," he told the crowd. "So I beat crooked Hillary and the electoral college is hard, it's, frankly, if we didn't know better, and maybe we're starting to find things out that we didn't know, it's hard, and harder to win than popular vote."
Trump added that he only beat Clinton after she "stole" the Democratic Party's nomination from Bernie Sanders.