'Let People See It': Trump Says Robert Mueller's Final Report Should Be Made Public
President Donald Trump on Wednesday said he supports the public seeing special counsel Robert Mueller's final report, which is believed to be close to completion and nearly ready to submit to Attorney General William Barr.
"I don't mind," Trump told reporters when asked if the public should see the report. "Let it come out, and let people see it.... I mean, frankly, I told the House, If you want, let them see it."
Congressional leaders on both sides of the aisle have been concerned that they may see only portions of the report. After Mueller submits it to Barr, the attorney general will determine what parts, if any, are released to Congress or the public.
The House voted 420-0 last week to make the Mueller report public, but an attempt by Senate Minority Leader Chuck Schumer to force a vote on the measure in the Senate was shot down by Republican Senator Lindsey Graham. House Intelligence Committee Chairman Adam Schiff warned last month he will "subpoena the report, we will bring Bob Mueller in to testify before Congress, we will take it to court if necessary," in order to obtain the document.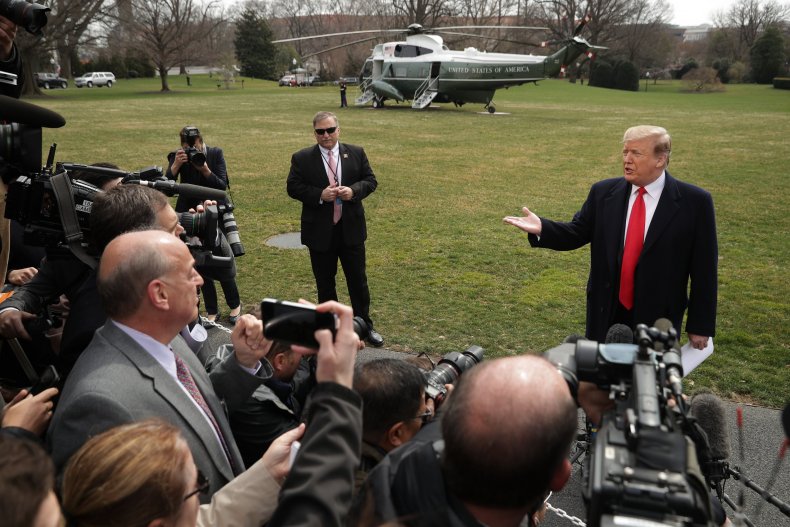 Although the president said he supports the report's public release, the White House expects to see the portions that Barr plans to release to Congress before lawmakers receive any of it, according to CNN.
Trump's full response to reporters before boarding Marine One for Ohio was contradictory at times, however, with the president saying the public deserves to see the report while adding that it was up to Barr. Trump did not explicitly say that he would ask or expect Barr to fully release it.
"Let it come out, and let people see it," the president said. "That's up to the attorney general.… We'll see what happens. It's sort of interesting that a man out of the blue writes a report…but I want to see the report."
The president has repeatedly bashed Mueller and the entire Russia investigation as a "witch hunt." He is also reportedly not cooperating with document requests from House Democrats who are investigating him, his family, his business and his associates with official congressional probes.
"I'm saying to myself, Wait a minute, I just won one of the greatest elections of all time in the history of this country—and even you will admit that—and now I have somebody writing a report that never got a vote? It's called a Mueller report," Trump said. "So explain that, because my voters don't get it and I don't get it."