'Donald Trump Can't Read This' Arabic Billboard Erected to Infuriate Him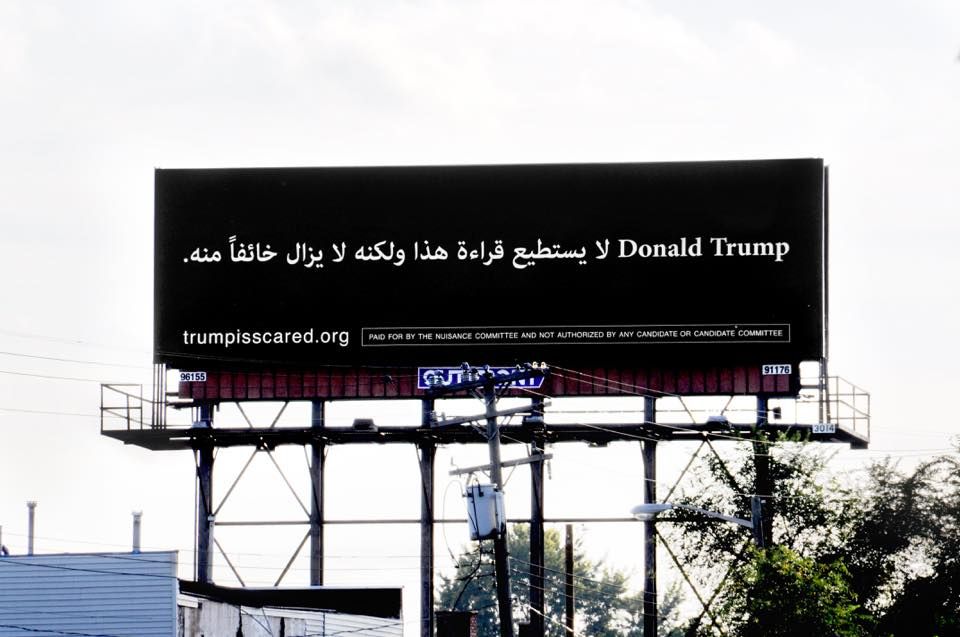 Donald Trump has a problem with Muslims entering the U.S. He also has a problem with reading Arabic, which for one group of U.S. activists has provided a unique comic opportunity.
A billboard positioned on a Michigan highway mocks Trump for Islamophobic rhetoric in a manner bound to infuriate the Republican presidential nominee even further.
In white Arabic text on a black background, the poster reads: "Donald Trump can't read this, but he is scared of it."
The billboard is backed by the Nuisance Committee, a campaign group. A spokesperson told local radio: "I like the idea of people who do not speak Arabic having to ask their friends who do speak Arabic to translate the board for them.
"And I personally hope this also will generate some dialogue between Arabic-speaking people and non-Arabic-speaking people in Detroit and across the country."
Trump has caused outrage with his inflammatory comments about Muslims, including a now-infamous proposal to temporarily ban them from entering the U.S.
Muslims also hit back with humor after Trump said that American Muslims had to do better at reporting suspicious activity.
Using the hashtag #Muslimsreportstuff thousands tweeted comical suggestions, including: "I'd like to report that although I told everyone I cleaned my car I actually just put everything in the trunk."