Donald Trump N-Word Tape Will Be Released Before the Midterms, Omarosa Predicts Without Evidence
An alleged tape of President Donald Trump using a racial slur will likely be released just before this year's midterm elections, according to former White House aide Omarosa Manigault Newman on Monday.
Manigault Newman was asked by hosts of ABC's The View about whether she had heard Trump use a racial slur, as well as her previous statements of praise for Trump before she was ousted from the White House last year.
"I don't hold the tape. I've heard the tape. And they've been talking about releasing it. I'm suspecting they're going to release it around the midterms," she said, referring to an ominous "they" and her own claim of having heard Trump say the "n-word" on the alleged tape.
Manigault Newman, as well as actor Tom Arnold, have each made claims about tapes made during the filming of Trump's reality show, The Apprentice, and the alleged foul and racist language he used off-camera.
But Manigault Newman said the apparent tape would likely not hurt Trump within his political base.
"The Trump world cult will probably applaud when they hear him say it because they're desensitized to his racist ways," she said while promoting her book, Unhinged: An Insider's Account of the Trump White House.
Manigault Newman also explained why she eventually flipped on the president, whom she has credited with helping her career ever since she was a contestant on The Apprentice.
"When you're in an interpersonal relationship with somebody, if you find that person is an arsonist you're not going to stand by and keep handing them gasoline, I discovered that Donald Trump was an arsonist trying to burn down this country, and in some way I was complicit in handing him matches and give him more fuel for his fires," she said.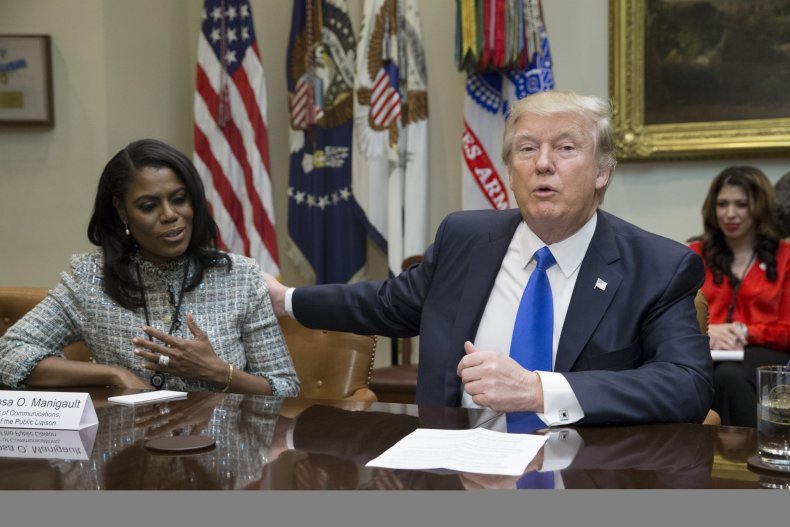 Earlier in the segment, Manigault Newman said that she remained in the White House for as long as she did so as to represent African-Americans and said there was currently no other black staffer working in the White House.
"As the only African-American assistant to the president, the only African- American senior staffer working in the White House, I was afraid that the agenda that helped folks in my community would be abandoned and right now I can tell you there is no African-American senior staffer working in the White House," Manigault Newman said.
Earlier this summer, she released several recordings including one of her speaking to Trump after chief of staff John Kelly fired her. The president said he had no idea Kelly had planned to dismiss her.
Another recording included Lara Trump, who works on her father-in-law's re-election campaign, offering Manigualt Newman a lucrative campaign job ostensibly to assure she did not turn against the president.