A partial government shutdown looms before Christmas as a last-ditch meeting on Tuesday between President Donald Trump, House Minority Leader Nancy Pelosi and Senate Minority Leader Chuck Schumer is hoped to break a budget deadlock.
Democrats, Republicans and the White House have until December 21 to reach a budget deal if they are to avert the shutdown as disagreement remains over funding for Trump's U.S. border wall.
Read more: What stopgap funding to avert shutdown means for Trump's border wall
Schumer said Trump should accept $1.6 billion in border funding but this is well short of the $5 billion the president has demanded, a figure unlikely to be approved by Congress.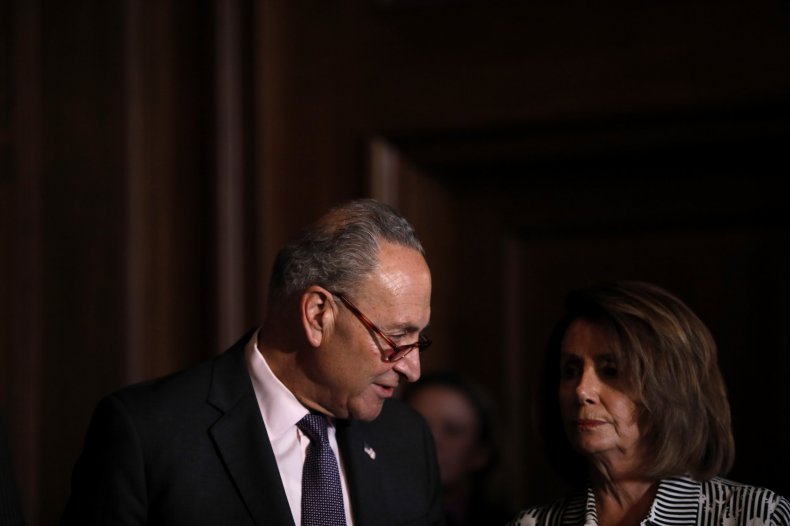 In a joint statement, Pelosi and Schumer said the country could not afford "a Trump Shutdown," adding that the president "knows full well that his wall proposal does not have the votes to pass the House and Senate, and should not be an obstacle to a bipartisan agreement."
On Friday, Trump demanded that Congress "must fully fund border security in the year-ending funding bill," adding: "We have to get this done.
"They're playing political games. I actually think the politics of what they're doing is very bad for them, but we're going to very soon find out. Maybe I'm not right, but usually I'm right," he said at a law enforcement conference last week.
Last year, Trump could not strike a deal when he met with Pelosi and Schumer. This time, having taken the House in the midterm elections, the Democrats are also considering tough probes into Trump and his administration once they take power in January.
But allies of both Pelosi and the president have said that some compromise was possible.
Marc Short, the former director of legislative affairs for the Trump administration, told NPR: "I think there's several positions the president has that frankly line up more traditionally with Democrats. The question I think that is yet to be determined is whether or not Democrats will give their leadership the flexibility to negotiate with the president."
John Lawrence, a former chief of staff to Pelosi, told NPR: "[Pelosi] is going to be, and I think Democrats in the House are going to be, concerned with proving that they can be trusted that they can govern, and if that involves having to make deals with Senator [Mitch] McConnell or President Trump, then I think they will do that because that is what they've been hired to do."