Video: Colbert Pokes Fun at 'Big Dog' Donald Trump Locked Out of Nancy Pelosi's House
Comedian Stephen Colbert likened President Donald Trump to a large, messy dog that risks dropping its stools all over the House of Representatives Wednesday on The Late Show.
He made the comments in response to House Speaker Nancy Pelosi's letter sent to Trump that day, asking him to delay his State of the Union address until the government shutdown is over.
Now in its 27th day, the shutdown has cost furloughed workers hundreds of millions of dollars in lost wages and, as Pelosi wrote in her letter, it's "hamstrung" numerous departments.
"Given the security concerns and unless government re-opens this week, I suggest that we work together to determine another suitable date after government has re-opened for this address," Pelosi wrote.
"Why is she doing this?" Colbert asked on his show. "Because she can. He's the president—he's the president, but she's the speaker. Rule is he can only go there by her invitation."
"Trump acts like the big dog, and she won't let the dog in her house because she knows he's going to poop everywhere, okay," he added.
The comedian proceeded to mime an attempt to move a large dog before it left its waste on the floor, saying, "Out! Out! Out!, no, out! Ah geez! Out!"
In her letter, Pelosi also suggested Trump could deliver his address to Congress in writing. Colbert mocked the idea, saying: "Really? In writing? Have you seen how this guy spells? He's just going to tweet, 'The stat of our uniom is dot, dot, dot, dot, strang!" strang! "so strang! I've said that for years.'"
Implying this was an unlikely outcome, the comedian argued that Pelosi "knows what she's doing here." He cited a Daily Beast article published Wednesday that quoted an unnamed Democratic lawmaker, who reportedly said: "Knowing how desperately [Trump] wants to give this speech, this is just going to drive him crazy!"
Colbert agreed, saying: "Nothing hurts trump more than when you deny him a TV appearance."
It's an opinion shared by other political figures, including Tennessee congressman Steve Cohen, who told The Washington Post: "It gives him a reason to end the shutdown, because he loves the TV audience and the attention."
Josh Holmes, an adviser to Senate Majority Leader Mitch McConnell told The Post: "[Pelosi] understands political leverage. She wields the knife."
But the advisor added he thought the move was "a major screw up" that would likely come back to bite her.
Colbert went on to show a clip of Pelosi saying: "[Trump] can make it from the Oval Office if he wants."
"She's basically suggesting the state of the union be a vlog," the comedian quipped.
Impersonating the president, Colbert said: "Sup homedogs, zaddies, and tube-youbbers, it's your boy Donnie T. In the Big O. Tell me what you think the state of the union is in the comments. Be sure to "like" and subscribe. Witch hunt!
"Now, let's unbox these mallomars."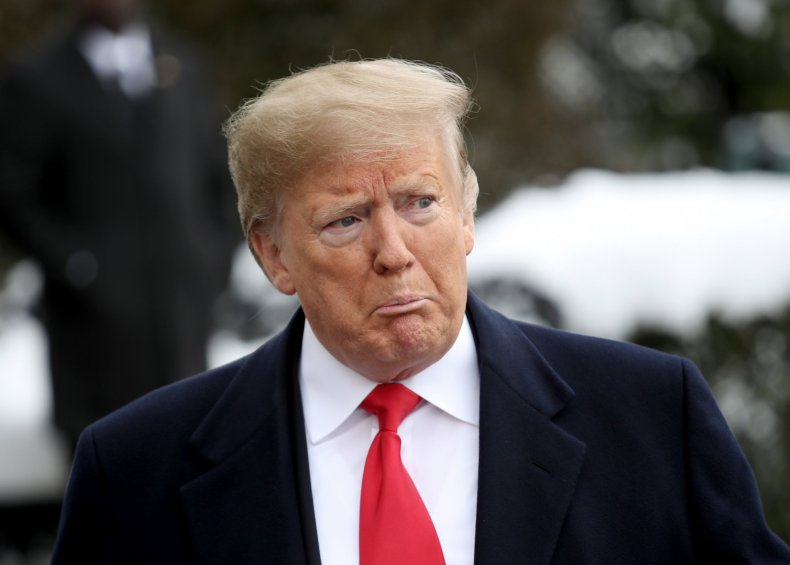 Video: Colbert Pokes Fun at 'Big Dog' Donald Trump Locked Out of Nancy Pelosi's House | U.S.