Donald Trump Narrows Lead in Arizona With 57% of Latest Maricopa County Data
President Donald Trump has narrowed his Democratic opponent Joe Biden's lead in Arizona after gaining 57 percent of the latest Maricopa County data dump.
Maricopa County released around 74,000 ballots on Thursday night at around 9 p.m. ET, with 42,276, or 57 percent, going to Trump and roughly 31,700, or 42 percent, going to Biden. With 10,000 additional votes, Trump is now trailing Biden by about 46,257 in Arizona.
Currently, Biden has 264 Electoral College votes and Trump has 214. Fox News and the Associated Press have already called Arizona for Biden but a recent data error in the state has given Trump new hope. Four key states—Nevada, Pennsylvania, North Carolina and Georgia—have not yet been called. Trump must win four of the five remaining states, 56 Electoral College votes, to secure a second term at the White House.
Trump is currently leading Biden in Georgia, Pennsylvania and North Carolina. Biden is up by about 1 percent in Nevada.
Newsweek reached out to the Trump campaign for comment.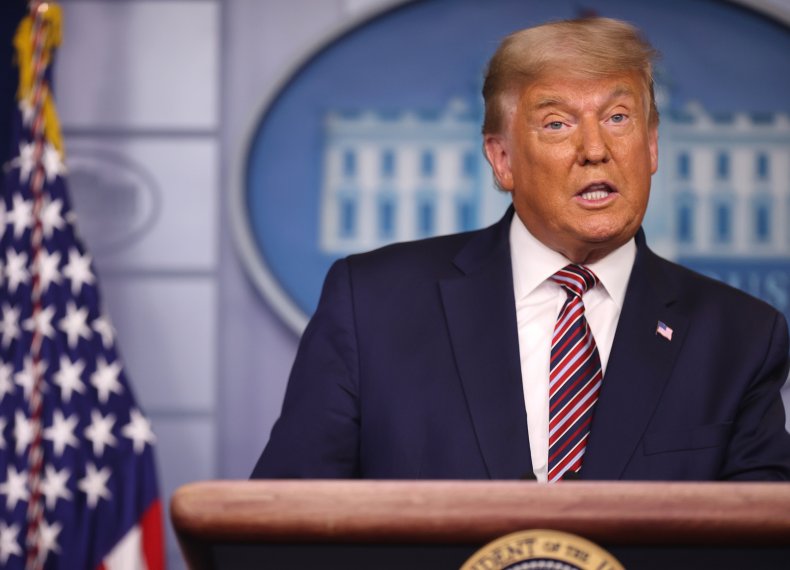 After Trump's campaign complained, Fox News backed their decision to call victory in Arizona for Biden on Election night. When Fox News Decision Desk Director Arnon Mishkin was asked whether he was 100 percent sure of his call, he responded "absolutely" and defended the call that Trump's team claimed was too early.
"It's been clear for a while that the former vice president is in the lead in Arizona and was most likely to win the state," Mishkin said in response.
"I think we've heard from the White House is that they are expecting to get that they need just to get 61 percent of the outstanding vote and their 870,000 outstanding votes and they'll be getting that. That's not true. The reality is that they're likely to get only about 44 percent of the outstanding votes there. We're right now sitting on a race that is Biden at 53 percent, Trump at 46 percent."
In an early Wednesday tweet, Arizona Governor Doug Ducey joined Trump's campaign in criticizing the call. "It's far too early to call the election in Arizona," he wrote. "Election Day votes are not fully reported, and we haven't even started to count early ballots dropped off at the polls. In AZ, we protected Election Day. Let's count the votes—all the votes—before making declarations."
As Biden nears 270 Electoral College votes, Trump and his team remain publicly confident that the final results will bring him back to the White House for four more years. They have suggested that Trump would be declared victorious on Friday.
Speaking to the public, Biden on Thursday expressed gratitude for the election process and urged Americans to remain calm amid the vote counting process.
"In America, the vote is sacred. It's how people of this nation express their will," the Democrat said at the Queen Theater in Wilmington, Delaware. "And it is the will of the voters—no one, not anything else—that chooses the president of the United States of America. So each ballot must be counted."