Ex–Republican Congress Members Urge GOP to Abandon Trump and Terminate His National Emergency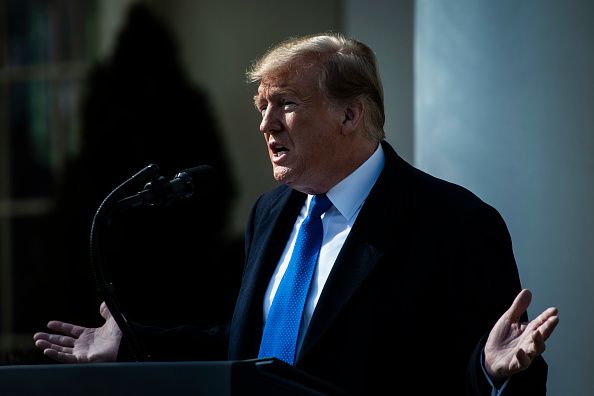 Nearly two dozen former congressional Republicans are urging the GOP to abandon President Donald Trump in his declaration of a national emergency at the southern border, arguing that the executive action is unconstitutional.
"Our oath is to put the country and its Constitution above everything, including party politics or loyalty to a president," the former lawmakers wrote in an open letter to Republican members of Congress. A group of 23 former senators and representatives, including former Defense Secretary and Senator Chuck Hagel, signed the letter, which was first reported by Politico on Monday morning.
In the letter, the former lawmakers asks current Republicans to pass a joint resolution to officially terminate Trump's national emergency, writing that while they are no longer serving in Congress, "that oath still burns within us."
The group contends that the president acted in total disregard for the constitutional power given to Congress for federal appropriations when he declared a national emergency to secure funds for a border wall. They also argue that Trump's unilateral action sets a dangerous precedent for future presidents.
"There is no way around this difficulty: what powers are ceded to a president whose policies you support may also be used presidents whose policies you abhor," the former lawmakers wrote.
Trump announced the emergency on February 15, after signing a bipartisan spending bill that did not include all the money he requested for his long-promised border wall between the United States and Mexico.
In a speech announcing his decision, Trump told reporters that "the probably easiest one to win is on declaring a national emergency, because we are declaring it for virtual invasion purposes—drugs, traffickers and gangs."
He also admitted that he "didn't need to do this" but that he'd rather build the border wall "much faster."
The former Congress members ask in the letter that current lawmakers "exercise restraint to protect the constitutional model—that which is the root of American exceptionalism—and to keep it from being sacrificed on the altar of expediency."
Also on Monday, a bipartisan group of 58 former senior U.S. national security officials wrote in a letter that there is "no factual basis" for the president's emergency, arguing it will actually "undermine U.S. national security and foreign policy interests," The Washington Post reported.
The House of Representatives will vote Tuesday on a joint resolution to block Trump's national emergency declaration. Democratic Representative Joaquin Castro introduced the measure and has said that the resolution gained 222 co-sponsors. House Speaker Nancy Pelosi has vowed to "move swiftly to pass this bill."
"All Members take an oath of office to support and defend the Constitution," Pelosi wrote in a letter to her colleagues. "The President's decision to go outside the bounds of the law to try to get what he failed to achieve in the constitutional legislative process violates the Constitution and must be terminated."
This story has been updated to reference the letter by nearly 60 former senior U.S. national security officials.