Donald Trump Says 'I'm a Nationalist, Use That Word' at Texas Rally for Ted Cruz
During a rally for Ted Cruz in Houston Monday night, President Donald Trump rejected globalism and declared himself a "nationalist," encouraging others to use that word.
Since the inception of his campaign for president, Trump has declared that, unlike his immediate predecessors, he would be prioritizing the interests of Americans over the rest of the world, leading to his campaign slogans of "America first" and "Make America great again."
On Monday, he gave a new term for his beliefs.
"You know what a globalist is, right? A globalist is a person who wants the globe to do well, frankly, not caring about our country so much," Trump said. "You know what? I'm a nationalist. Use that word."
The president has long declared himself an opponent of so-called "globalism" and has taken steps to remove the United States from a number of international treaties. He has also instituted tariffs on foreign countries, including some of the closest U.S. allies, and begun trade wars, claiming that the U.S. was being exploited. Earlier this month, Trump tore up the North American Free Trade Agreement (NAFTA), replacing it with the United States-Mexico-Canada Agreement amid a tense standoff with Canada.
Trump has also pulled out of the Iran nuclear deal and the Paris climate accord, despite widespread opposition from the United States' allies.
For opponents, Trump's use of "nationalist" is likely to be used to direct further criticism at the president. In its simplest terms, "nationalism" is defined as "loyalty and devotion to a nation," according to Merriam-Webster. Critics, though, have pointed to the dangers of nationalist movements in precipitating wars.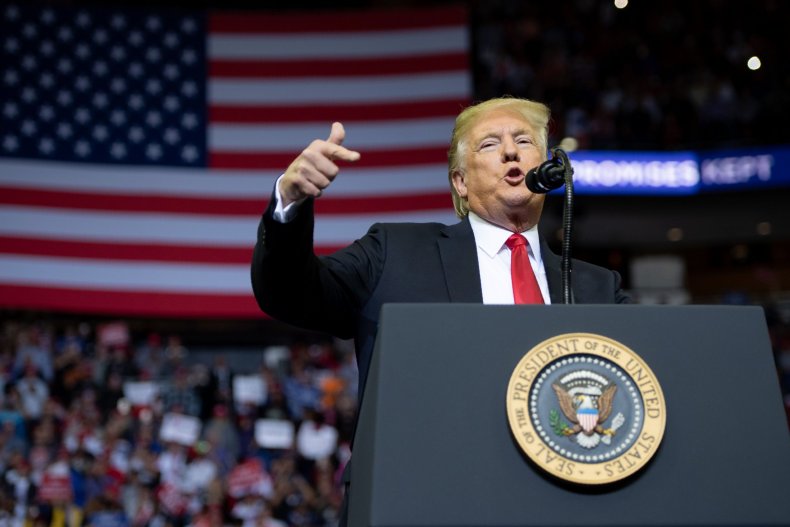 Trump's rejection of globalism was championed by his onetime campaign chief and later chief strategist in the White House, Steve Bannon. As head of Breitbart News, Bannon called the publication "the platform for the alt-right," a movement that comprises white nationalism, racism and populism.
Bannon left the White House in August 2017 amid the fallout from a deadly white nationalist rally in Charlottesville, Virginia. Trump was widely condemned after the rally for saying that "both sides" were to blame and that there were "very fine people, on both sides."
Trump's declaration of being a "nationalist" came amid his attacks on a caravan of Central American migrants traveling through Mexico toward the southern border of the U.S. During the rally, Trump, who has called for military intervention to stop the thousands of migrants from crossing the border, repeated his false claim that Democrats were funding the caravan. Earlier in the day, Trump claimed without evidence that there were "unknown Middle Easterners" in the caravan.