Donald Trump and NATO: Here's How Countries Have Actually Increased Spending Since President Took Office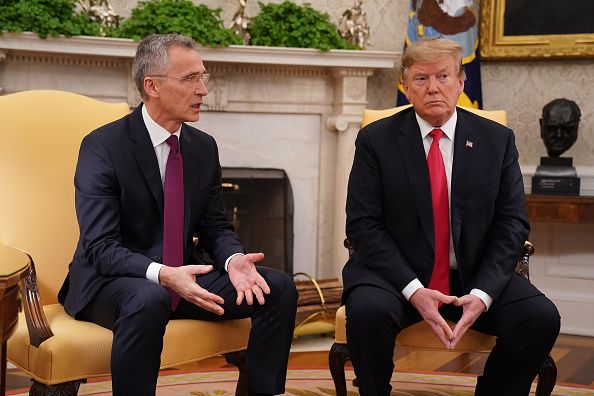 As the North Atlantic Treaty Organization's Secretary General Jens Stoltenberg arrives in Washington to meet with President Donald Trump and members of Congress, defense spending will be one of the main topics of conversation.
President Trump has long said that the U.S. is carrying too much of the burden when it comes to paying for the defense of NATO. Four years ago, members of the Western military alliance pledged to increase the percentage of their gross domestic product spent on defense to a minimum of 2 percent by 2024. But Trump has insisted that NATO allies should spend more on defense, and faster.
"The United States alone accounts for the vast majority of NATO defense spending. And we really cannot rely on one nation to defend all," Trump said Tuesday during a meeting with Stoltenberg, which marked the 70th anniversary of the alliance. "If you look at it, the disproportionality of what the United States is doing is really too great, but we're working on that. Over $100 billion in new defense spending by the end of, actually, I think... by 2020, I think we'll have at least another $100 billion spent by the Allies, the other countries, the 27 countries outside of ourselves," Trump continued.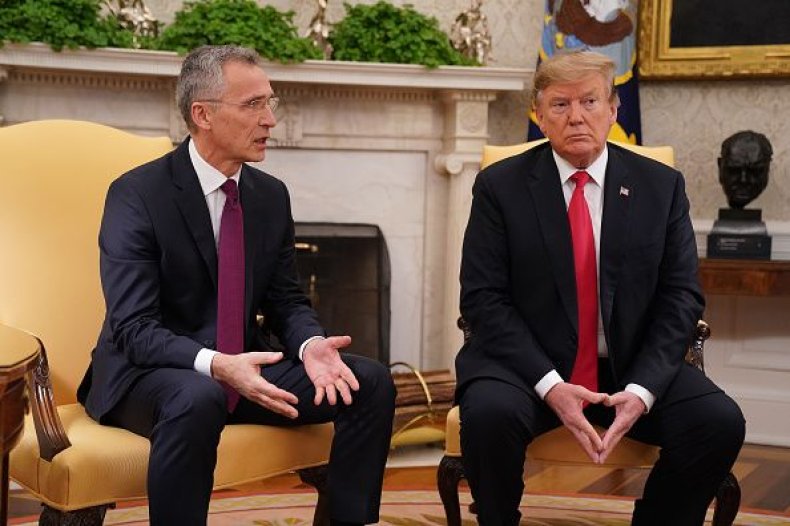 Currently, only the U.S., Greece, the U.K., Estonia, Poland, Latvia and Romania spend 2 percent of their GDP or more on defense.
But nearly all 29 NATO members have increased their defense spending since Trump came to office, and at least 16 of the 29 are on track to meet their 2024 defense spending goals. Defense spending among 27 NATO allies has increased consistently between 2016 and 2018, with Hungary, Norway, Romania and Turkey making some of the biggest increases.
"NATO allies must spend more on defense. This has been the clear message from President Trump. And this message is having an impact," Stoltenberg told Congress on Wednesday.
"After years of reducing defense budgets, all allies have stopped the cuts, and all allies have increased their defense budget. Before they were cutting billions, and now they are adding billions. In just the past two years European allies and Canada have spent an additional $41 billion on defense. By the end of next year, that figure will rise to $100 billion," he continued.
Lithuania, Turkey, Norway, Montenegro, Bulgaria, Portugal, Netherlands, Germany, Canada, Denmark, Slovakia, Italy, the Czech Republic, Hungary, Slovenia, Spain and Luxemburg have all increased their defense spending significantly between 2014 and 2018, moving closer to the goal of 2 percent of GDP.
Only the U.K., Croatia, Albania and Belgium spent a higher percentage of their GDP on defense in 2014 compared to 2018, according to official NATO data.
Despite Trump's concerns about spending, lawmakers in the U.S. are continuing to defend the NATO project as the alliance celebrates its 70th year and describe it as good for U.S. security and growth.
"NATO has proven not only to be a military success, but a political and economic one," Senator James Risch of Idaho said during a congressional hearing on NATO held Tuesday. "For its members, NATO's security umbrella has provided the kind of stable environment necessary for economic growth and investment. Former Soviet-bloc countries clamored for NATO membership not only protection against Russia, but for the economic strength that membership could foster. U.S. trade with our fellow NATO members remains key to our economy."