Pentagon: Donald Trump's Iraq Trip Video Revealing Special Operations Unit Did Not Violate Security Protocols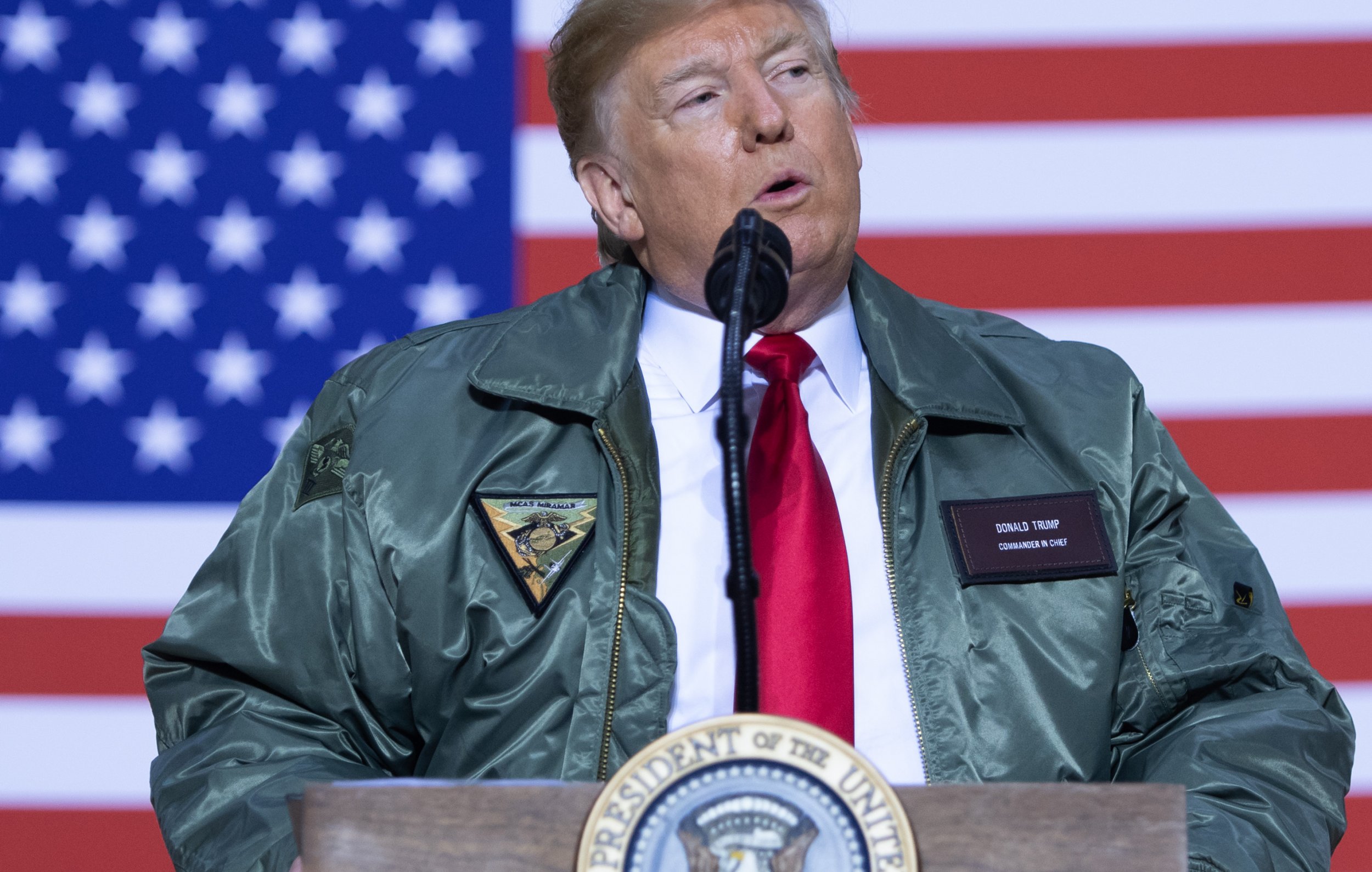 Pentagon officials said there was no violation of Defense Department security protocols after President Donald Trump posted a video to his official Twitter account posing with members of a special operations unit.
The Pentagon's response comes two days after Trump and first lady Melania Trump secretly traveled to meet with American forces at al-Asad air base in Iraq in the president's first overseas trip to a combat zone since being elected to office.
"The special operators voluntarily participated in this open press event," said U.S. Air Force Lieutenant Colonel Carla Gleason, a Pentagon spokeswoman, in an email to Newsweek on Friday. "There was no security violation."
The Pentagon did not answer inquiries about operational security policies or to what unit the special operation forces are assigned.
On Wednesday, Newsweek noted that the presence of U.S. Navy SEAL Team Five, a special operations unit based out of Coronado, California, was acknowledged by a U.S. Navy Chaplin that served as the unit's spiritual leader, who posed in a photograph with the president.
The specific unit was reported in the press pool report and released from the White House Press Office. A photographer from Agence France-Presse photographed the Navy Chaplin and the president posing together.
The pool report also indicated that the details of the presidential visit were embargoed until Trump finished giving his remarks to a group of about 100 mostly U.S. special operation troops engaged in combat operations in Iraq and Syria.
Typically, the Defense Department does not usually discuss specific special operation units and where they are working at any given time out of operational security concerns.
Later, Trump posted a video to his official Twitter account that revealed the identities of U.S. Navy SEALs by displaying their faces, a break from traditional public relation procedures practiced by the Defense Department.
Historically and in common practice, the identities of special operation forces are concealed in some physical or digital form before being released to the public.
"Even during special operation demonstrations for congressional delegations or for the president or vice president, personnel either have their faces covered or their face is digitally blurred prior to a release to the general public," a Defense Department official, speaking on condition of anonymity told Newsweek on Wednesday.
Earlier this year, a Newsweek reporter attended the graduation ceremony of 10 special warfare combatant-craft crewmen, known as SWCCs, who had completed training at Naval Special Warfare Basic Training Command in Coronado, California.
SWCCs operate and maintain small craft boats used to infiltrate and extract U.S. Navy SEALs and other special operation forces during combat operations. While covering the graduation ceremony at Naval Amphibious Base Coronado, Newsweek was not allowed to take photographs of U.S. Navy personnel, and only first names could be used when conducting interviews with either SEALs or SWCC leaders. The San Diego Union-Tribune who also covered the graduation agreed to these terms as well.
U.S. Navy Lieutenant Trevor Davids, the Naval Special Warfare Center's public information officer said: "All these guys will go on to do clandestine work," he said in his explanation of operational security concerns this past July. "And that work is dangerous."
U.S. Navy Commander Sean Robertson, a Pentagon spokesman, told Newsweek on Friday that from the Defense Department's standpoint, there was no security violation.
"I'm not going to comment on what a command should or should not do," Robertson said regarding an individual unit's operational security policies, but, "this was a free and open event to the press, and from the big DoD perspective, there was no violation."