Donald Trump Sounds Like a Nazi, Says Venezuela's Maduro After Fiery Anti-Socialism Speech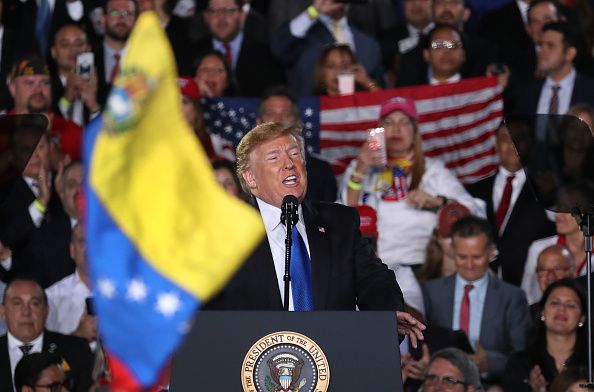 Venezuelan President Nicolás Maduro accused Donald Trump of sounding "almost Nazi-style" after the U.S. president gave a fiery speech on Monday in Miami that denounced socialism and urged Venezuela's military to turn its back on Maduro.
Venezuela's military has so far remained local to Maduro amid international pressure to remove him as president and has obeyed his commands to block the entry of humanitarian aid stockpiled on the border. In an appearance on Venezuela's state television, Maduro mocked Trump's attempts to sway senior military members.
"Who is the commander of the armed forces, Donald Trump from Miami?" Maduro asked. "They think they're the owners of the country."
Maduro and his supporters have called the international intervention in Venezuela a U.S.-led attempted coup, and the humanitarian aid a component of it. Juan Guaidó, the leader of Venezuela's opposition, declared himself interim president in late January. More than 50 nations have recognized him as the country's leader, including the United States.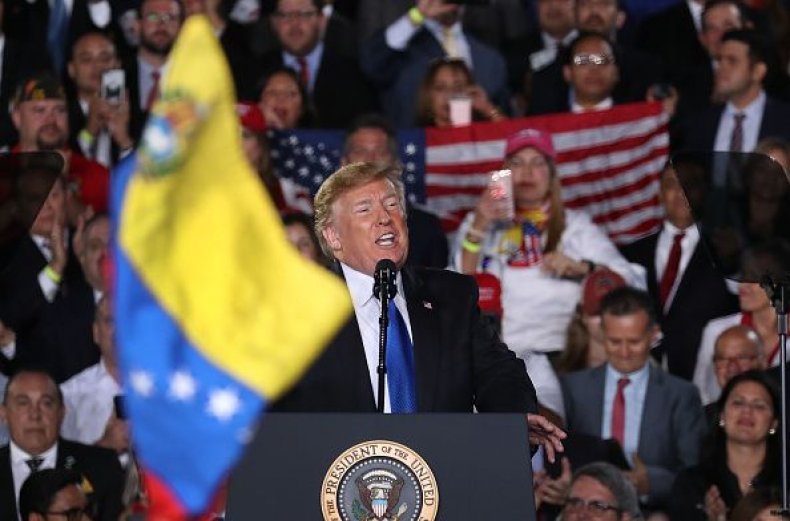 Maduro has lost legitimacy in the eyes of many Venezuelans and members of the international community because the last presidential elections were not deemed free and fair. International observers noted that many of the country's leading opposition figures were not permitted to run, with many jailed or forced to flee the country. With this in mind, the opposition turned to an obscure law in the country's constitution that says the leader of the National Assembly will be named interim president until elections are held if the country has no legitimate president.
Guaidó, a young member of the opposition who had been elected the head of the National Assembly, has now assumed that role. The U.S., Canada, many European Union member nations and other countries have recognized Guaidó as Venezuela's interim president and have called for new elections to be held in Venezuela as soon as possible.
Maduro has clung to power and leaned on the support of the military and government employees. He has also refused to allow humanitarian aid to be delivered to Venezuela, despite the fact that his economic policies have helped devastate the country and caused severe food and medicine shortages. The Venezuelan strongman has said the humanitarian aid is a tool of U.S. interventionism.
Trump and other members of his administration have responded by calling on the military to abandon Maduro. In his speech in Miami, a city with a large community from Latin America, Trump called on the military to oppose Maduro and allow the humanitarian aid to enter his country.
"Two days ago the first U.S. Air Force C-17 landed in Colombia loaded with crucial assistance, including thousands of nutrition kits for little Venezuelan children," Trump told the crowd. "Unfortunately, dictator Maduro has blocked this life-saving aid from entering the country. He would rather see his people starve than give them aid.
"We seek a peaceful transition of power, but all options are open," Trump added.
Trump's repeated hints that the U.S. could potentially launch a military intervention against Maduro have riled observers wary of U.S. interventionism in Latin America. They point to Washington's checkered human rights record in the region. Even some Venezuelans who oppose Maduro also oppose the idea of the U.S. using force for regime change.
Still, others argue that support from the international community will be the only way to get rid of Maduro, who appears determined to cling to power no matter what the circumstances and no matter how devastating his leadership has been for his country.
Trump announced in his speech that socialism would come to an end in Venezuela and other countries across Latin America, including Cuba and Nicaragua. Some noted that his remarks seemed directed at domestic political opponents who back an expansion of the social safety net in the U.S.
Vermont Senator Bernie Sanders, a democratic socialist, announced Tuesday that he will run for president in the 2020 election. Sanders has criticized Maduro but also warned against U.S. interventionism in Venezuela.
"The Maduro government in Venezuela has been waging a violent crackdown on Venezuelan civil society, violated the constitution by dissolving the National Assembly and was re-elected last year in an election that many observers said was fraudulent. Further, the economy is a disaster and millions are migrating," Sanders said in a statement.
"However, we must learn the lessons of the past and not be in the business of regime change or supporting coups—as we have in Chile, Guatemala, Brazil, and the Dominican Republic. The United States has a long history of inappropriately intervening in Latin American countries; we must not go down that road again," Sanders continued.