Donald Trump Negged Kim Jong Un Before Their Meeting
President Donald Trump joked that the assembled photographers should make him and Kim Jong Un look "handsome and thin" as the shutters clicked to capture the two men together before the doors were closed for their historic summit.
Trump and Kim signed a joint agreement committing to "peace and prosperity" between the U.S. and North Korea. Kim also reaffirmed a long-standing commitment by Pyongyang to denuclearize the Korean Peninsula.
"Getting a good picture everybody? So we look nice and handsome and thin? Perfect," Trump said—a remark that was both self-deprecating and a subtle "negging" of his North Korean counterpart right before the groundbreaking talks began. Kim, who is known for his rotund appearance and distinctive hairstyle, looked on expressionless.
Negging is a emotional manipulation technique deployed by so-called "pick-up artists" trying to seduce women. It is the flirtatious use of a backhanded compliment to both praise a person and undermine their self-esteem, causing intrigue and making them vulnerable to your advances. The journalist Neil Strauss popularized negging in his best-selling book The Game.
Newsweek subscription offers >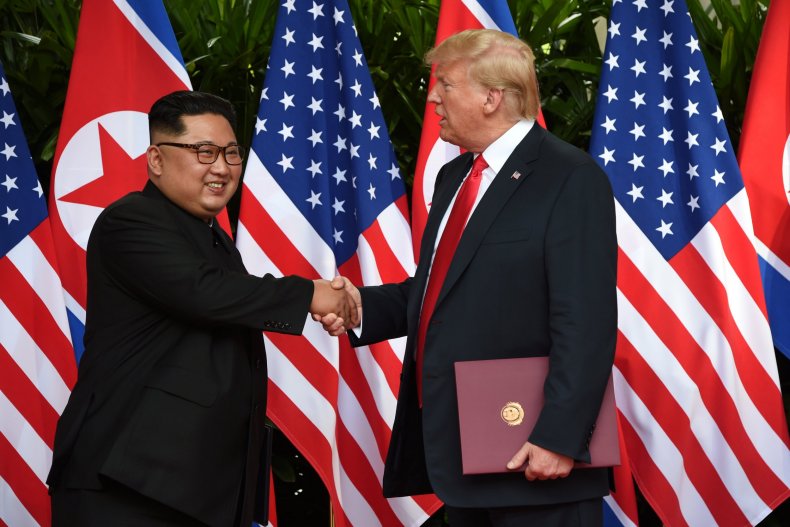 Whether Trump intended the neg or not, it doesn't seem to have worked. Several analysts on North Korea were tough in their criticism of the Trump-Kim agreement—which is the start of negotiations—and said Pyongyang is actually the biggest winner in the whole process.
In the deal, Kim reaffirmed a pre-existing commitment to the eventual denuclearization of the Korean Peninsula and has promised, Trump says, to destroy a major missile testing site. Kim has also agreed to freeze its nuclear program.
The pair also reached an agreement that North Korea would return the remains of American military personnel who fell during the Korean War. In exchange, Trump will end America's joint war games with South Korea. He has also invited Kim to the White House.
Newsweek subscription offers >
The summit is a "huge win for Kim Jong Un… the optics literally couldn't have been better if he had tried to stage it himself," Jenny Town, Korea analyst and editor at 38North, told the BBC. "The fact is this is Kim Jong Un—six months ago he was one of the world's most hated leaders, and now he's a political rock star."
"What do I think about today's joint agreement? It has zero practical value," Andrei Lankov, director of the website NK News and professor at Seoul's Kookmin University, tweeted. "The U.S. could have extracted serious concessions, but it was not done. N.Korea will be emboldened and the U.S. got nothing."
"Wow. If this is it... this is depressing," tweeted Robert E. Kelly, Professor of Political Science at Pusan National University in South Korea. "This is even thinner than most skeptics anticipated. I figured Trump [would] at least get some missiles or a site closure or something concrete...This looks pretty generic."
He added: "God, this is just depressing. All that hype for this? All that drama and the Nobel talk? Come, art of the deal. This is it? This is, well, pathetic given that the US president was personally involved."
In Pictures: Key Moments in North Korea-U.S. Relations
Viping Narang, associate professor of political science at MIT and an expert on nuclear proliferation, said North Korea has committed to denuclearization for 25 years, citing the 1993 deal with the U.S. "Everyone walks away happy—Kim having met POTUS as an equal—having committed to nothing. Can. Kicked. Down. The. Road," Narang tweeted.
"Good grief," wrote Brian Klass, an American foreign policy expert, on Twitter. "So the North Koreans agreed to a vague, non-binding "pledge" with no verification that basically recycles the language from the early 1990s. In return, Trump legitimized Kim Jong-un as an equal and gave a major strategic military concession that undercuts our allies."
Donald Trump Negged Kim Jong Un Before Their Meeting | World