Donald Trump Was in Negotiations to Build Mall in Russia as Far Back as the 1990s, Former Moscow Mayor Says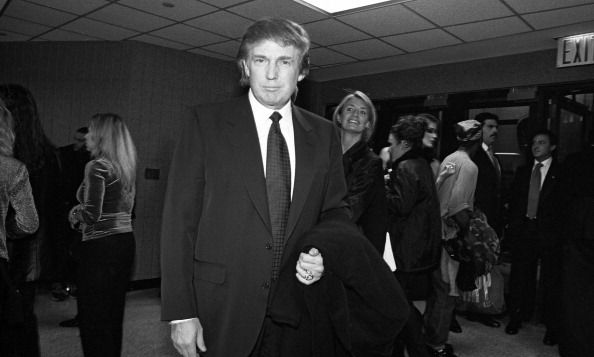 President Donald Trump had planned to build a large underground mall in Moscow during the 1990s, former Moscow Mayor Yury Luzhkov confirmed this week. The mall would have been located near the State Duma, the lower house of Russia's Federal Assembly.
"Trump was in Moscow. He had contacts on matters related to the construction of the Okhotny Ryad underground mall on Manezh Square," Luzhkov told the Russian news outlet Interfax on Tuesday.
The comments were made several days after a video emerged of a young Trump attending a business meeting with Moscow city officials. The video was published on January 31 on a YouTube channel that airs clips of Russian state television. Vladimir Resin, who was first deputy mayor under Luzhkov, attended the meeting, which allegedly took place in 1995.
Luzhkov said that Moscow city officials had spoken with Trump "once or twice." Like the Trump Tower Moscow project that was proposed while Trump was running for president, the plans for the project eventually fell through, Luzhkov noted. Trump's trip to Russia in 1995 had not been previously reported.
Trump's first known trip to Russia took place in 1987, before the fall of the Soviet Union. According to Trump's own book the Art of the Deal, he first became interested in developing real estate ventures in Russia after he met former Soviet ambassador Yuri Dubinin in New York.
He traveled again to Moscow in 1996, where he planned to invest around $250 million to have his name used on some luxury residential buildings. He also filed a trademark application for Trump Tower in Moscow that year.
The efforts to build a Trump Tower Moscow continued until at least June 2016, according to Trump's former longtime lawyer and fixer Michael Cohen.
During his campaign for president, Trump repeatedly insisted that he did not have business dealings with Russia. When later asked why he had lied to the American public, Trump said that the efforts to build a Trump Tower Moscow don't constitute business because no money was exchanged.
Trump signed a letter of intent for the project in 2015. Cohen and the Russian-born real estate developer Felix Sater communicated about the project extensively while Trump was running for president. Cohen is currently cooperating with special counsel Robert Mueller, who is investigating whether members of the Trump campaign colluded with the Russian government to influence the outcome of the 2016 election. Cohen, who pleaded guilty to a range of crimes, including lying to Congress about the Trump Tower Moscow project, is set to begin a prison sentence in March. He is due to testify before the House Intelligence Committee on February 28, after a delay was announced Wednesday.