NELK Boys and Donald Trump Meet On Air Force One in Viral YouTube Video
A group of YouTubers have gone viral after they created a video of their experience meeting Donald Trump on board Air Force One.
The group from Canada called the NELK Boys, have almost six million YouTube subscribers and they specialize in pranking.
The trio consists of Jesse Sebastiani, Kyle Forgeard and Steve Deleonardis and they are well known for their outrageous pranks.
One early November 3, the group uploaded a new video to the platform simply titled: "Meeting Donald Trump on Air Force One!" It had been viewed 2,150,564 times at the time of publishing.
The 30-minute video shows the gang traveling to the aircraft and trolling Trump supporters along the way by claiming to burn ballots mailed by Joe Biden supporters.
Upon meeting Trump, the president tells NELK: "You have a really great future, maybe one day some of you will be flying on [Air Force One] as president of the United States, right? The way you're doing, so good luck."
Previously, NELK were present at a Trump rally in Bullhead City, Arizona on October 28 where they were invited on stage by the president as they danced to "YMCA."
This clip was shared on the group's Instagram where it has since received almost five million views.
"Just sauced up the YMCA with @realdonaldtrump," the caption reads.
Earlier in October, NELK were foiled in their efforts to crash a political rally when the secret service intervened.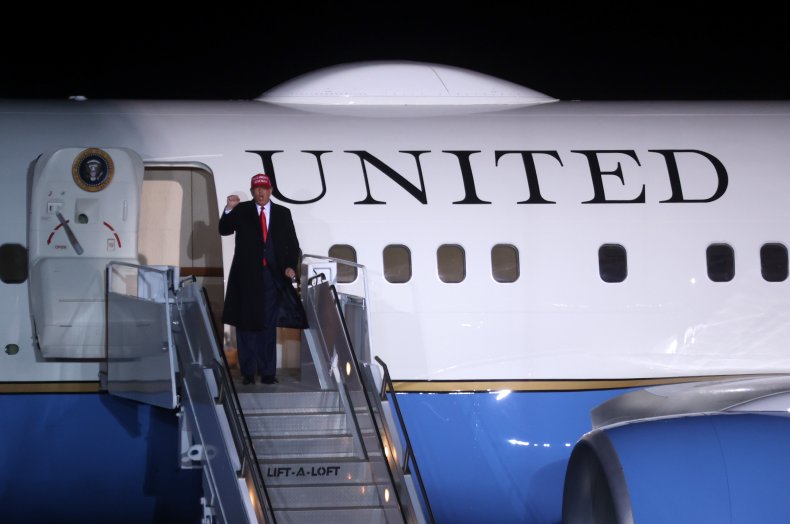 They had planned to crash a "Fighters Against Socialism" rally in Florida but were stopped at the airport.
Back in September, they were booted out of a rally in September after trolling the attendees, in a video that ended up getting over 6 million views.
The reaction to the Air Force One video has been mixed, with some applauding the group for managing to get on the president's private plane, while others are disappointed at their support for Trump.
One fan responded: "Bro seeing how big they've gotten makes me happy asf they came from nothing to now meeting the president of the United States?! like wtf it's so mind blowing, and this is just the being of nelk."
While another added: "Unfollowing on every thing."
Singer Jeff Bernat questioned whether the group are trolling with their dedication to meeting Trump, tweeting: "Wait I'm watching the Nelk vlog I think they're trolling lol."
Another tweet reads: "I don't think there is anyone in the world on youtube bigger than @nelkboys right now."