Donald Trump Net Approval Rating Has Seen Big Drops in Republican States Over Past Month
President Donald Trump's net approval rating dropped in nearly every state last month, with the biggest dips seen in Republican majority states, according to the latest Morning Consult tracker.
Trump's rating fell in 43 states in December, the survey, which was updated last Friday, shows, and six of the seven biggest drops from the previous month were in states that Trump won in the 2016 election.
The president's net approval fell from November to December by 9 percent in Alaska, which Trump won in the presidential election. Trump's rating dipped 8 percent in the same time period in Louisiana and Montana, which he also won in 2016.
Among the states with the largest drops for Trump, Hawaii, with an 8 percent decline, was the only state he lost to Hillary Clinton.
The next highest dips, of 7 percent, came in the Republican states of Alabama, Tennessee and Missouri.
Meanwhile, the biggest increases in Trump's net approval rating from November to December were in a combination of Republican and Democratic states. Trump's rating jumped 5 percent in New Hampshire, which Clinton won in 2016, and North Dakota, which Trump won. Trump's rating rose 4 percent in Maine, a Democratic state, as Morning Consult editor Cameron Easley noted.
Trump had a net positive approval rating in 38 states when he first entered the White House. As of last Friday, the survey, including Washington, D.C., showed that 21 approved of the president and 30 disapproved.
Trump frequently discredits polls that do not put his job approval rating in a favorable light, and often tweets the polls by conservative-leaning Rasmussen Reports that show a higher rating for him.
On Friday, Trump touted his achievements and claimed he was "the most popular Republican" in the history of the GOP.
"How do you impeach a president who has won perhaps the greatest election of all time, done nothing wrong (no Collusion with Russia, it was the Dems that Colluded), had the most successful first two years of any president, and is the most popular Republican in party history 93%?" Trump tweeted.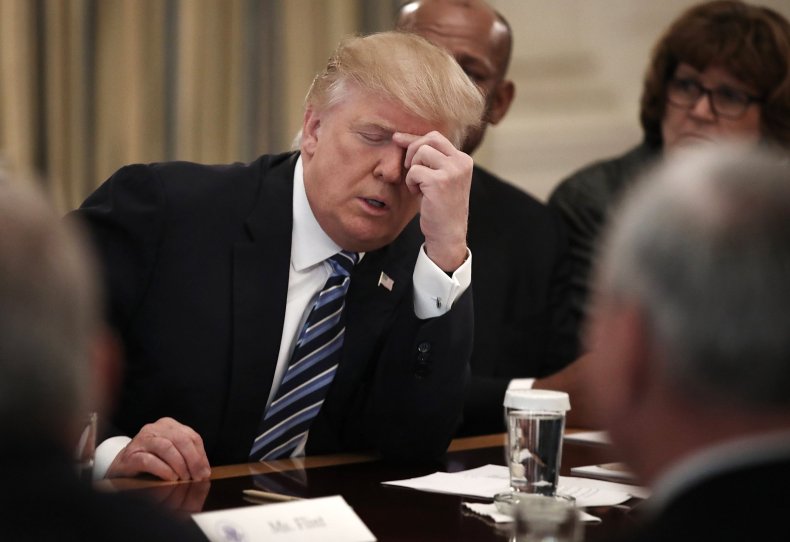 A Morning Consult survey in late December found that Trump's job approval rating equaled his all-time low, 39 percent, in the midst of the government shutdown.
Morning Consult surveys registered voters daily about Trump and releases the results monthly. The project has included more than a million surveys to date. The margins of error for the December tracker results by state ranged from 1 percent to 5 percent.