Is Donald Trump Still Rich? President's Net Worth Tanks Following Election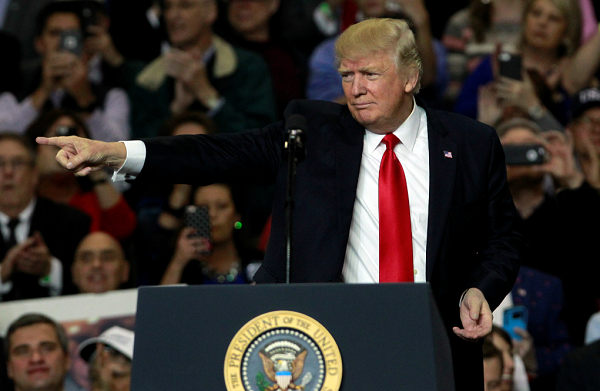 President Donald Trump's net worth has tanked since he won the 2016 election. The real estate mogul is reportedly $200 million poorer after winning the election and is now worth about $3.5 billion, landing at number 544 on Forbes' worldwide billionaires list.
Before winning the election, Trump was worth an estimated $3.7 billion, according to Forbes. (He pegged his own wealth at "TEN BILLION DOLLARS" in a tweet last July.) While most billionaires saw a 16 percent increase since Forbes released the 2016 billionaires list, Trump's assets dropped by 22 percent over the course of the year.
New York's teetering real estate market, which the Trump Organization is heavily invested in, could be to blame for the president's dwindling net worth. About 40 percent of Trump's money has been invested in his swanky Trump Tower building and eight other properties in New York City, according to Forbes. Trump tenant Nike, the only filler in the Niketown building, reportedly signed a $700 million deal for a new residence just a few blocks away from its current Trump-owned building, which will leave the building unoccupied.
Trump used his own cash to fund a portion of his campaign. Trump funded 19 percent of his campaign, totaling up to $66 million, out of his pocket. He recently had to pay out another $25 million to settle a lawsuit over Trump University.
However, the president is still making money from some of his properties, including the Trump Tower on Wall Street, reportedly worth about $18 million; Trump's White House of the South, golf resort Mar-a-Lago, is worth about $25 million. With high-spending fans and friends of the president booking up rooms in Trump hotels around the globe, Trump's hotel management and licensing business did see a boost after the election and is now worth an estimated $97 million.