Why Trump's New Hampshire Rally Is a Risk That Could Backfire Come November
President Donald Trump's last in-person campaign rally didn't go exactly to plan, with the venue left more than half empty despite being touted as a sell out.
Following Oklahoma, he returns to the event trail with a gathering scheduled in New Hampshire on Saturday.
In 2016, Hillary Clinton won the state by just 2,736 votes, teeing it up as one Trump may target to flip his way come November.
However, a rally amid the COVID-19 pandemic likely will not help his chances there, experts have told Newsweek.
Alan Abramowitz, a political scientist and professor at Emory University, said he believes it is a "terrible idea from both a public health and an electoral perspective."
Commenting further on the issues with it from a political perspective, Abramowitz said the event would reflect badly on Trump if turnout is low, while also stating it does not target the sort of voters he needs to win over.
"Most voters consider this sort of rally irresponsible with the pandemic out of control. He needs to expand his base of support. This is not the way to do it," he told Newsweek.
"But then, nothing he is doing now seems aimed at actually reaching voters outside of his base."
David McLennan, professor of political science at Meredith College, echoed the belief that the event would not draw in extra backers for the president ahead of November.
The event may galvanize supporters Trump already has, though not likely win over those the president might hope to, he said.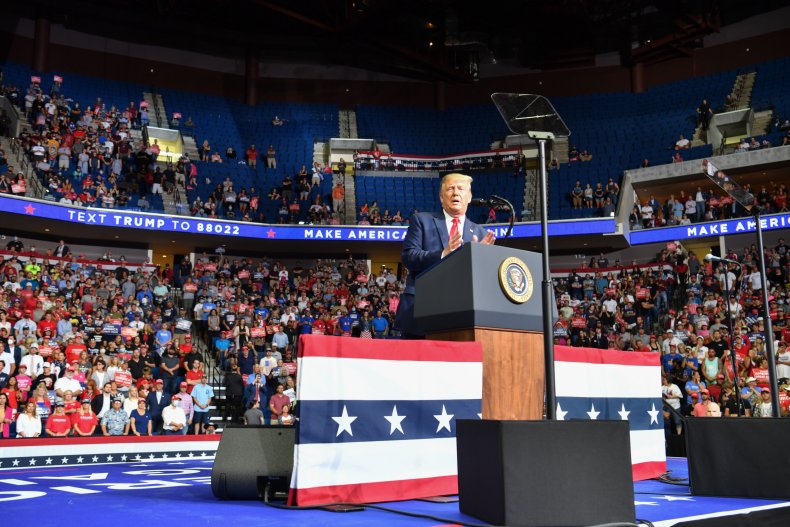 "President Trump has adopted a high-risk reelection strategy of using large, in-person events and a divisive message about Confederate monuments and race relations. Neither are effective for enlarging his base to include independent voters or disaffected Democrats," McLennan told Newsweek. "Trump appears to be using the large gatherings and political divisive messages to further energize voters already firmly in his camp."
This desire to boost support among his base seems more important to Trump than pushing for swing voters Thomas Gift, a lecturer in political science at University College London, said—stating this has been the case throughout this time as president.
"Trump's insistence on holding in-person rallies underscores his basic re-election strategy: He's less concerned with persuading swing voters, and more interested in his activating his base. That's hardly a revelation—it's been true since day one of the Trump administration, and it's just as true now," he told Newsweek.
"Although the median voter in New Hampshire might be opposed to hosting large audiences in the midst of a pandemic, that's not primarily who Trump is courting.
"'MAGA' events are little more than pep rallies for Trump's loyal boosters, so the president's decision to keep a 'business-as-usual' attitude toward campaigning isn't surprising.
"Not only does Trump clearly think that in-person events are more effective, but they also provide an opportunity for the president to showcase that the pandemic is being contained and that life in the US is back to normal—even if that's far from the reality."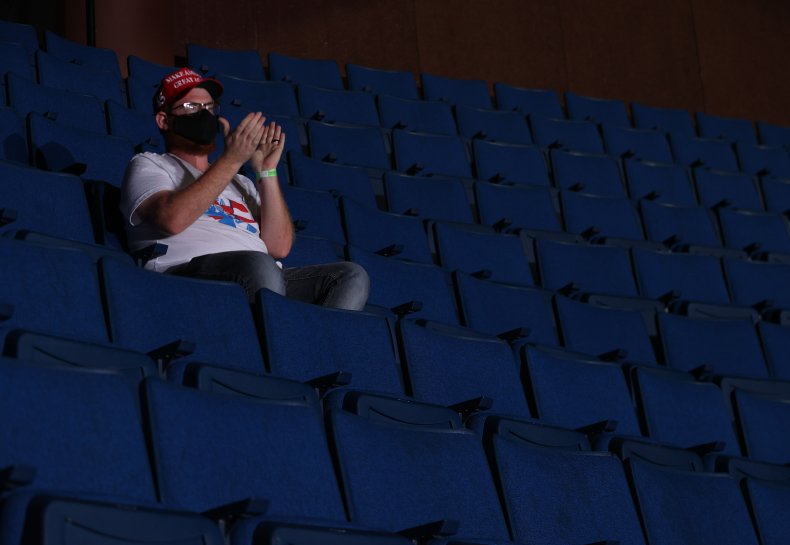 While the rally would appear aimed at Trump's core voters, there have been reservations among people across the political spectrum over in-person events amid the spread of coronavirus.
Polling from USA TODAY/Suffolk University found that 54 percent of 1,000 respondents felt large traditional gatherings "is a mistake because the coronavirus pandemic makes that reckless and dangerous."
Around a third of Republican voters asked, 36 percent, said they felt this way.
The majority of respondents who identified as independent/other also backed this sentiment, with 54 percent aligning with this view when asked between June 25 and 29.
Joe Biden has a steady lead according to polling in the state at present, indicating Trump needs to win over some of those currently consider backing the Democratic candidate, should he hope to have a chance of victory there.
David Paleogolos, director of the Suffolk University Political Research Center, said that New Hampshire could be a state the Trump campaign is set on winning and may be important if he loses some other Republican states.
Visiting in person for an event could therefore be "high risk, high reward" plan, he told Newsweek.
Paleogolos said that should cases increase in the state following the visit, this may be blamed upon the event—as with numbers being relatively low compared to other areas suffering spikes, a rise would be noticeable and people may link the gathering to it.
However, if Trump visits and cases do not go up, this could be a boost for him.
Paleogolos said: "He wins. He says, 'I came to New Hampshire, and see?'"
Despite that potential, Paleogolos thinks it is a reckless move.
He said: "Going into a state with low numbers and knowing public consensus is against it, it's beyond cowboy. It's galloping into a town and shooting it up."
Amid concerns over coronavirus the governor of New Hampshire, Chris Sununu, has stopped short of mandating masks be worn at the event.
Despite this, he has advocated they be worn and also said he will not stand among the crowds at the rally, as he wants to be cautious.
The Trump campaign has said masks and hand sanitizer will be available at the event, which is to be held at Portsmouth International Airport. The president has also recently appeared to alter his stance on face masks, stating he would wear one in he "were in a tight situation with people."
Newsweek has contacted the Trump campaign for further comment.