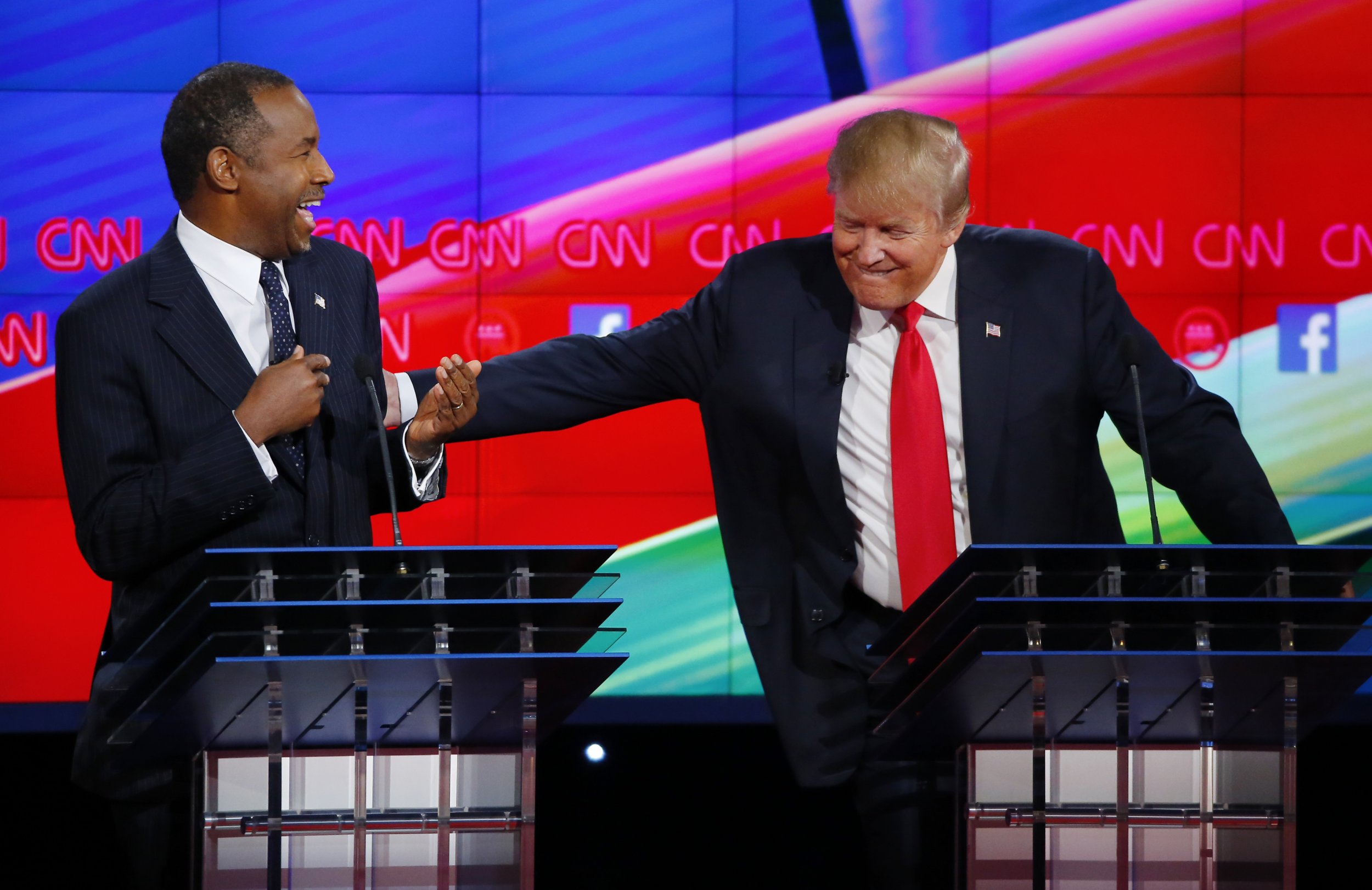 "I'm at 42, you're at 3."
That's what Donald Trump told Jeb Bush when the former Florida governor tried to stand up to him at the last Republican presidential debate. While he may have shot a little high, Trump had a point. His dominance in public opinion polling is consistent, and the first post-debate poll confirms his own braggadocious narrative.
In a survey conducted by Morning Consult, a polling company turned media outlet, Trump dominates the field with 36 percent of the vote. Ben Carson, who slipped after briefly rising to the top of the polls, was back in second place at 12 percent, followed by Ted Cruz at 11.
These numbers, collected from a survey of 861 Republicans after the debate, closely mirror numbers from the days just before the debate, when Morning Consult surveyed over 1,300 Republicans.
According to the polling company, the study has a 3 percent margin of error, which could shuffle the places of the second, third and fourth place candidates (Marco Rubio is in fourth). But Trump's lead is massive.
Then again, there's been a lot of talk during this election about how accurate "straw" polls are heading into the early states. When Trump dissed Jeb by pointing to their respective numbers, Bush shook his head and said "it doesn't matter."
He's banking his career on this claim proving accurate (as is famed data analyst Nate Silver, who has dismissed Trump's dominance in the polls). In the punditocracy it has become a much belabored point that, while the Donald is dominating the media and the phone banks, he may not actually win the nomination, or even the early states. Recent history in Iowa suggests that the first caucuses will favor a "Christian conservative" candidate like Cruz or Carson, and media types say Chris Christie might even have a chance in New Hampshire (Christie got 2 percent in the Morning Consult poll).
This may be wishful thinking on the pundits' part, or it may prove true. One thing to keep in mind is that these are national polls, not state polls. It may be that a plurality of Republicans nationwide want Trump to be the nominee, but this isn't a strictly democratic process (pun intended). Delegates are decided state-by-state, and more moderate Republicans in blue states can have a big impact on Super Tuesday. Candidates can "lose" Iowa or New Hampshire but still get enough delegates to stick around until then.
If the overall opinion of voters determined elections, without taking state lines into account, things would be much different.