Donald Trump Softens on Hillary Clinton Email Investigation and Climate Change at New York Times Meeting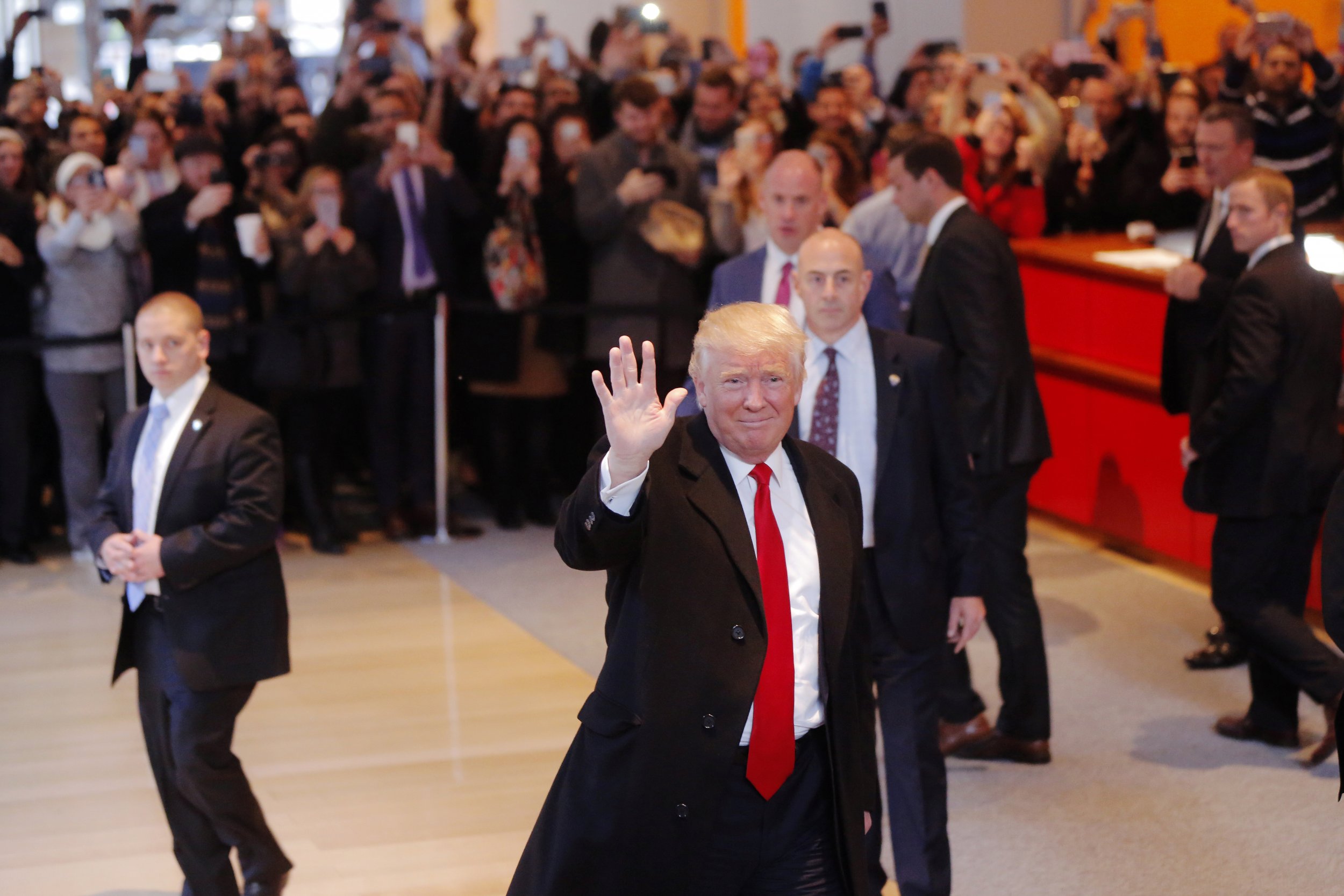 U.S. President-elect Donald Trump softened his stance on Tuesday on whether humans have played a role in causing climate change, according to New York Times reporters who attended an interview with the Republican. Trump has previously described global warming as a hoax and earlier this month one of his aides told Reuters that the New York businessman was seeking quick ways to withdraw the United States from the 2015 Paris accord to combat climate change.
On Tuesday, Trump told the Times he thinks there is "some connectivity" between human activity and climate change, reporter Mike Grynbaum tweeted. "It depends on how much," the reporter quoted Trump as saying. Asked whether the United States will withdraw from climate change accords, Trump said: "I'm looking at it very closely. I have an open mind to it," the reporter tweeted.
Trump, who takes office on Jan. 20, also said on Tuesday he was thinking about climate change and American competitiveness and "how much it will cost our companies," the reporter said, without elaborating.
In the same interview with reporters, editors and other newspaper officials at the Times headquarters in Manhattan, Trump showed little appetite for pressing investigations of his Democratic rival in the presidential campaign, Hillary Clinton, although he did not take the option off the table. Trump said "no" when asked if he would rule out investigating Clinton over her family's charitable foundation or her use of a private email server while she was U.S. secretary of state, according to Twitter posts from reporters at the interview. But he said he did not want to "hurt the Clintons" and wants to move on. "I'm not looking to go back and go through this," Trump said, according to a Times reporter.
"I think it would be very very divisive for the country," he was quoted as saying, referring to prosecuting Hillary Clinton or her husband, former President Bill Clinton.
"I don't want to hurt the Clintons, I really don't. She went through a lot and suffered greatly in many different ways."
If Trump does abandon his campaign vow to appoint a special prosecutor for Clinton it will be a reversal of a position he mentioned almost daily on the campaign trail, when he dubbed his rival "Crooked Hillary" and crowds at his rallies often chanted, "Lock her up."
The FBI investigated Clinton's use of a private email server while she was secretary of state during President Barack Obama's first term, concluding in July that her actions were careless but that there were no grounds for bringing charges. The Clinton Foundation charity has also been scrutinized for donations it received, but there has been no evidence that foreign donors obtained favors from the State Department while Clinton headed it. Clinton has said her use of a private email server was a mistake.